Saba's St. Paul Conversion Church: Uncommon Attraction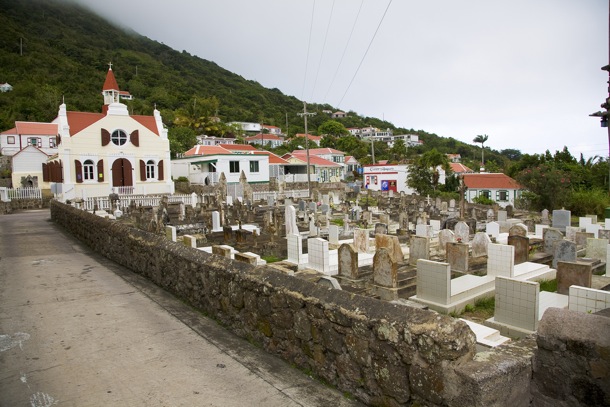 So, you want to relocate to the Caribbean, but you have some reservations. Maybe you're nervous about finding a job, fitting into the social scene, or adapting to "island life." Trust me, whatever's holding you back pales in comparison to the issues faced by Father Manuel Romero in 19th century Saba.
The year was 1836. A Roman Catholic priest from Venezuela, Father Romero was brought to Saba by Monsignor Martinus Niewindt, an apostolic prefect of the Roman Catholic Church of the Netherlands Antilles.
They were there to put down some Catholic roots in the small island community. There was just one problem: communication.
Father Romero only spoke Spanish. The Monsignor, only French and Dutch. The Dutch, you might think, would be a plus in Saba, seeing as how it was a Dutch colony.
Nope.
Though decidedly Dutch, Saba's predominant language has always been English.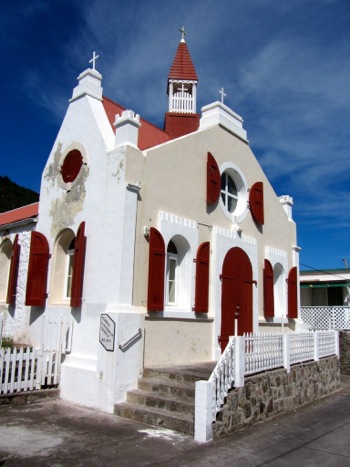 With all of the confusion these language issues must have caused, it's a wonder that the marvelous Church pictured above ever came to be. It's called the St. Paul Conversion Church. You can find it at the northern edge of Windwardside, the aptly named second-largest town on the island that sits on Saba's windward side.
St. Paul's is said to be Saba's most picturesque church, and I might venture to say it's among the most distinctive I've ever come to know in the Caribbean. Constructed of stone between 1859 and 1860, its Gothic-styled windows and bright colors lend a friendly, welcoming personality to the place.
There's a wonderful simplicity to the overall architecture, topped by stately spire that reminds me a bit of the Christiansted Steeple back home in St. Croix.
Today, St. Paul's is one of four Catholic churches in Saba. (There are Anglican, Wesleyan and Jehovah's Witnesses congregations as well, which is pretty amazing considering that less than 2,000 people live here.)
How did the early Catholic Missionaries overcome their language issues?
According to church records, a lady from Guadeloupe, who had been living in Saba at the time, intervened, communicating with the Monsignor in her native French. On June 21, 1836, about a month after he arrived, Father Romero held his first Holy Mass in Saba. A full-time resident priest, no doubt an English-speaker, arrived in 1854, with St. Paul's opening its doors six years later.
Those doors remain open today, providing inspiration not just for Catholic churchgoers, but reluctant relocators as well.
Related Posts