Feed the Uncommon Caribbean Photo Pool on Flickr.com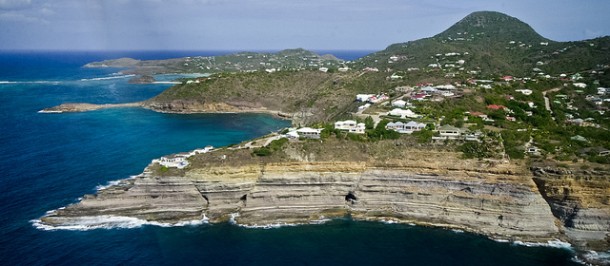 I've long felt that St. Barts absolutely has to be among the sweetest destinations in the Caribbean, and this photo basically proves it!
It's not the multiple shades of alluring blue waters that's tickling my fancy, nor an imagined perspective of the jaw-dropping views one can surely enjoy from the swanky homes and villas perched atop the island's signature seaside ridges and hills.
Nope, the thing that grabs me about this image is the sheer wall of rock rising steeply from the sea, its multiple layers of sediment creating the illusion of a fancy tiered cake sliced right down the middle. A sweet and fancy tiered cake that could only be St. Barts.
Yes, I'm coming off fun and exciting trips to The Bahamas, Jamaica and Martinique over the past eight weeks, but I still find myself sitting here dreaming of this special little island, a series of questions swirling in my head.
What's the surfing really like? Is the Christopher Hotel as posh as it seems? Are there any remnants of St. Barts' unique Swedish colonial period still around? How can I possibly squeeze in a trip here before the end of the year?
That last question is a real doozy since I can't remember the last time I visited my in-laws in Pennsylvania for the Holidays. (Can you feel my wife's cold, hard stare?) Even if the sun sets on 2011 without my setting foot in St. Barts, though, I'm definitely making a point of checking it out next year.
Until then, at least I'll have great images like this one to fuel my dreams, thanks to photo friends like Mark A. Pino.
Mark is one of 130 photo enthusiasts who have submitted more than 1,300 images of their travel adventures in the West Indies to the Uncommon Caribbean photo pool on Flickr.com. Patrick and I draw a lot of inspiration for our travels and stories from these images, and we also consider each and every photo for publication on our site.
So, if you want to be like Mark and see your pics featured on Uncommon Caribbean, click here to join our Flickr group and submit your images today!
Extra points for anything showcasing St. Barts…
Related Posts