New Spa at Christopher Hotel, St. Barts: Uncommon Envy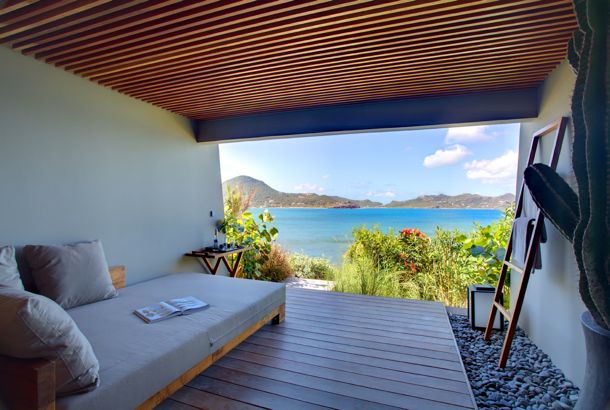 Back on Saturday, I mentioned that we'd soon share details on affordable hotel options in super-swanky St. Barts. With rates starting at 300 euros (about US$400) per night, the stylish Christopher Hotel may not qualify as reasonably-priced for some, but it's certainly a place just about anyone would aspire to check out.
Barely two years old (the first guests were welcomed in December 2009), the Christopher boasts an absolutely idyllic tropical location, with a lush, flowering landscape fronting a rocky shoreline in Pointe Milou along St. Barts' north coast. It's a quiet, secluded area a good 10-15 minutes outside of the main town, Gustavia. A few of the island's nicest stretches of sand are also close by, most notably Lorient Beach, easily among the finest in the Caribbean.
As you can see in the image above, the property takes full advantage of its scenic surroundings. All 38 rooms and suites are strategically placed to face the water, while architectural and design elements are in harmony with nature. It's a combination that fosters a level of relaxation most of us only dream about. From the Christopher Hotel website…
Intimate and sensual, the Christopher Hotel makes all the difference. Here you find the ideal location for enjoying the pleasures of life, relaxed, unhurried and surrounded by luxurious gardens with their delicate fragrance.
If gazing at the image below gets you in a mellow mood (it works for me), just imagine what it would be like to be lounging here?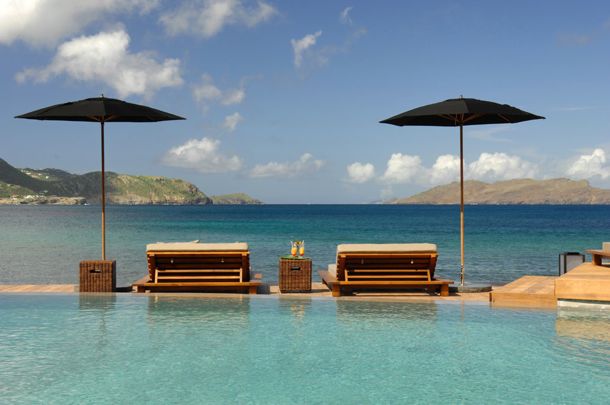 Clearly, if there's any hotel anywhere in the Caribbean that warrants a healthy dose of envy, even from someone like me who frequents fancy hotels on a fairly regular basis, it's this one. But, if you think that envy is well-placed now, wait til you see what's coming soon to this exclusive enclave.
The big news is that the Christopher Hotel is about to open its very own spa and gym!
Oh, they've offered massages here before, but to date those services had to be enjoyed in guestrooms, or public areas like the pool. Beginning in December, though, guests can take advantage of a full-service spa facility that will look something like this:
Here, again, you see the Christopher melding its facilities seamlessly with its natural surroundings. The new spa will have a total of four suites – three private treatment rooms, each with a private patio and garden on a cliff facing the ocean, plus a state-of-the-art private gym with an expansive bay window also facing the ocean. More lush landscaping, earth tones and shaded lounging areas portend a sublime tranquility impossible to resist.
The new spa at the Christopher Hotel will be run by a company called Art et Bien etre, which translates to "Art and Well Being." The same company has been offering massages at the hotel since it opened, so guests can be assured of the same high level of service and pampering that have made the Christopher famous… only in a shiny new facility sure to be counted among the finest boutique spas in the region in short order.
For more information of the Christopher Hotel and its soon-to-open spa, click here to visit the property online.
Related Posts