St. Croix Chaney Jewelry: Unique Pieces of Caribbean History
One of the unique things about growing up in a place with as much history as St. Croix is that sometimes you stumble upon some pretty remarkable stuff in some most unsuspecting places. For my brothers and me, one of those unsuspecting places was our old backyard at our house in Mon Bijou. And one of those things was St. Croix chaney jewelry.
Backyard Chaney
Located near the base of Blue Mountain in St. Croix's lush western interior, Mon Bijou was a pretty nice, working-class neighborhood when our family moved there in the early-70's. You know, the kind of place where kids would play in the streets, or in the then newly-built park, all day until moms could be heard from all corners yelling about the trials of food preparation, starving kids in Africa, and the consequences of gettin' on too harden.
Roosters crowed in the mornings, dogs barked most of the night, and all your neighbors knew who you were. (With row upon row of similarly-styled houses packed tightly together, how could they not?) Indeed, the Mon Bijou of my youth was a typical West Indian community with the distinct look of a planned U.S. suburb.
Set the Wayback Machine to St. Croix's "Golden Age" in the late-1700's, though, and you'll encounter a much different picture. St. Croix was a Danish colony at the time and the most prosperous in the Caribbean islands because of its burgeoning sugar production. Some 250 plantations were in operation throughout the island's paltry 82 square miles. One of them, as you may have guessed, was located in Mon Bijou.
There are no ruins of the plantation that once dominated the Mon Bijou landscape (at least as far as I can remember), but evidence of the opulent lifestyle formerly enjoyed by the aristocratic farmers who used to live there could be found merely by digging around in our old backyard. It was there while playing with Tonka trucks and GI Joe's that my brothers and I found little bits of broken china. To us, it was junk, and we barely gave it a second thought. That was a mistake…
What we found were, in fact, broken pieces of chaney, unique pieces of china possibly dating as far back as the very same Golden Age I just mentioned. Bits of the stuff has been collected all over the island and scientifically dated to a period covering the years 1750 to 1900!
Unlike us Bennett boys, other local children kids are said to have used chaney as play money for various games. Not sure why that didn't catch on with us, but if our reason centered on getting our hands on some real cash, well… we missed the boat.
St. Croix Chaney Jewelry
That's because these days jewelers on St. Croix, and elsewhere in the Caribbean, are making some nice pieces out of the old "junk." Whimsically colorful and inventive, chaney jewelry espouses that one element most eagerly sought by anyone who appreciates finer things: uniqueness.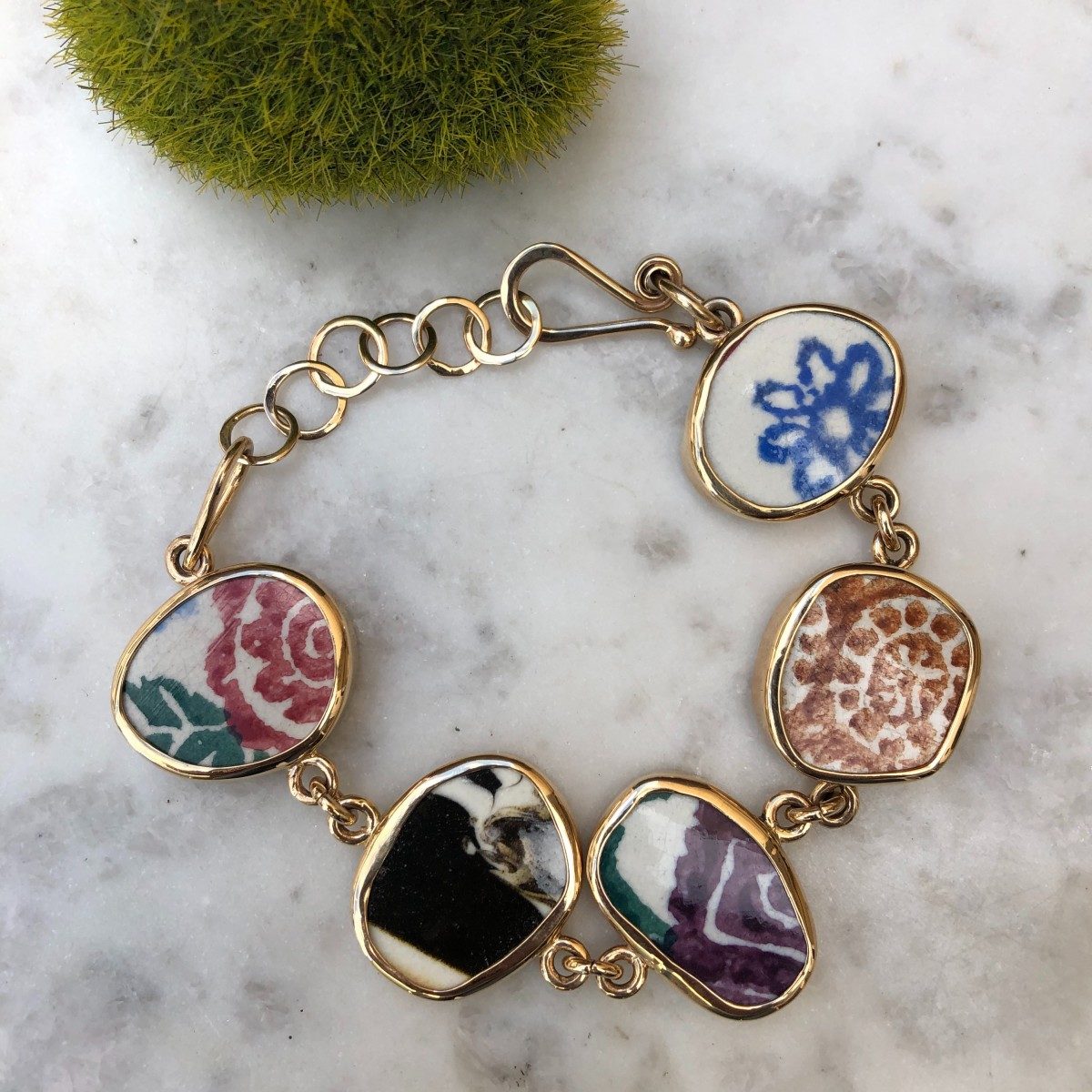 Just as no two chaney artifacts are exactly alike, so too is each piece of chaney jewelry 100% unique. It's a characteristic that along with the historical backstory, lends a mystical quality to chaney that we could've never imagined while digging around in our backyard way back when.
You might also think that uniqueness and history would make chaney jewelry expensive, but it's quite affordable. At ib Designs in Christiansted, pendants like the ones pictured above wrapped in sterling silver start at just $65. Bracelets and earrings are priced north of $120, while the most expensive piece they've sold is a $3,600 gold necklace sporting six chaney fragments. Not bad, considering all that's wrapped up in these unusual treasures.
Chaney jewelry has been around for a while, though the methods by which some jewelers acquire the artifacts have changed in recent years. As our friend Kris Massicott at ib Designs shared with me recently, they used to go out digging for the stuff themselves. These days…
We buy our chaney mostly from school kids now. They bring it in three-to-four days-a-week and make good money.
Next time you're in St. Croix, stop by ib Designs to check out their latest chaney creations. Remember, no two are ever exactly alike, so if you see something you like, it's best to buy it right away because once it's gone, you won't see another one just like it.
If you're not in St. Croix and want to see what St. Croix chaney jewelry ib Designs has in stock, click here to visit their website. There you can place orders and learn more about the chaney story.
Another good bet for buying chaney online or at their location in St. Croix is at Crucian Gold. (Their work is pictured at the top of the post.)
Happy shopping!
Related Posts