Christmas Time is Carnival Time Back Home in St. Croix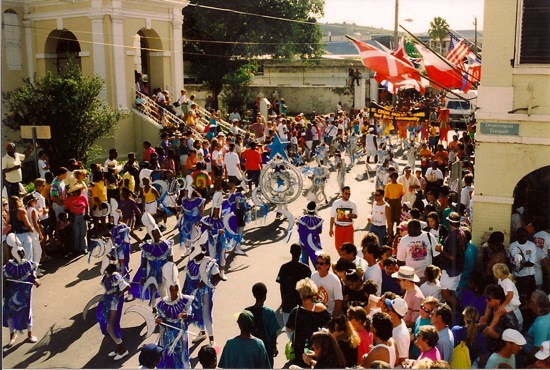 It's near about impossible for me to believe, but I snapped this photo the very last time I was lucky enough to be back home in St. Croix during the Christmas-New Year's-Three Kings Day holidays.
The year: 1994.
Sixteen years – SIXTEEN!! – have passed since I've tasted of the sweet joy that is Christmas in my very special corner of the Caribbean. Sure, we try to keep some of the Crucian Christmas traditions alive at my home in Florida (more on that this Friday), but as you can see in the photo, the Holiday Season in St. Croix is about a lot more than just baking Black Cake and sipping Ponche de Creme.
Christmas and Carnival go hand-in-hand in St. Croix like no where else in the world. Calypso competitions, jouvert, children and adult parades, elaborate costumes and the typical trampin', grindin', and winin' you'd expect from Trinidad Carnival, Vincy Mas and other top Caribbean fetes are all part of the Holiday Season here.
The party lasts for the better part of December and the first week in January, though the main events really start on Christmas Day. For those lucky enough to be there, here's the schedule for this year's Crucian Christmas celebrations…
Dec. 25 – 7 p.m. Christmas Concert at Buddhoe Park in Frederiksted will feature local gospel singing groups & costumed cartoon characters.
Dec. 26 – 5 p.m – Miss St. Croix Pageant at Island Center
Dec. 30 – 6 p.m – Ribbon cutting for Christmas Festival Village & opening of carnival rides.  7 p.m – Festival Opening Tramp through Frederiksted – 7:45 p.m – Fireworks on Frederiksted Beach –  8 p.m.: Party Monarch and Band-O-Rama competition in the festival village in Frederiksted
Jan. 2 – 8 p.m – Cultural Night will be held in the festival village, featuring old-school calypsonians, The Mighty Chalkdust, The Mighty Galloway and King Derby, along with this year's Calypso Monarch and Party Monarch.
Jan. 4 – 6 p.m – Calypso Monarch finals at Island Center
Jan. 5 – 5 a.m – Roast-a-Time (J'Ouvert) & 12:00 noon Food, Arts and Crafts Fair at the Eliza McBean Clock Tower in Frederiksted
Jan. 6 – 8 p.m. – Latin Night in the festival village
Jan. 7 – 1 p.m. – Children's Parade in Frederiksted
Jan. 8 – 10 a.m – Adult Parade in Frederiksted
Jan. 9 – 12:00 noon – Boat Races beginning at Frederiksted's Albert Edwards Fish Market – 8 p.m. to midnight; fireworks, music and rides for the last day of the 2010/2011 Crucian Christmas Festival
Related Posts