Deal of the Week: NO SNOW Savings on Vacation St. Croix Villa Rentals
Absolutely nothing.
When we're out and about on our Caribbean travels and someone asks, "What did you do today?," that particular two-word response is never the answer.
Check that: it never was the answer until Patrick and I found ourselves in the choice spot offering this fantastic view. This is Solitude House, one of the amazing villa rentals available for your next USVI adventure through our friends at Vacation St. Croix.
It was the last day of our whirlwind visit back home with our older brother, Peter, who had won the villa escape as part of a sweepstakes promotion put on by Cruzan Rum. This was the first time all three of us were in St. Croix since we were in our teens, so naturally we carried on as if very little, especially our ages and maturity levels, had ever changed.
Round about the time Patrick snapped the photo above, Peter had already left for the airport and an earlier flight back to the cold and snow of Philadelphia. Patrick and I, on the other hand, had a few hours still left to kill.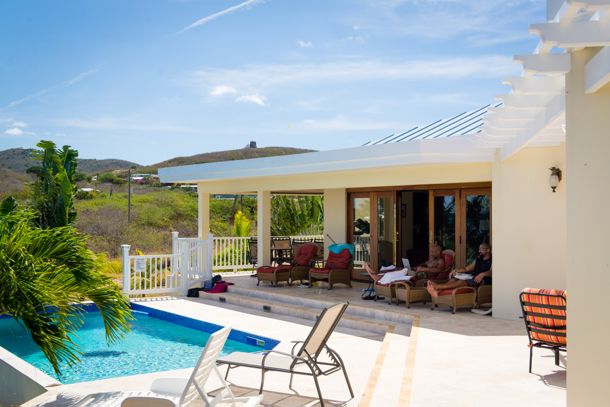 We could've squeezed in one more stop at The Chicken Shack, a dip at Shoy's Beach, or a few flying leaps off the Frederiksted Pier.
Instead, we did nothing.
Actually, less than nothing. We barely moved from the comfy deck chairs that offered the sublime view pictured above. Not sure we could've done less if we tried.
You might think that our youthful shenanigans were to blame, but I'm telling you that we would've stayed glued to those chairs transfixed on that view no matter what had befallen us in the days and nights prior. Solitude House is simply that comfy; that utterly and completely relaxing…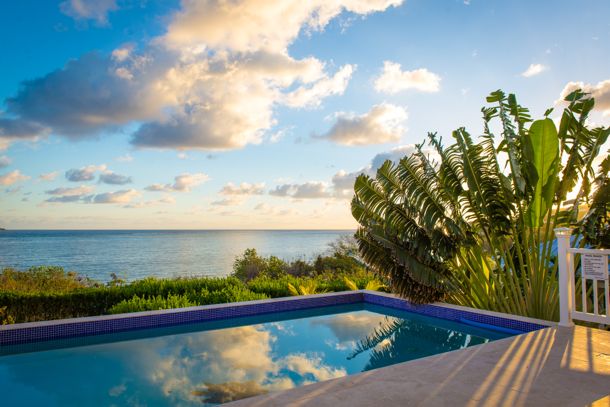 Now, if you want to get in on some of the sweet R&R on offer at Solitude House, or any of the other villas in the Vacation St. Croix stable, your timing couldn't be better. That's because they've just launched a nice new promo with some great savings!
Here's the deal: Vacation St. Croix's new NO SNOW special cuts 10% off your villa accommodations, 20% off the wheels you'll want to rent from our friends at Centerline Car Rental, and rewards you with a $50 dining credit that you can cash in at local restaurants.
To get all the savings, you simply have to mention "NO SNOW Special" when you book a stay of seven nights or more, including your rental car, through Vacation St. Croix for travel between now and August 15, 2014. NO SNOW discounts and incentives are subject to availability and certain restrictions may apply.
For reservations and more information, check in with Vacation St. Croix online.
* The information in this story was accurate at the time of publishing. All rates and specials are subject to change at the travel provider's discretion.
Related Posts