St. Croix-Inspired Textile Treasures by Debbie Sun Design Studio: Uncommon Buy
Some people are beautiful on the outside. Some are beautiful on the inside too. Few, however, can translate their own personal beauty into one-of-a-kind creations that help us all feel a little more, you know, beautiful both inside and out. One of those people is my old friend, Debbie Sun.
Now anyone who knew us as kids competing together as members of the St. Croix Dolphins Swim Team will already detect the bias in this post. Yes, I had a crush on Debbie a long time ago, but believe me, it's you that will fall head over heels for her distinctive textile creations, each one an inspired work of art.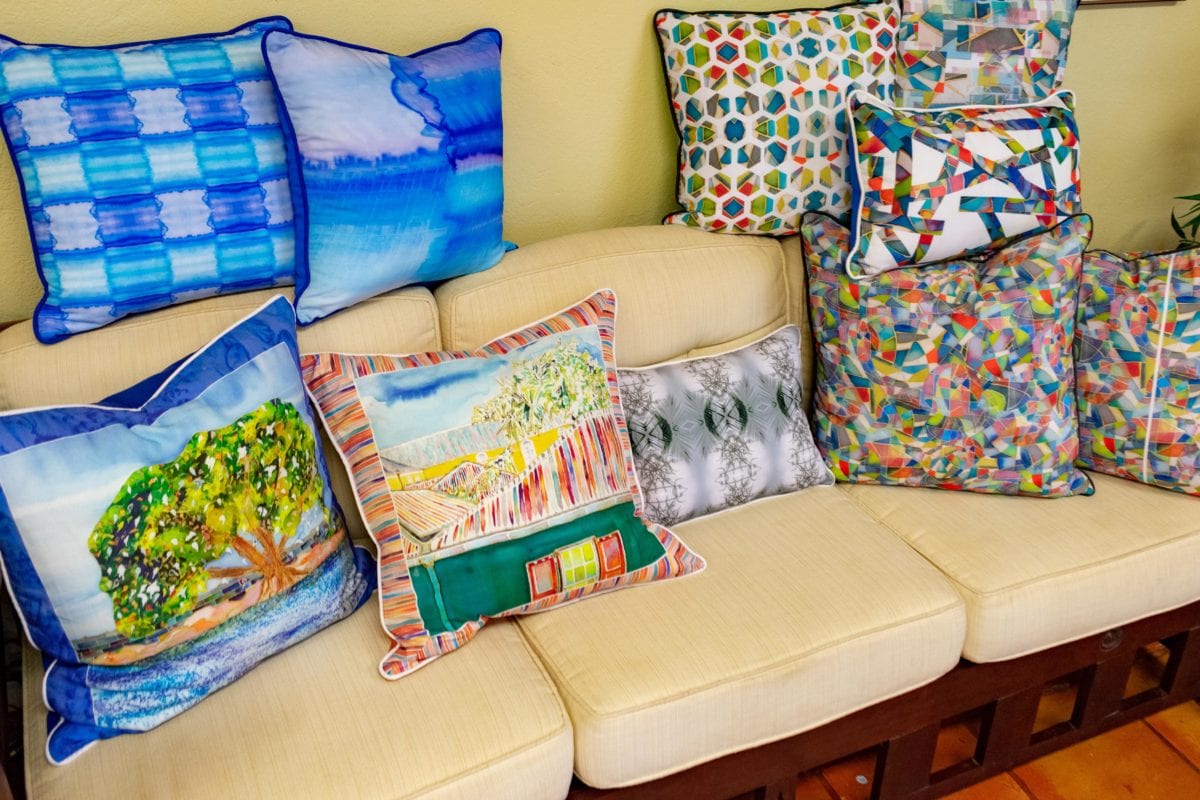 If you've stayed at Hotel Caravelle in recent years, then you might recognize Debbie's signature abstract style from the dramatic, billowing installation gracing the ceiling of the hotel lobby. Debbie's pillows and other textile accents also grace the hotel's newly-renovated guestrooms.
Not Just For Hotels
Hotels, though, are most assuredly not Debbie's only bag. Her pillows, lamp shades, scarfs, sarongs, table linens, stationary, and hand fans can be found gracing the shelves of St. Croix's swankiest boutiques, including ADORN in downtown Christiansted, a personal favorite of mine.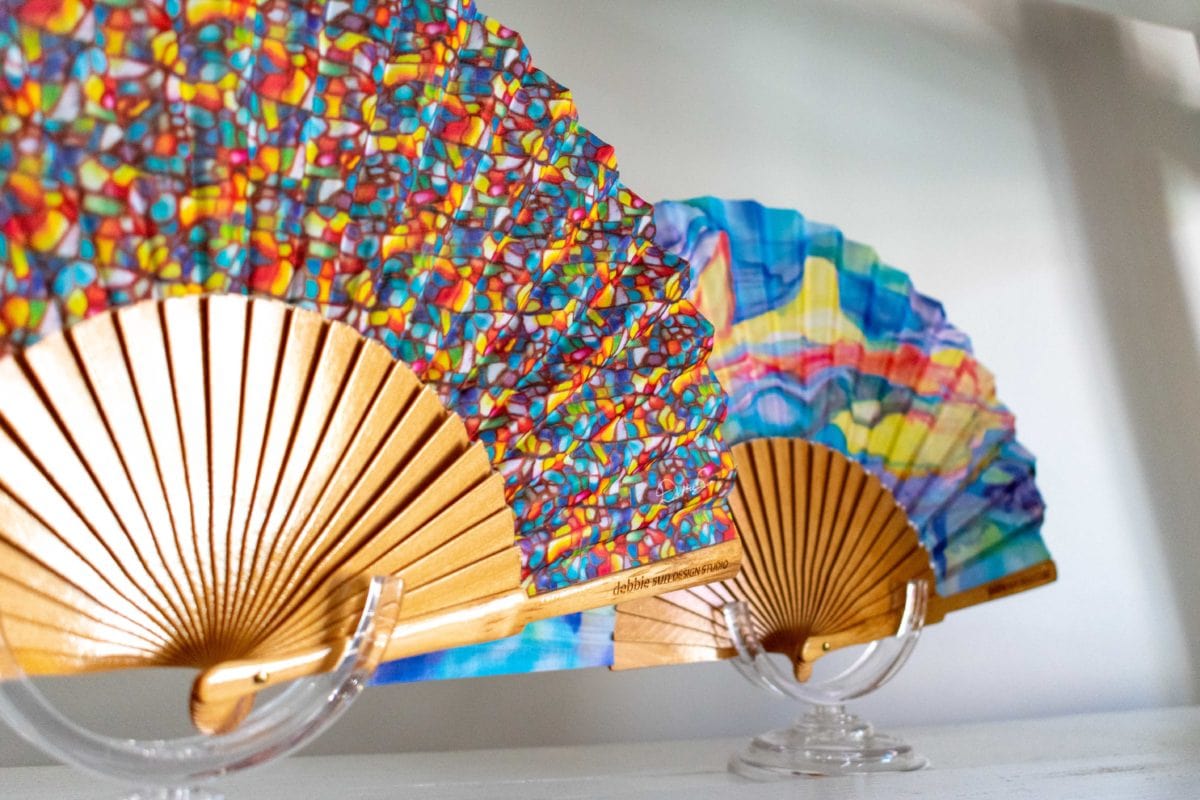 The arresting colors and design of Debbie's creations are easy to love at first sight. Like the artist herself, though, their beauty is more than skin deep.
As she explained to me during a spring 2018 visit to her studio, Debbie employs a uniquely dynamic artistic method in crafting her products.
Debbie Sun Digital Silk
It all starts with simply observing and enjoying our home island. Debbie returned to St. Croix several years ago after studying and creating in California and Spain.
(Editor's note: Truly, Debbie's inspiration comes from all of the places she's lived, as well as Trinidad & Tobago, where she was born, but I like to think that her best influences come from St. Croix.)
Rather than creating broad reproductions of St. Croix's natural beauty and historic architectural charms, as many other have done, Debbie hones in on small, subtle details. The veins of a leaf, a brick pattern in an old Danish wall – tiny beautiful elements that most of us would miss.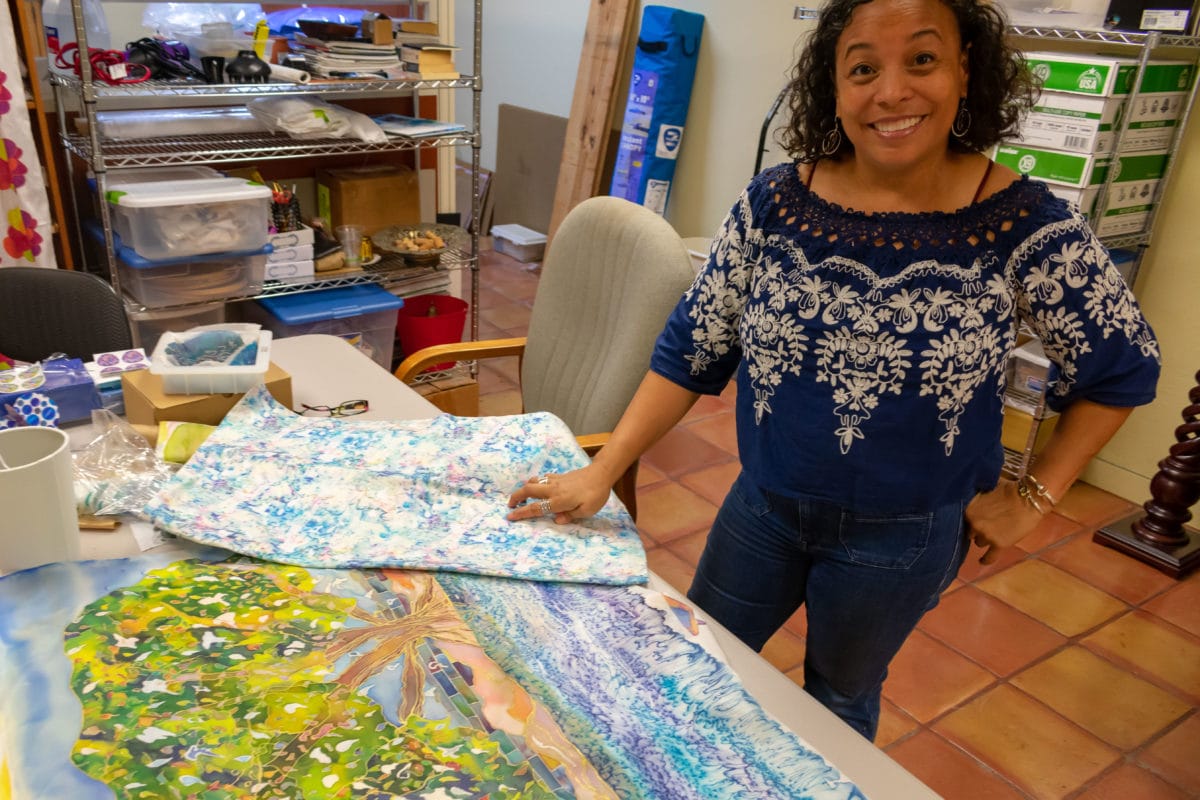 Debbie photographs these things, then transfers her visions, usually via watercolors, onto silk. These original pieces of silk art are then digitized for production.
Indeed, there's beauty in the look of Debbie's creations and the way she goes about making them… the kind of beauty you need in your life! To get it, visit Debbie Sun Design Studio online, or stop in at ADORN next time you're in St. Croix.
Related Posts