Frederiksted Pier, St Croix: Must Do's (and Don'ts) When You Visit
A pier hardly qualifies as a must-see attraction in most places. A stretch of concrete extending out over the sea, it largely facilitates the worst form of tourism. In this way, for most, a pier is nothing more than a means to an end. Not so in my home island of St Croix. Not in the case of the Frederiksted Pier.
If you were born and raised in St Croix, or lived there for any significant stretch of time, then you no doubt love this pier. It's a part of you; as beloved a symbol of your Crucian-ness as Johnny cakes.
Before we get into why that is, though, a few basics…
About Frederiksted Pier
Officially known as the Ann E. Abramson Pier and Marine Facility, the Frederiksted Pier extends 1,526 feet due west from downtown Frederiksted on St. Croix's west coast. Purpose-built to accommodate the world's largest cruise ships, the pier also capably hosts submarines. At its furthest reaches, Frederiksted Pier sits 10 feet above sea level. The depth of the sea way out at the end is 90 feet.
Notably, the Pier as it exists today is not the one that I remember from my youth. The one I knew was originally built way back in the early 1900s. It was destroyed by Hurricane Hugo in 1989. It wasn't until 1994 that the first iteration of the new Frederiksted Pier started receiving ships. A multi-million-dollar waterfront revitalization program in early-2000s yielded the Frederiksted Pier as we know and love it today.
(DYK: Some debris from the old pier was used to form the platform for the current F'sted Pier? The rest of it can be found at Armageddon, a dive site located two miles north of the Frederiksted Pier. Maximum depth: 110 feet.)
Also notable, St Croix's own Ann Elizabeth Christian Abramson was most responsible for the large-scale redevelopment of the Pier and Frederiksted. She spearheaded the project during her tenures as Commissioner of Public Works and Board Member of the Virgin Islands Port Authority. The Pier bears her name today in recognition of Mrs. Abramson's tremendous contributions to St Croix, and in particular, the Frederiksted community.
Taken together at face value, these facts wouldn't land the Frederiksted Pier on any list of the World's Most Incredible Piers. I mean, you know, if there was such a thing.
(Oh look, there is such a thing!)
So, what makes Frederiksted Pier so special?
What Lies Beneath
For many, the very best thing about F'sted Pier is what's found underneath it. The Pier is among the most popular scuba diving sites in the entire U.S. Virgin Islands. This goes double for night dives. Average depth here is between 25 to 30 feet, which makes for leisurely dives affording lots of bottom time.
On your way down, though, the concrete pillars that support the pier offer tons to inspect and admire. Sponges and corals cover each support. They make cozy homes for brittle stars, little crabs, and even the occasional seahorse.
The waters around Frederiksted Pier also attract scores of larger sea life. Hawksbill and green sea turtles, stingrays, tarpon, octopus, lobster, moray eels, scorpionfish, barracuda, sharks – they all like life beneath the Pier.
Best of all, seeing and experiencing all that the Pier has to offer is pretty easy. A collection of great dive shops are located at, or around the corner from the base of the Pier. Check out….
St. Croix Ultimate Bluewater Adventures
*Note: Snorkeling and scuba diving around Frederiksted Pier are wildly popular, but neither is allowed when cruise ships, or other large vessels are in port.
Fishing Frederiksted Pier
Considering the wealth of vibrant sea life here, it's no wonder that the Pier is also a prime spot for fishing. This is especially true near dusk and sometimes well into the night.
Anglers take positions all along the length of the Pier. Sadly, though, I can't say which spot yields the best results. I'll definitely make a point of asking around when next I'm back in STX.
Oh, and if you're concerned about fishing permits, don't be. From the U.S. Virgin Islands' Department of Planning and Natural Resources (DPNR) "Commercial and Recreational Fishers' Handbook:"
General recreational fishing permits are presently not required for recreational fishers in Virgin Islands. This includes persons who engage in fishing for the sole purpose of providing food for themselves or their families and those who catch and release fish. Sale of catch by recreational fishers is not allowed. Recreational fishers cannot use the following fishing gear: pots, traps, set-nets and haul seines.
Sailing West End, St Croix
For those whose love for the waters off St Croix's west coast center more on the pleasures to be had above the waves, the Frederiksted Pier has you covered there as well. More to the point, Lyric Sails has you covered.
Arguably the best sunset sail operator in St Croix (especially if you ask me), Lyric Sails operates daily (in season) from F'sted's venerable pier.
The sunset views on offer off the west coast of St Croix are intoxicating in and of themselves. As their name suggests, though, Lyric Sails amps up the alluring atmosphere at sea with live concerts aboard their cozy (and fast!) 63-foot catamaran, Jolly Mon.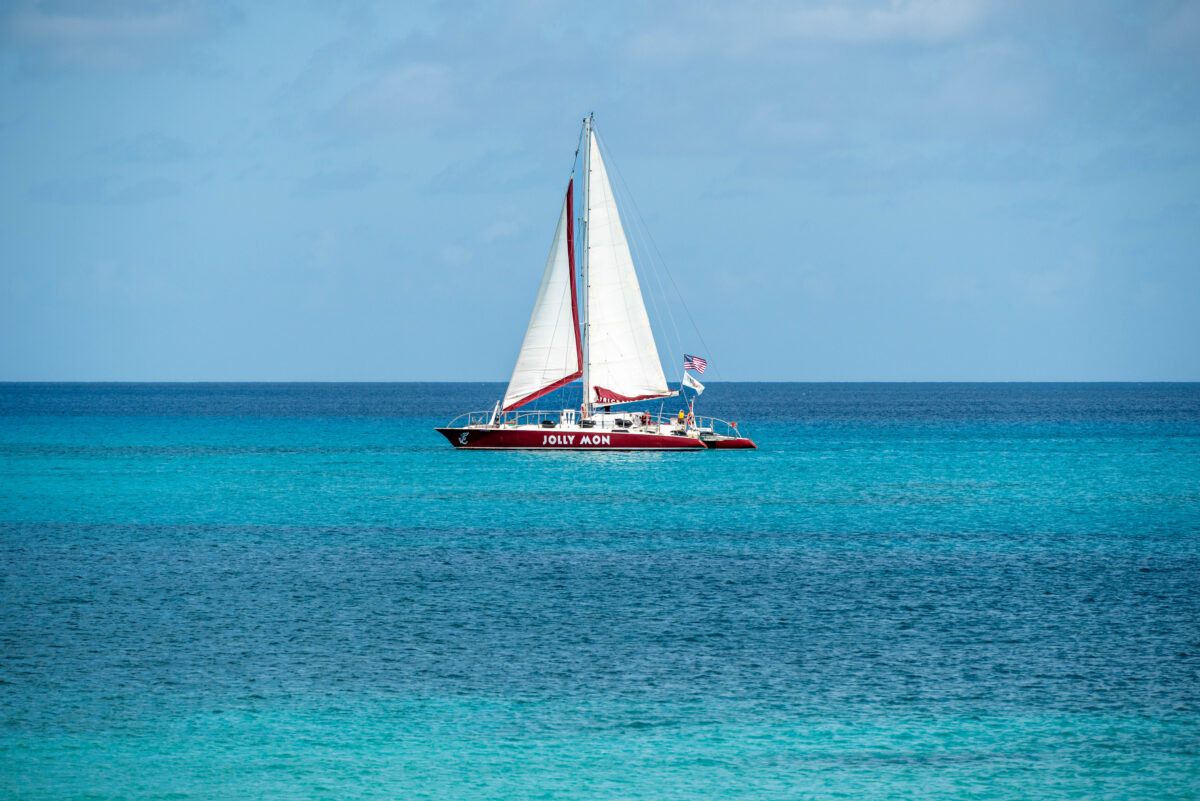 Legend has it that Jolly Mon formerly successfully ran all manner of illicit contraband in the waters between Puerto Rico and the USVI in its former life. Its speed thrills these days, though, are limited to sublime sail adventures all along the STX west coast, each voyage sweetly seasoned with musical performances put on by a variety of local and visiting artists.
For up-to-date Lyric Sail concert voyages and availability, be sure to check them online.
Sunset Soirée
The sweet rewards of this pier, though, aren't confined to her watery surrounds. Indeed, the most accessible and widely enjoyed activity here is simply watching the sunset.
When no large ships are in port, locals and visitors take to the Pier to take in the sunset. Some stroll. Others simply sit and watch. More than a few sweat.
That is to say, they exercise. Running, jogging, and power walking are all popular pursuits among the health-conscious here. This brings to mind another favorite athletic activity here…
St Croix Dolphins Sea Swim
Swimming is, of course, a popular activity at the Frederiksted Pier. Not just the recreational kind of swimming either.
My old swim team, the St Croix Dolphins, holds an annual competitive race here every January. The annual St Croix Dolphins Sea Swim challenges speedsters with a one-mile, open-sea race from the Pier north to Rainbow Beach.
I seem to recall competing in this event during my early teens. Officially, though, the 2023 edition (held January 8, 2023) was touted as the 19th annual race.
Hmm… Someone's math (or memory) when it comes to this event.
Either way, the Saint Croix Dolphins Sea Swim is awesome fun and a great fundraiser benefiting my old team. Prizes are awarded to the top three finishers in various age categories. Additional prizes are doled out to child and parent teams. You can even cheat, err, participate using fins in the swim assisted category.
(For details on future STX Dolphins Sea Swim races and other Dolphins news, be sure to follow the team on Facebook.)
While the Sea Swim itself is great, it is the act that begins the race that holds the most special place in the hearts of most every Crucian, STX resident, or visitor that I've ever known.
(Formerly) Joyful Jumping Off Frederiksted Pier
Okay. Deep breath. Yeah.
We have covered the absolute joy of leaping from the F'sted Pier in the past. It's a veritable right of passage for all young Crucians.
Well, at least it was.
Sad, but true: the time-honored tradition of jumping from the Frederiksted Pier has been banned in recent years… Sort of.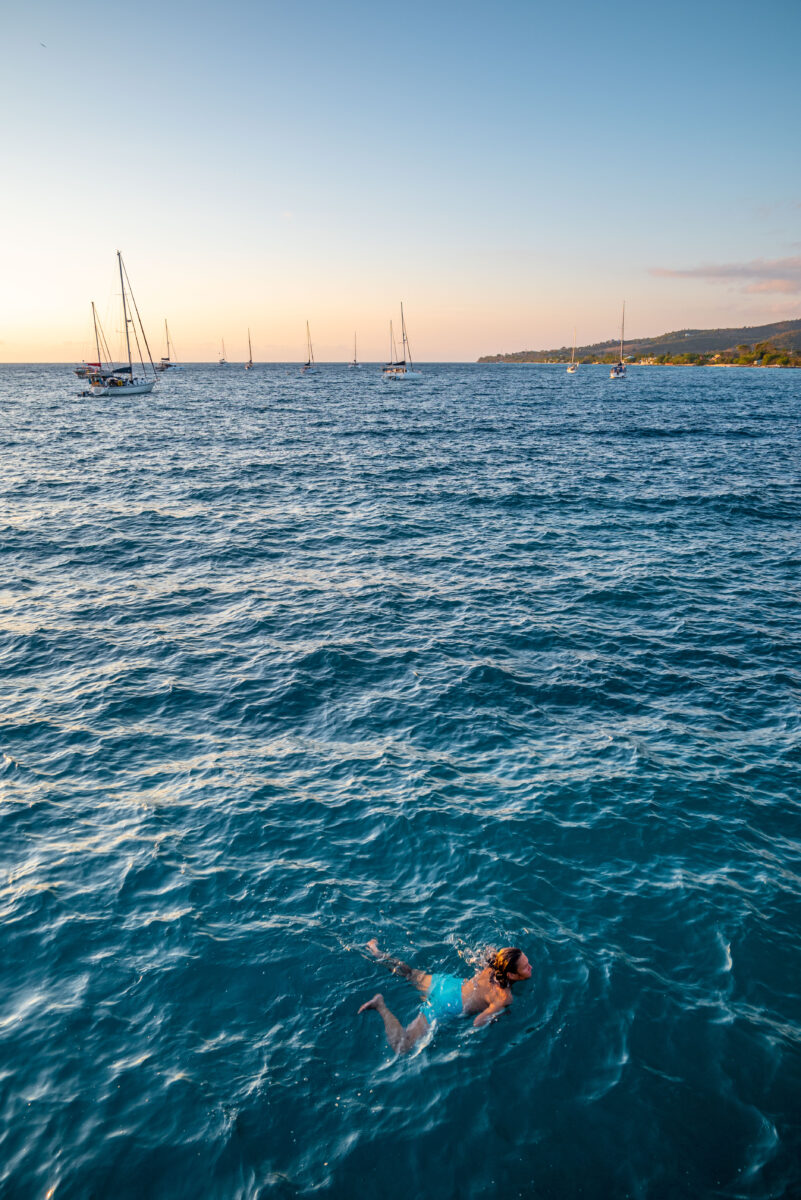 Technically, the USVI Port Authority, which governs all everything about the Pier, does not allow anyone to jump from the Pier anymore. The change came about several years ago, apparently due to liability concerns.
People, however, do indeed still jump…at times.
Sometimes it's with the tacit approval of a lenient and/or not-so-attendant security guard. Other times, the more intrepid swim over from nearby Frederiksted Beach, climb the ladders that line north side of the Pier, and leap before being detected.
Either way, you may yet encounter people jumping from the Fsted Pier when you visit. Just know that the much-beloved time-honored practice is now prohibited…
*Wink-wink.*
Related Posts