Friday Happy Hour: Cruzan 9, the Latest Legendary Rum from St. Croix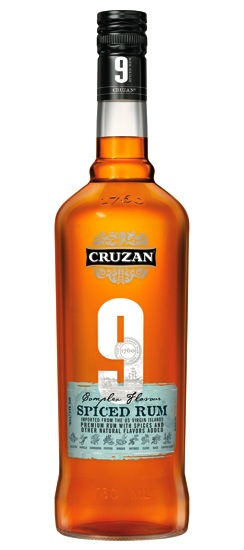 We hinted at it in May after I first got wind of its imminent arrival during the Miami Rum Renaissance Festival, and now it's here! Cruzan 9, the newest addition to the legendary lineup of rums from our home island of St. Croix, is set to enliven the spirits world by introducing discerning drinkers to a spicier side of the Virgin Islands.
One look at that bottle tells you she's a spicy number, but of course, it's what's inside that really counts.
The "9" in Cruzan 9 represents the 9 different island spices – vanilla, nutmeg, cinnamon, ginger, cloves, mace, allspice, pepper and juniper berry – employed in crafting the new spiced rum.
Incidentally, there are also 9 different districts on St. Croix, so yeah, just like everything else Cruzan Rum makes, Cruzan 9 distinctly reflects the island.
Here's what Cruzan Rum had to say about its new baby in a press release issued earlier this week:
With its unique blend of nine all natural spices, Cruzan 9 remains true to its heritage of premium craftsmanship, while confronting rum fans with a bolder, more dramatic spirit. The recipe is handcrafted by the Nelthropp family, who has been making rum on the island of St. Croix for generations. Made with Cruzan's award-winning aged rum, the result is a higher quality — and more authentic — spiced rum.
While news of Cruzan 9 has hit the streets, actual bottles of the stuff won't be in liquor stores in the U.S. or the Virgin Islands 'til next month. Lucky for us, our resident mixologist, Jesse Card, just happened to has a bottle stashed behind his bar at Salud! Bistro in St. Croix. Here's his take:
Bright cotton candy aromas, with heavy vanilla, nutmeg and spice in the follow through. While some spiced rums can taste a little astringent & synthetic, Cruzan 9 is bold and warm, while still feeling natural. I think we'll see this rum start becoming a staple of the Tiki resurgence, much like Cruzan Blackstrap has.
I can't wait to try it. For today's Friday Happy Hour, though, I guess a nice Single Barrel on the rocks will do.
Cheers!
Related Posts