Friday Happy Hour: Cruzan Single Barrel Sour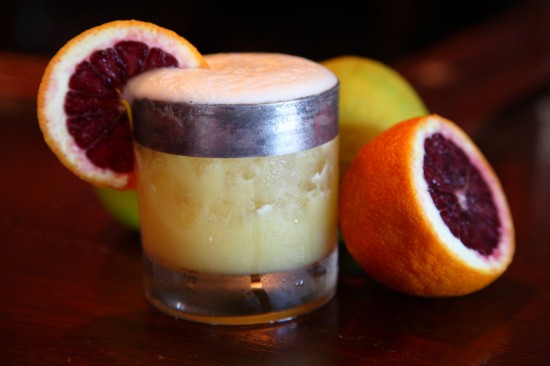 Uncommon Caribbean already introduced you to Cruzan Single Barrel Estate Rum, so I'll forgo another round of reviewing its accolades, but I will add my two cents. Normally, I would be reticent to add more than a couple ice cubes to this fantastic rum, but after tasting several high end rums side by side against Single Barrel, I found that this 12 year blended rum from Cruzan still maintains most of its delicate notes, while the other brands fell flat after dilution. So with spring having sprung and Bitter Curacao Oranges falling off the trees in my backyard, I bring you the Single Barrel Sour.
Ingredients
2 oz Cruzan Single Barrel Rum
2 oz Fresh Squeezed Bitter Orange juice
1/2 oz Demerera Syrup
1 egg white
Combine over ice in a tumbler and shake hard. Tthe goal here is to emulsify the egg white with the bitter orange juice, which in turn gives you that great foamy texture of a true sour. Pour into a rocks glass and enjoy!
Bartender's note #1: If you really want to have fun with this drink, make some bitter orange juice ice cubes and use them instead of regular ice. As your drink melts the "ice" it just gets more delicious!
I love the way the subtle caramel and vanilla of the rum still shine through in this drink. The obscene tartness of the oranges seems a bit overwhelming in the nose, but the rich Single Barrel spice is the flavor that lingers with you.
Cheers!
Bartender's note #2: Don't be afraid to use egg whites in your drinks. People worry about salmonella, but remember salmonella's two biggest arch-enemies? Citric acid and alcohol! You're covered!
Related Posts