Friday Happy Hour: Debaucherous Trouble with Gigi at Rhythms at Rainbow Beach
Trouble tends to find me at Rhythms at Rainbow Beach, the legendary beach bar on my home island of St. Croix long established as THE PLACE TO BE during the penultimate hours of each and every weekend.
I'm not talking the type of trouble that draws cops, paramedics or anything like that. My Rainbow trouble is of a more debaucherous nature – sometimes inappropriate, occasionally R-rated, and always fun.
Highlights of my last two Sundays here earlier this year (March 3 and April 21) include the establishment of a "Wining Zone" up against the bar, near fisticuffs with an elderly "lady" who claimed I stole her seat, more wining behind the bar, near fisticuffs with a nurse for no good reason (at least not one that I can recall)…
Oh yeah, and more wining.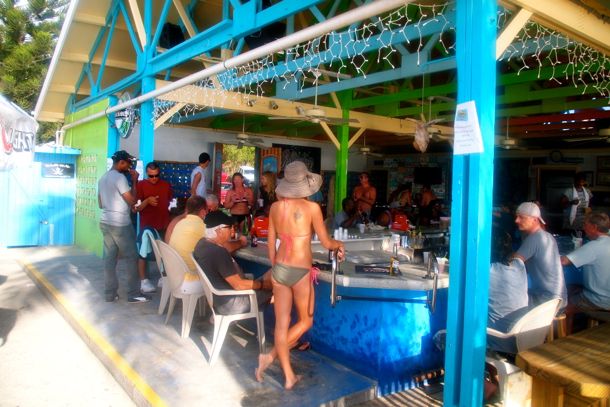 Somewhere along the way someone ordered a round of Jäger shots. There was loud singing and even louder laughs. The sun tumbled slowly into the sea, seemingly within arm's length just offshore; Mother Nature closing down another Sunday Funday at Rainbow in the same spectacular fashion she always has for as long as I can remember.
(Not all of my Rainbow experiences are so scandalous – remember this?)
The Sunday experience at Rainbow just keeps getting better. A big reason why: Gigi.
That's her in the bucket pictured above. We were introduced on my last visit to Rainbow by her mama, Sarah, one of a trio of sexy bartenders you'll find behind the bar here every Sunday.
Inspired to give St. Croix a refreshing alternative to the syrupy, over-sweet Rum and Coke concoctions that predominate the island's palliative taste preferences, Sarah combines grapefruit and guava, ergo the name Gigi, with a variety of other fruit juices and citrus flavored rums to create this special drink. As Sarah mentioned to me:
You need to single out the flavors so you can taste 'em once in awhile!
Here's how you can make one of your own…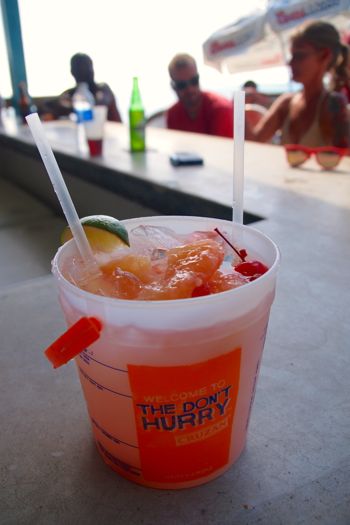 Method
Combine three ounces of Cruzan Guava Rum, a half-ounce of Cruzan Citrus Rum, and an ounce apiece of Captain Morgan Silver and Smirnoff Citrus with two ounces each of grapefruit, guava and pomelo juices, fresh-squeezed, of course. Add a squeeze of lime and mix over ice.
You'll also want to throw in a couple segments of your fresh grapefruit and pomelo to boost the refreshing fruit flavor.
As Sarah also noted, this drink is designed to encourage experimentation, like a punch, so feel free to adjust amounts of juices, rum, etc. according to your particular tastes.
With all the citrus and booze packed into a Gigi, it's impossible not to smile when enjoying one… especially if it brings back some of those fuzzy memories of Sunday Fundays at Rainbow Beach!
Cheers!
Related Posts