Friday Happy Hour: My 1st Taste of Cruzan 9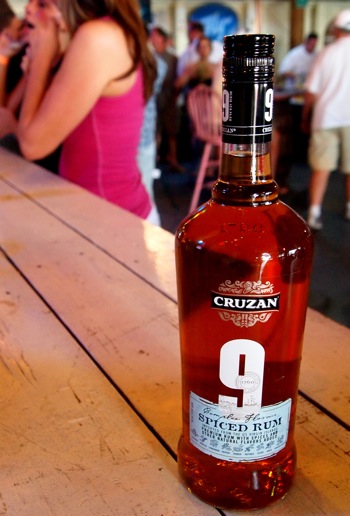 Though we told you about the new Cruzan 9 a few weeks ago, I hadn't had a chance to try it at that time. Few people had as it wasn't on store shelves back then. Of course, as a born and bred Crucian, I was excited about the new blend sight unseen. Other people, though, had doubts. Check out this reaction posted to the distiller's Facebook page:
"Don't RUIN GREAT RUM BY ADDING SOME SPICES!!!!!!!!!!!!!!!!"
No, I didn't add the all-caps or the exclamation points for effect; that's really what the person wrote, exactly as they wrote it.
I love this guy's passion! You see, for us Crucians, our rum is more than just some booze. Cruzan Rum is ingrained in our culture, our history, our heritage. For many of us, it's our biggest source of island pride, and the one thing that most identifies tiny St. Croix to the rest of the world.
As you can well imagine, it's even more important to us that Cruzan gets it right than it is to the doubting fan (assuming he's not a Crucian as well).
Well, I've had a couple chances to try Cruzan 9 over the past two weeks and I can say unequivocally that they definitely got everything right with this!
Unlike other spiced brands that effectively obscure the rum by over-doing it with the spices, Cruzan 9 has a smooth, easy-drinking flavor. Here, rum and spices are in harmony like no other spiced rum I've ever tasted before. The wonderful blend actually accentuates the rich rum flavor, creating an appetizing sipping rum best enjoyed neat or on the rocks. Honestly, I wouldn't even call this a spiced rum as it's much more refined than anything that typically passes for the stuff.
I never thought I'd find a rum to replace Cruzan Single Barrel Estate Rum as my top choice, but Cruzan 9 does it.
Yeah, it's the best in my book, period.
Cheers!
Related Posts