Friday Happy Hour: Rainbow Beach Swizzle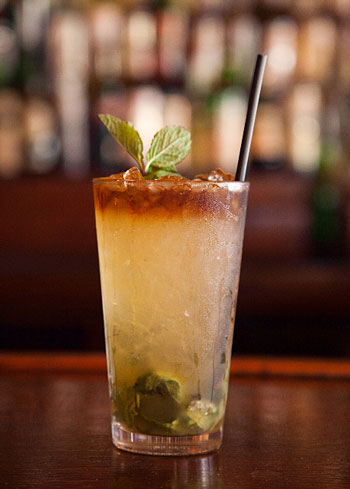 Two great days in Barbados, two amazing, AMAZING sunsets. With some 35+ miles of west coast real estate, Barbados is one of the best places in the Caribbean to take in the daily miracle that is the sun setting into the region's warm, azure sea.
It may seem sacrilegious to some, but while sitting at a really uncommon beach bar and restaurant on Carlisle Bay (we'll tell you more about it later) and watching the sun go down, I couldn't help but be reminded of one of my favorite places in my home island of St. Croix, Rainbow Beach.
St. Croix doesn't have near as much west coast beachfront as Barbados, but that doesn't mean its spots for sunset-gazing are any less spectacular. The top for me, has always been the little patch of beach just north of Frederiksted where the rainbows so prevalent throughout the summer months back home always appear to end, or start, depending on how you look at it.
I can remember countless grand sunset performances here, with scores of locals and visitors lined along the beach together, enjoying cocktails, laughs and the occasional smoke in anticipation of the end of the day. Once fully tucked away beneath the horizon, the whole beach would break out in applause and cheers, another excuse to pour another round.
Which brings me today's Friday Happy Hour drink creation from our St. Croix-based mixologist, Jesse Card. We haven't heard much from Jesse lately because, like Patrick, he recently became a new Daddy. Becoming a first-time Daddy in the States, as Patrick has, is challenging enough. Doing so in the Caribbean… well, let's just say we can understand why Jesse may need a drink or two lately, more than he needs to writes about 'em.
Ingredients:
1oz Cruzan Dark Rum
1oz Cruzan Light Rum
1/2 oz Falernum
1oz Pineapple Juice
1/2 Lime cut into two wedges
3 sprigs of Mint
Cruzan Blackstrap float
Anyway, Jesse mentioned a few months ago that he came up with a new drink inspired by the quintessential Caribbean experience that is Rainbow Beach. It's a little involved, but Jesse promises the payoff will be well worth the effort.
So, without further adu, I present Jesse Card's Rainbow Beach Swizzle!
In a tumbler combine over ice the Overproof Rum, Cruzan Light and Dark, Falernum and pineapple juice. Shake vigorously and set aside for a moment. Next, combine Lime wedges and two sprigs of mint in a pint glass and muddle lightly. Add crushed ice and pack tight. Strain your tumbler full of rum and juice into the pint glass. Using a bar spoon or swizzle stick, stir the glass until you get a nice frosty sheen on the outside. Float Blackstrap on top and garnish with a sprig of mint.
Cheers!
Related Posts