Friday Happy Hour: Sinfully Sweet Pineapple Rum Cake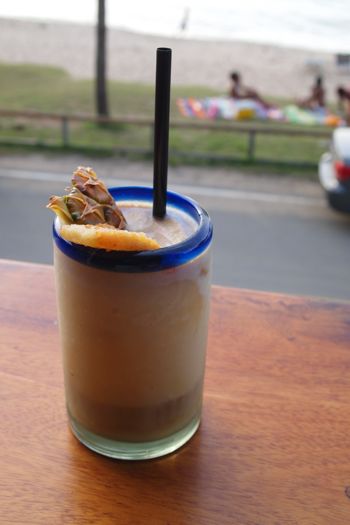 No, we haven't replaced our often imitated/never duplicated Friday Happy Hour with another food-focused department, a-la Monday's Taste of the Caribbean series. Instead, we're sharing a recipe for an uber-inventive libation that's all about those of you sporting sweet tooths and rum fetishes.
In other words, it's the perfect drink for me.
This is the Pineapple Rum Cake, as photographed at Eat @ Cane Bay, where it was invented by a really creative bartender named Kevin. I met Kevin, and his prized creation, at my 40th b'day bash held at Eat @ Cane Bay back on my home island of St. Croix last month. I had already enjoyed dinner and a number of those wikkid rum punches I mentioned in a previous post, so it was only natural that I'd be ready for some b'day cake, right?
Okay, this particular cake may be a bit non-traditional, but believe me, all the requisite sinful cake sweetness is packed in that fancy glass. It's also probably thick enough to support a candle or two, though we didn't try.
So, what's in it, and what inspired Kevin to create it?
The answer to both questions is the same: Frank Pugliese's amazing homemade rum cake.
Frank is the master chef at Eat @ Cane Bay, and the very lucky husband of Katherine Pugliese. (To see why he's lucky, just read this). According to Kevin, Frank's rum cake is a marvel of modern baking, and one of the most-requested items on their menu.
Ingredients:
2 oz Cruzan Pineapple Rum
1/2 cup fresh pineapple chunks
1-1/2 to 2 oz Coco Lopez
1-inch square piece of Rum Cake
Caramel sauce
Ice
Pineapple slice
This popularity, combined with his passion for creating new cocktails using Cruzan Rum, somehow inspired Kevin to start working his mad bartender scientist magic toward giving Eat @ Cane Bay's lucky patrons a new way to savor Frank's fabulous cake creation.
The result is frothy, thick, seriously filling, and truly unique. Here's how you make it…
Combine your 2oz of Cruzan Pineapple Rum with your fresh pineapple, Coco Lopez, rum cake, and ice in a blender. Crank the mix til it's nice and smooth. Pour in your fancy glass and garnish with some sweet caramel sauce and a slice of pineapple.
Now, if you're too lazy to make one yourself, or you just happen to be in St. Croix and want to try a Pineapple Rum Cake where it originated, take note: Kevin only debuted the drink about five months ago, so it's not too particularly well-known. In fact, you won't even find it on the regular cocktail menu!
Definitely, ask for the Pineapple Rum Cake by name, and if you want to be 100% sure you're getting it made perfectly, ask for Kevin. Tell him you heard about it here on Uncommon Caribbean, and I'm sure he'll make yours a little extra-special…
Cheers!
Related Posts