Friday Happy Hour: Smooth Criminal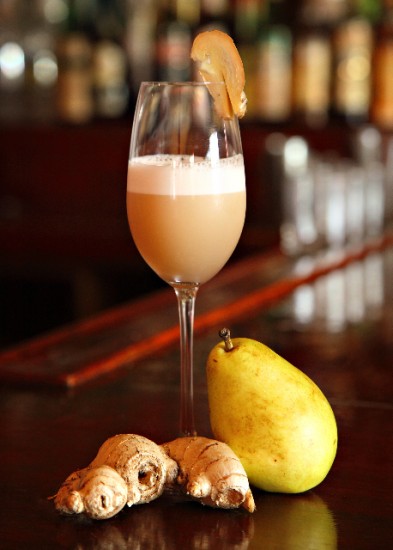 It was a sad day on the Rock last year as we watched the stirring hoopla surrounding the death of Michael Jackson. Well, I reckon as a fan of such majestic Zombie repertoire as Thriller, the least I could do was make a drink in respect.
Ingredients
2 oz pear/ginger infused rum
1/2 oz Cointreau
1 egg white
1/4 teaspoon sugar
2 oz soda water
Ingredients for infusion:
1 bottle Cruzan Light rum
3 large Bosc Pears
4 0z Ginger
The Smooth Criminal
First we need to infuse our Cruzan Light rum.
Take 3 large Bosc pears and dice them into 1/2 inch cubes. Add this to your rum in a large mason jar and store it in a cool, dark place. Agitate it twice daily for 7 days.
After 7 days, add 40z of small 1/4 inch diced ginger and agitate/store for another 4 days.
On the 12th day, strain your infused rum with a french press, chinois, cheesecloth or coffee filter to get out all the little bits of pear and ginger. Then re-pour into the empty Cruzan bottle.
Now we're ready to moonwalk!
Combine your infused rum, Cointreau, sugar and egg white over ice in a shaker and shake vigorously for 30 seconds. Strain into a champagne flute, then add the soda on top and garnish with a fresh ginger coin.
The drink itself is floral, spicy and sweet. I'm sure a few kids who stayed at Neverland Ranch would say the same about its namesake… Shamon!
Related Posts