Friday Happy Hour: Sneak Preview of the New Cruzan Estate Diamond Rum
Have you noticed the gang of people badgering me on twitter lately? Accusations are being made… Veiled threats, unveiled… Explanations, demanded… It can only mean one thing: it's Miami Rum Renaissance Festival time… and I will be missing it!
Yes, sad but true. I've attended the annual South Florida rum soiree dubbed the World's Sexiest by this very site each of the past three years. Each time, it's been better than the last, opening up an ever-wider world of rum wonders to yours truly and the many friends and family I've encouraged to come along.
Make no mistake about it, my absence from this year's festivities is no strike against the overall quality of the event. To me, it remains among the top rum festivals in the world, and I have no doubt it will retain the title of World's Sexiest again this year.
So, what could possibly pull me away? Well, in part, you're looking at it.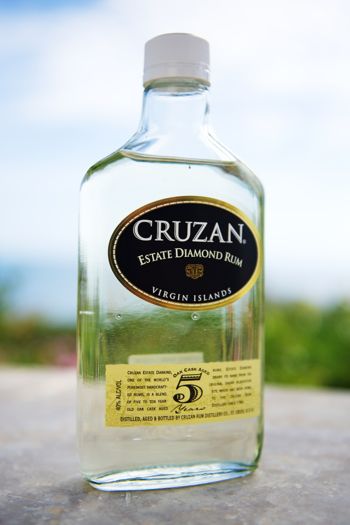 This is Cruzan Estate Diamond Rum from my home island of St. Croix. Old Cruzan Rum lovers will remember the old Estate Diamond from years past. Many still consider it better than the top shelf Single Barrel we've come to know and love so well.
This, dear reader, is not that old Estate Diamond.
It's brand new… and even better!
I had a chance to sample it with my brothers, our erstwhile mixologist, Jesse Card, and other assorted fine company during our reunion trip back home last month. To be sure, the fine folks at Cruzan have outdone themselves with this one.
Exceptionally smooth, with nary a trace of harshness or bite, this rum may be a little too easy-drinking for those of us with a real affinity for fine rum, if you know what I mean.
I enjoyed it just fine on its own, neat with a view of Buck Island off in the distance, the combination magically removing every single care from my mind.
Don't be afraid to mix with this one, though. According to Jesse, you won't find a better mixing rum… ANYWHERE.
Unfortunately, you won't find the new Cruzan Estate Diamond Rum anywhere just yet either. It's won't be available for sale for awhile.
You won't even find it at next week's Miami Rum Renaissance Festival, at least according to my sources.
To get a taste of this stuff, you better know somebody… down in St. Croix… where I'll be next week.
Hope to see you down there for our own special little rum fest…
Cheers!
Related Posts