Friday Happy Hour: Tastes Like Summer Cruzan Rum Cocktail
Even in a perpetually warm and sunny place like St. Croix, people look forward to summer.
Summer brings a bit more rain, enlivening the landscape with a vibrant splash of green.
Summer also means mangoes, genips and a lot of our other favorite tropical fruits will be in steady supply.
Vacation visits from family and friends, turtle-nesting season and near-daily rainbows further add to the appeal.
There's no winter from which to recover, but summers in St. Croix still generate plenty of smiles, much like the newest cocktail creation from the mixologists at Eat@Cane Bay. It's called Tastes Like Summer, and let me tell you: if you love summer (Who doesn't?!), you'll love this!
I got my first taste of this cool new cocktail this past Wednesday at the Food Fight event held at Eat@Cane Bay as part of the St. Croix Food & Wine Festival. True to its title, the event pits visiting celebrity chefs against each other in a culinary battle of wits, smarts and skills.
(Meet the chefs at this year's St. Croix Food & Wine Festival here.)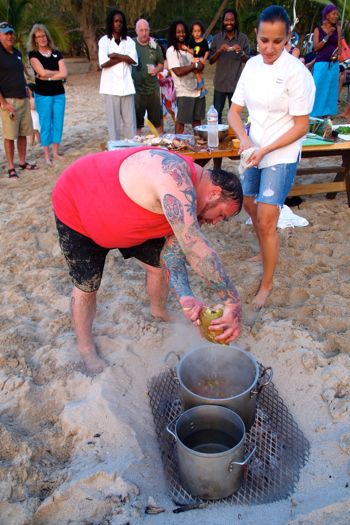 They're challenged to identify different ingredients under blindfold.
They're subjected to a Jeopardy-style trivia game with questions themed around random St. Croix facts.
To top it off, they're made to hit the beach and compete in crafting an incredible delectable dish on the spot and in the sand using whatever surprise ingredients event organizers provide.
One team this year got to work with lobster; the other, lionfish.
Their cooking apparatus: holes dug in the sand filled with hot coals.
Yeah, Food Fight is no ordinary culinary competition.
All the while these world-renowned chefs are sweating it out, we spectators got to sit back and enjoy the signature drink crafted especially for the event. Cool, refreshing, sweet and nice, Tastes Like Summer made watching all that hard work and competition a breeze.
Here's how you make it…
Mix 1.5 oz Cruzan Dark Rum, .75 oz Cruzan Mango and 1 oz pineapple juice. Top with ginger beer, add ice and a splash of soda water, and you're done!
Try one out today and get your summer started off right!
Cheers!
Related Posts