Friday Happy Hour: Vexed Valencia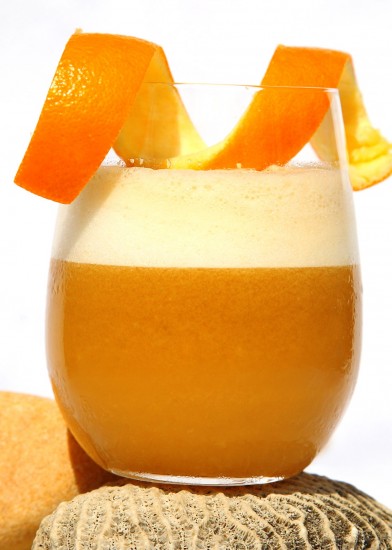 Today's inventive libation came to be as most of our favorites have – after midnight at the bar and completely by chance.
It was a fun Saturday night. The staff and a few good customers were hanging out after we locked up for the night. I had made a batch of Orangecello earlier that day and had a half dozen zested oranges left over. I needed to use 'em up before they turned to the dark side (went bad), but how?
For inspiration I turned to my favorite dishwasher, Valencia. A funny, sweetheart of a lady, Valencia is the hardest working Grandmother I know. By day, she works in a local school kitchen. By night, it's long hours at Salud.
Despite all the work, Valencia never complains. The most she'll say after a tough day at the school is "dem kids, de vexing me, yah."
In honor of the inimitable stoicism Valencia displays even with all her trials, this conundrum of a cocktail is for her.
Ingredients
2 oz Cruzan Dark Rum
1 1/2 oz Fresh Squeezed Orange Juice
1/2 oz Hanschells Falernum
1/4 oz Cynar
1 egg white
Combine ingredients over ice in a tumbler. Shake vigorously. Strain into a Riedel O glass or rocks glass. Garnish with a long orange twist.
The flavor is a developed contradiction – sweetness from the OJ and falernum, depth and texture thanks to the Rum and egg white. The Cynar adds a little twist of herbal bitterness that marries well with the other flavors, but still stands out on its own.
It's a delicate taste that hangs around with you and is hard to pin down.
This drink, it be vexing me..!
Related Posts