Friday Happy Hour: Zombie!, a Cocktail Fit for New Moms & Dads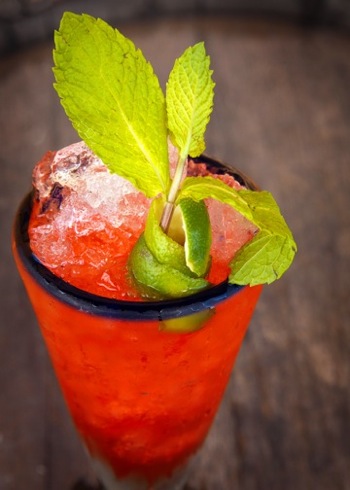 As a recently blessed first-time-father, I often find myself at work paused in mid-step trying to remember just what in fact I was trying to accomplish. My shuffling feet seem to know what I need to do, but with a dangerous potion of distracted focus and sleep deprivation, I find myself befuddled with even the simplest of tasks.
I have become a Zombie.
And I don't mind it at all.
Zombies are delicious. Well, at least the drink is.
The Zombie harks back to the exciting days of early post-prohibition, when Americans were eager to wet their whistles with the intoxicating ingredients that had been discovered outside our continental borders, our vicarious exploits extensively imbibed and written about by Bon Vivant's such as Ernest Hemmingway, Charles H. Baker Jr.  and Donn Beach (better known as Don the Beachcomber).
These dedicated men of the drink sought to remedy the stagnant tide of prohibition by endorsing a prescribed dose of inspiration and romantic notions of freedom with a hint of exotica to be found in the glass.
It was in this culture that Don the Beachcomber found success in a number of faux Polynesian style lounges, better known as Tiki Bars. The watered down exotica was exactly what a beleaguered public craved as it slowly trudged from the murky pit of the Great Depression.
Ingredients:
1oz Mount Gay XO Rum
1oz Cruzan Light Rum
1oz Cruzan 151 Rum
1/2oz Hanschells Falernum
3/4oz Fresh Lime
1/2 oz Don's Mix Syrup*
Splash Grenadine
5 drops of Pernod
Dash Angostura bitters
The star of the menu was a drink so powerful, a disclaimer was fastened allowing only two to be served per guest in a single night. This imposing safeguard mandated the Zombie as a must have, which ensured it an instant hit.
A mix of different rums, juices, secret syrup blends and worldly liqueurs, the Zombie finds unique balance in a cornucopia of flavor.
It's a blended drink to be taken seriously (and also quite easy to make).
Zombie!
To make it, just blend all the ingredients with 3/4 cup ice until smooth.
Cheers!
*Don's Mix syrup
Combine 1/2 cup water, 1/4 cup sugar and tablespoon ground Cinnamon in a saucepot. Bring to a boil then reduce to low heat stirring continuously. Remove from heat after one minute and let cool. Add one cup fresh squeezed grapefruit juice, mix well and strain. Refrigerated syrup will last up to two weeks.
Related Posts