Gourmet Reggae Brunch at Eat @ Cane Bay – Taste of the Caribbean
Editor's note: Uncommon Caribbean was never intended to be a strictly boy's club, though we've somehow managed to publish 300+ stories without a single female viewpoint! No es bueno. Today, we correct this oversight with the first guest contribution by Stephanie Hanlon, a newspaper reporter based in St. Croix, U.S. Virgin Islands.
Imagine … eggs Benedict with foie gras and truffle hollandaise sauce, a passion fruit mimosa, and home grown live reggae music, all while perched above the Caribbean Sea on the undeveloped north shore of St. Croix.
Well, you don't have to imagine.
That is just some of what Eat @ Cane Bay on the V.I.'s "Big Island" offers every Sunday during Reggae Brunch.
The venue has managed to meld perfectly five-star tastes with conscious reggae sounds for an unforgettable experience.
Gourmet Reggae Brunch Menu
The menu offers typical brunch favorites like omelets, bananas foster, crepes, burgers, and sandwiches each sporting an optional gourmet twist or two. One of the most popular items is the build your own Benedict with filling choices like chorizo, frois gras, steak, avocado and tomato, Canadian bacon and more. You can also opt for traditional, spicy or oh-so-mouth-watering truffle hollandaise. Mmmmmm…
Eat's regular menu is equally mind boggling, highlighted by their popular food shots, which are basically tapas for a beach bar. They change nightly but some examples are the roasted beet, gorgonzola, white truffle oil and balsamic reduction shot; the tuna tartar shot with ginger soy and wakame salad; or the triple smoked shot with smoked duck, smoked bacon and smoked tomato aioli. Again, mmmmm….
Culinary Couple Behind Eat @ Cane Bay
So, who is the mastermind behind this calalloo of sensations? None other than Katherine Pugliese and her husband Frank, both of whom are known for embracing local culture while satisfying the stateside palate.
Katherine, better known as Kat, is co-founder of A Taste of St. Croix, the modest one-night dinner that has blossomed over the past 10 years into the week-long St. Croix Food & Wine Experience. One of the Caribbean's most celebrated culinary events, the St. Croix Food & Wine Experience is a favorite of many top celebrity chefs and the foodies who follow them. Among the more notable chefs to participate in the event in recent years are Tim Love, Kevin Rathbun, Gabriel Rucker and Roberto Trevino.
Much more than an exclusive VIP foodie-fest, the event also attracts food and wine writers from around the world to taste samples from local restaurants, distributors, bars and culinary schools, with proceeds benefitting various charities in St. Croix.
The St. Croix Food & Wine Experience is big time, as evidenced by the event's inclusion in Forbes Traveler's list of Ten Best International Food & Wine Festivals… So are Kat and Frank.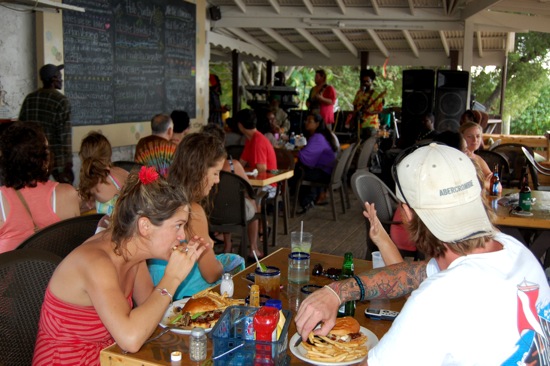 Prior to opening Eat @ Cane Bay, the pair owned one of St. Croix's most popular fine dining establishments, Bacchus, which won the Wine Spectator's award each of the 10 years of the couple's rein.
This time around, the couple wanted to do something different.
Gourmet Meets The Beach
Kat said they wanted to combine gourmet and beach bar. Somewhere, "where you can top your cheese burger with American cheese or foie gras. Where you can have a Budweiser or Paul Hobbs," as Kat says.
They wanted to do something more relaxed and quirky.
A testament to the quirkiness of Eat is the traditional ringing of the bell. When one of the staff, or the band, summons all of the employees to run and jump into the ocean. The last one in has to do a shot of Sweet Vermouth. Ewww.
Kat says the bell tradition keeps employee morale up and it also entertains the customers.
Watching your waiter strip down and jump in the ocean is always fun too, but the most entertaining thing about Eat is the sweet sounds of conscious reggae music.
Brunch Made Better by Reggae
Kat says reggae music was a big part of the concept for the restaurant. "I love reggae, I'm a reggae fan to put it lightly." Specifically, she likes conscious reggae, of which St. Croix has much to offer. In fact, V.I. reggae artists have grown in popularity within the past few years, filling venues and selling records across California and other U.S. states.
During my visit last Sunday, it was the Reggae Bubblers that brought the good vibes to Eat @ Cane Bay. They played mostly originals but also threw in some songs by legendary greats like Bob Marley. I ordered a build-your-own burger and a passion fruit mimosa. My burger was topped with brie cheese and truffle aioli, which is also great for dipping fries – amazing!!!
Reggae Bubblers lead singer and bass player Trevor "Hayba" Warner said the band enjoys playing Reggae Brunch because it's different and there are good vibes.
Hayba described his band's music as roots reggae with a conscious message based on Rastafarian beliefs. While many reggae bands have become more commercialized and embraced more up-tempo dancehall rhythms, Hayba said the Reggae Bubblers and other local artists have remained conscious.
He said he gives Kat a lot of credit for supporting the local artists. "She's keeping the reggae vibes going and we need that," Hayba said.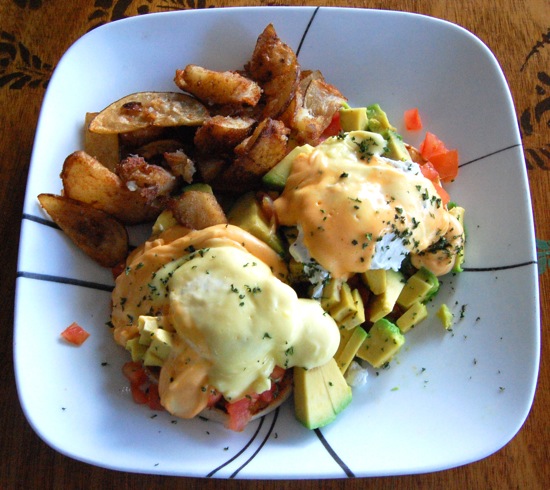 And, it's not just the locals who appreciate it. Hayba said Reggae Brunch gives tourists a place to come and get a taste of real reggae music.
From the Heart for Everyone
Native Virgin Islander Virgil Williams said Reggae Brunch is bringing locals back to the island's north shore. Cane Bay is about 30 minutes from both of St. Croix's towns – Christiansted and Frederiksted.
"I feel like the local people enjoy this as much as the people from far away," he said.
Virgil now goes every Sunday and usually gets the build-your-own burger and several Grand Coladas.
It is because of Eat that local artists get highlighted every week, which is a major part of what brings him out every Sunday.
"There's no other place like this," Virgil said.
When I asked Kat what type of customer she was trying to attract she said she is still trying to figure that out. Eat has all the elements a typical tourist is looking for: beach, frozen drinks, live reggae, and good food – but there is a twist; a combination that has attracted locals as well.
"I think that Reggae Brunch comes from the heart, it's about the music, the vibes and really good food," Kat said.
Editor's note: Eat@Cane Bay is now The Landing Beach Bar! The days of the awesome Gourmet Reggae Brunch may be over, but the Reggae Bubblers are still going strong! You can check out their website right here. Nice vibes and good food/drinks are still hallmarks of this popular spot as well. Learn why we call The Landing Beach Bar "heaven for craft beer lovers" here.
Related Posts