One Rainy Morning Hiking St. Croix's Jack and Isaac Bay Preserve, Part II
When we left you a week ago, I was standing in this spot on Issac's Bay in St. Croix, though facing in the other direction. The skies pictured above to the southwest look ominous enough. It was the REALLY dark clouds bearing down on me from the southeast, though, that threatened to put a premature end to my hiking adventure within The Jack and Isaac Bay Preserve. The fast-moving squall was on top of me in seconds, leaving me scrambling for cover.
Just one problem: there is no cover on Isaac's Bay.
In fact, as far as I know, there's never been any cover of any kind on Isaac's. It's about as remote an idyllic stretch of beach as we have on St. Croix. That, and its status as a nature preserve, means that you won't find too many signs of civilization here. Certainly you won't find any facilities or shade structures.
Well, not any formal ones anyway…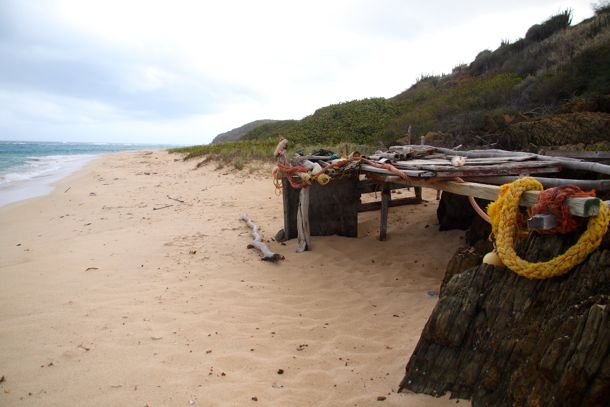 Luckily for me (and my camera) I found this crude collection of driftwood, bamboo, rope, and refuse wedged against some rocks along the shore. It's located just a few paces from the stairway that leads down to the beach from the trail, and made a nice, mostly dry home for me and my equipment during the 20 minutes of heaviest rain.
Watching the waves roll in from under here as the rain fell all around was so peaceful and cool I almost didn't want it to end…
I'm usually in such a hurry to explore or engage in some activity that I rarely get the time to just sit there quietly and watch nature play out in all her glory.
The rain and ramshackle shelter proved a blessing, in more ways than one…
What wet wonders await me outside the ramshackle shelter? Will I make it over to Jack Bay, or have to cut the hike short due to the weather? Tune in for part III for the answers…
Related Posts