Keep The Caribbean In Christmas With Inkberry Trees
There are few more popular symbols of Christmas in the islands than festively-lit palm trees like the one above. Their trunks festooned with spiraling lights from head to roots, the crowning fronds further lit along their rachis, these twinkling palms herald the Holiday Season in the tropics like nothing else.
There's also nothing traditional about them…at least not in the Virgin Islands where we were born and raised.
In our islands, the true tannenbaum is the inkberry tree.
Spiny, strong, and boasting a strong tolerance to many of the typically tropical elements that fell lesser plants – wind, salt, and drought among them – the inkberry is one of those all-everything trees that seem to exist in all societies; as much defining a people and a place as it provides for them.
In the case of the inkberry, the providing was mostly tied to fishing. In the old days, Virgin Islanders would strip the thorns from inkberry branches and use them as fishing poles.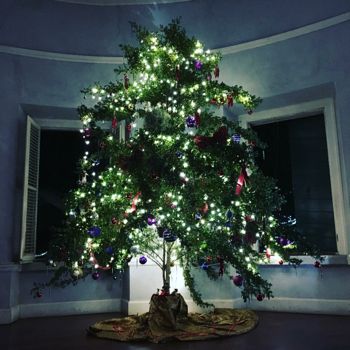 During the Holiday Season, though, inkberry trees were even more prized as Christmas Trees. Cut down in the wild, carefully brought into local homes and decorated, they radiated a heavenly glow every bit the equal of any Douglas fir.
These days, inkberry trees have largely faded from the Christmas scene in the Virgin Islands, though you can still find 'em at select bastions of our local Crucian cultural history, like Whim Greathouse and Museu in Frederiksted, where my friend Rhea just captured this photo a few days ago.
Next time we get a chance to celebrate Christmas back home, you can bet you'll be able to find one wherever we're staying as well…
*Lead photo credit: Flickr user Joe Parks.
Related Posts