La Vaughn Belle, St. Croix's Queen of Conscious Art
Art for art's sake is nice, but it is purposeful works echoing history's triumphs and tribulations that really speak to me. I'm talking powerful, often deeply-personal art meant to challenge popular misconceptions. Art that stimulates difficult discussions, or makes you see things from a different perspective. Art that's crafted with an eye toward growth, education, and promoting greater understanding. The type of art that truly brings you closer to the soul of a place. In St. Croix, right now, the best source of this style of conscious art is La Vaughn Belle.
Early Years Swimming and Drawing
My friendship with La Vaughn stretches back to our pre-teen days. We competed together as members of the St. Croix Dolphins Swim Team. Back then I never would've pegged her as a pioneering black female icon of the art world. When I sat down with La Vaughn at her studio in Christiansted last January, though, she intimated that her success as an artist was almost meant to be.
I always was that kid in class that could draw well… Leo Carty [a well-known artist and art teacher in St. Croix at the time] was my mentor. He would say, 'You should be an artist. You ARE an artist!'
This initial prodding, however, had little impact on young La Vaughn Belle. When it came time for college, she enrolled in the pre-med program at Columbia University. Within two months, though, she realized that the med life just wasn't for her. English and journalism studies followed before La Vaughn finally turned back to art.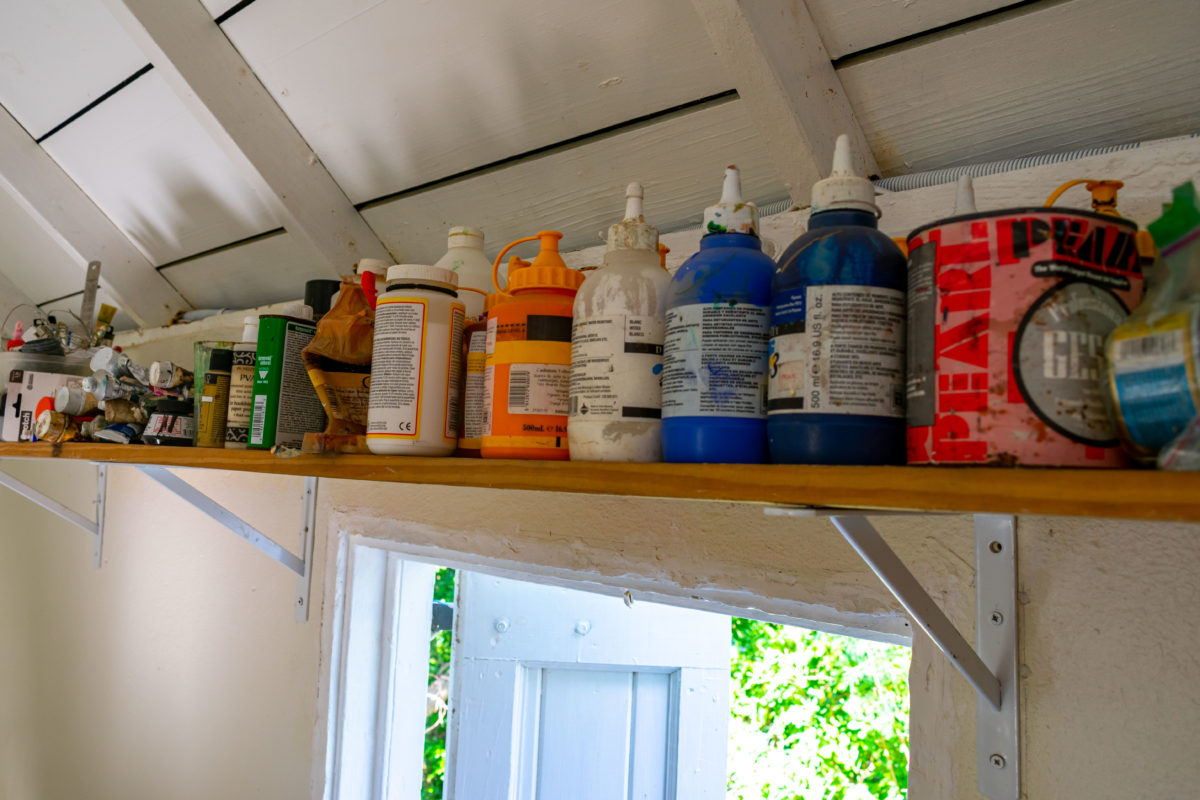 An uncommon choice post-graduation cemented her new path…
La Vaughn Belle Finds Herself, At Home in St. Croix
Although most people go to New York to be an artist, I left New York to be an artist. I came home.
The decision proved instrumental in helping La Vaughn to find her true calling as a visual artist.
This space [St. Croix] is so rich to work in! We have such a fascinating history. Our visual landscape is continually inspiring me.
Throughout her career, La Vaughn has worked in various mediums – drawing, woodwork, photography, video, painting, sculpture. Everything she creates, though, deals with material artifacts from the colonial era in the Virgin Islands. Chaney, scattered pieces of broken china dating back to the 1700s, are among her most popular subjects.
Chaney Paintings Series
Any time it rains you see chaney re-surfacing. It's kind of like this metaphor for the fragments of history that keep coming up. That struck me. I thought about them as these little mini paintings that are fragmented and thought: What would it look like to make them bigger?
The resulting works combine patterns found in various bits of chaney. La Vaughn finds the pieces in the ground outside her studio after heavy rains, or photographs them from private collections. Next, she looks for connections in disparate patterns, creating singularly unique canvas art steeped in history pulled straight from Crucian soil.
To me, [the Chaney Paintings series] is very much a symbol of our Caribbean identity. We don't have the whole African picture. We don't have the whole European picture; the whole indigenous. We have fragments from which we've made something new.
Cuts and Burns Series
Similar socio-historical sensibilities run through La Vaughn's Cuts and Burns series. These elegant pieces echo the torch and cane bill, both instruments used by enslaved Africans in St. Croix to resist and rebel against colonial oppression.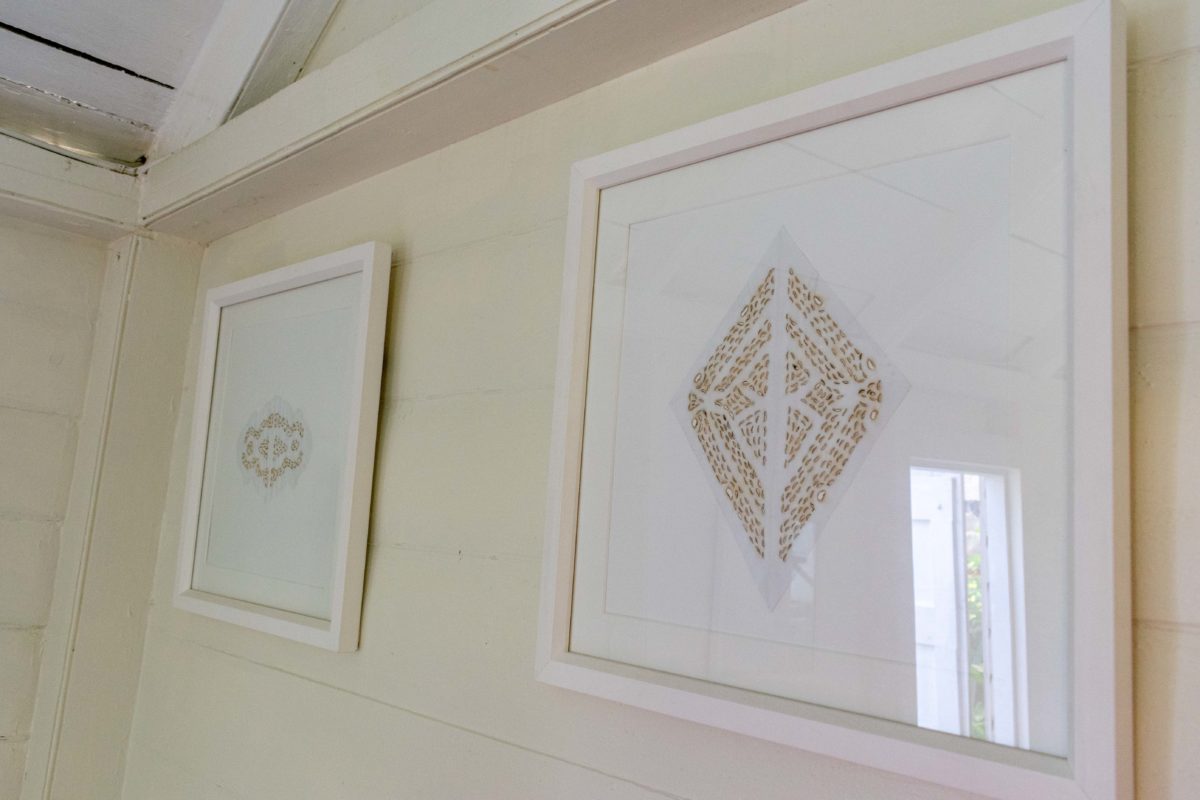 La Vaughn's Cuts and Burns art speak directly to the historic Fireburn labor riot uprising of 1878 in Frederiksted. The designs that Belle burns into the canvas by hand are inspired by the Creole fretwork prevalent on the historic buildings in Freedom City. In this way, La Vaughn brings historical elements of Afro-Crucian resistance together with architectural facets unique to Frederiksted to put a new visual spin on an important chapter in Caribbean history.
Wall Rubbings Series
Another powerful La Vaughn Belle series that I love is called Wall Rubbings. These pieces bring the heretofore unseen coral stone walls that comprise the foundations of Danish colonial buildings in St. Croix into the light.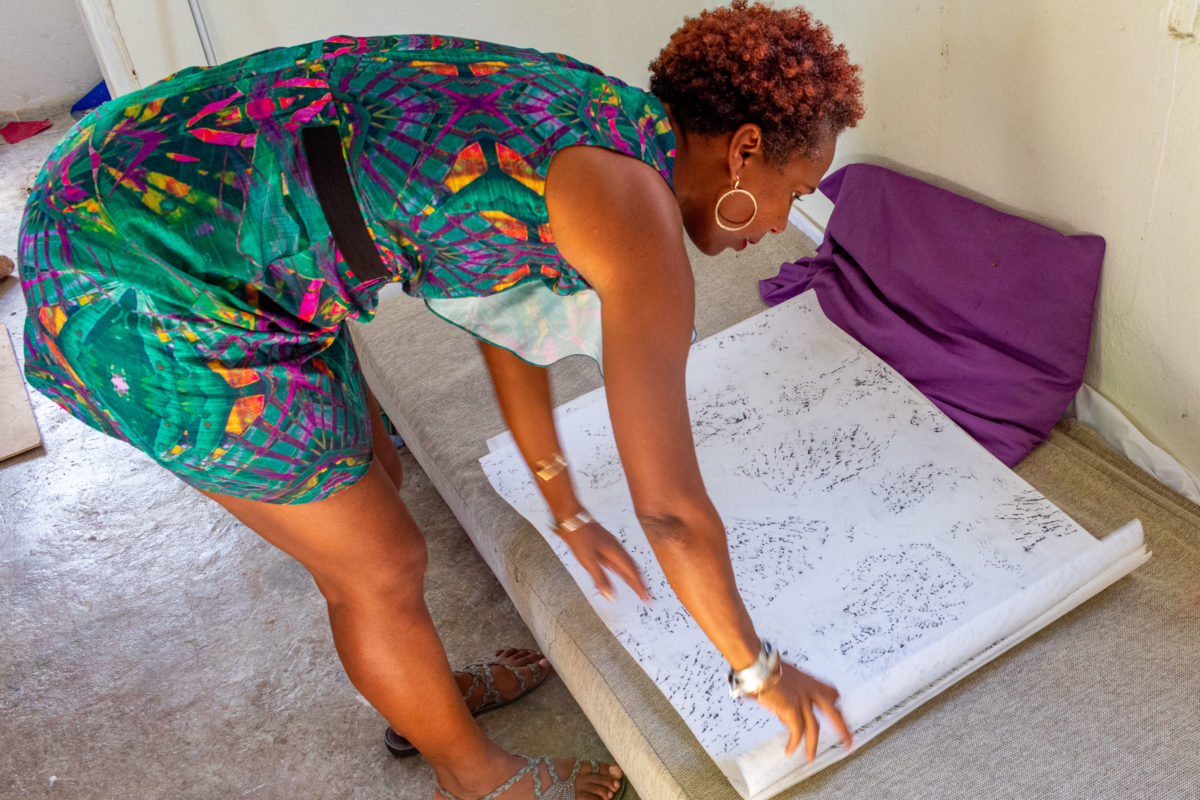 Slaves were made to cut the coral from St. Croix's surrounding seas during the formative years under Danish colonial rule. For centuries, the ornate neoclassical facades of celebrated structures like Christiansted Government House have hidden the sacrifice of the free-diving enslaved. La Vaughn's stylized etchings of these foundations finally allows us to honor their memory.
I Am Queen Mary
Undoubtedly, though, La Vaughn's most celebrated work is I Am Queen Mary.
The 23-foot tall statue was unveiled in Copenhagen in the spring of 2018. Its subject, of Mary Thomas, better known as Queen Mary, was one of three women who led the 1878 Fireburn. La Vaughn produced the statue in collaboration with Danish artist, Jeannette Ehlers, herself a fellow black female artist.
The striking statue serves to challenge the collective memory of slavery among the Danish people. Notably, it is the first public monument to a black woman ever displayed in Denmark. Throughout the piece, Belle and Ehlers infuse various elements of political defiance and Afro-Crucian identity. Many of these elements are also found in La Vaughn's other series'.
Representations of coral cut from sea in the base of the statue echo Belle's Wall Rubbings. The torch in Queen Mary's left hand and the cane bill in her right recall her Cuts and Burns series.
The seminal piece makes a triumphant statement in support of civil rights, the indomitable strength and leadership of black women, and the steadfast perseverance of Afro-Crucians in overcoming the shackles of Danish colonialism.
The original I Am Queen Mary statue remains in Copenhagen. A small duplicate, though, is currently on display at Barnard College. Take a look…
Barnard College: I Am Queen Mary
For art that truly connects you to the soul of St. Croix, you simply must seek out La Vaughn Belle. Find her online at LaVaugnBelle.com.
Related Posts