Monks Bath, St. Croix – Take A Dip Into Caribbean History
Natural pools are the best pools, as we've noted a time or two before. That doesn't mean, though, that Mother Nature hasn't benefitted from a little human intervention in constructing her pools over the centuries. Case in point: Monks Bath, St. Croix.
No doubt the oldest swimming pool on St. Croix bearing the imprint of man, Monks Bath is said to have been carved from the jagged rock that lines a good portion of the northwestern shores of the island more than 360 years ago! Its name hints at its supposed builders…
17th Century St. Croix
St. Croix was a most inhospitable and largely uninhabited place in the mid-1650's. The Dutch, Spanish, and English had fought over her in the 150+ years since Columbus. That fighting, though, was generally more about controlling the island for strategic purposes rather than putting down roots.
St. Croix, it seems, wasn't much worth settling.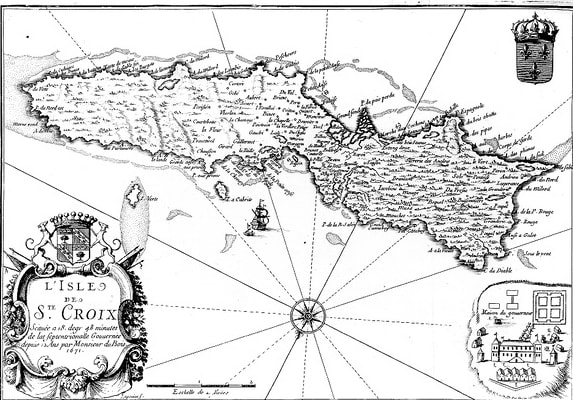 Initial efforts at cultivating tobacco had largely failed, due as much to a massive plunge in the price of tobacco as anything else. What's more, St. Croix was widely known as unhealthy and disease-ridden back then. From the writings of famed French historian and philosopher, Guillaume-Thomas Raynal…
[Sainte Croix] is a flat island, covered with old trees, [which] do not allow the winds to sweep the noxious vapors, which the swamps release into the atmosphere.
What few settlers that did live here were always sick or dying. In 1651 alone, three governors died!
It was during this time that Monks Bath is said to have been built.
Knights of Malta in St. Croix
It was also at this time that the French took control of St. Croix in the person of General Philippe de Lonvilliers de Poincy. A military aristocrat born with a silver spoon who initially came to govern all of the French West Indies somewhat by chance, de Poincy was solely responsible for bringing St. Croix under Le Tricolore… eventually. At the onset, he actually seized the island as his own personal possession.
(Side note: It was also de Poincy's idea to start sugar production in the French islands, an idea he borrowed from Brazil that eventually enriched colonial settlements across the entire Caribbean region, though that's a story for another day.)
General de Poincy was a ruthless micromanager of a leader. He was anything but trustworthy or loyal, a legendary deadbeat as it related to his debts, and decidedly non-pious.
He was also a member of the Knights of Malta, the religious order formed in the Middle Ages to assist Christians on their crusades to conquer the Holy Land. This is where the monks come in… supposedly.
Who Really Carved Monks Bath, St. Croix?
Somewhere within the 1650's, Monks of the Knights of Malta are said to have carved Monks Bath, ergo the name. This theory doesn't much jive with history, though. Consider the pool's location, for instance.
Sitting as it does three miles north of Frederiksted, Monks Bath is a good distance away from what would've been the primary French/Knights of Malta settlements on St. Croix at the time in/around present-day Christiansted.
Also, as noted in Virgin Islands historian Arnold R. Highfield's excellent book, Sainte Croix 1650–1733: A Plantation Society in the French West Indies…
During the 1650s and 1660s, the whole west end of Sainte Croix from the Cap du Diable (Ham's Bluff) to Pointe de Sable (Sandy Point) remained largely unpopulated under the French, even though, in the 1640's, English settlement had grown up there, centered around Fort Saint James at the present-day location of Frederiksted.
In addition to location issues, you also have to account for de Poincy's ruthless micromanaging, his non-pious ways, and St. Croix's reputation as a haven for disease. All three combined to make it exceedingly difficult to attract men of the cloth to serve the fledgling Crucian community.
So, who really carved Monks Bath, St. Croix?
Well, they certainly weren't monks in the traditional religious sense that we know them. I guess they could've been Knights of Malta, or more likely slaves owned by members of the Knights of Malta, though I haven't come across a definitive source just yet.
Either way, Monks Bath is definitely well worth checking out for a unique dip into St. Croix's history… if you can find it.
How to Visit Monks Bath, St. Croix
Like many people born and raised in St. Croix, I always had a general idea of where Monks Bath was located. Also like many Crucians, I never took the time to go looking for it. Amazingly, it wasn't until I returned home this past December that I actually tried to find it in earnest.
The search was not as easy as I originally thought.
After driving back and forth several times between Rainbow Beach and Hams Bay, along the road tailing due north of Frederiksted, I finally decided to stop at this small roadside clearing, which I judged to be about three miles from town.
Directly across the road stands this imposing gated facility…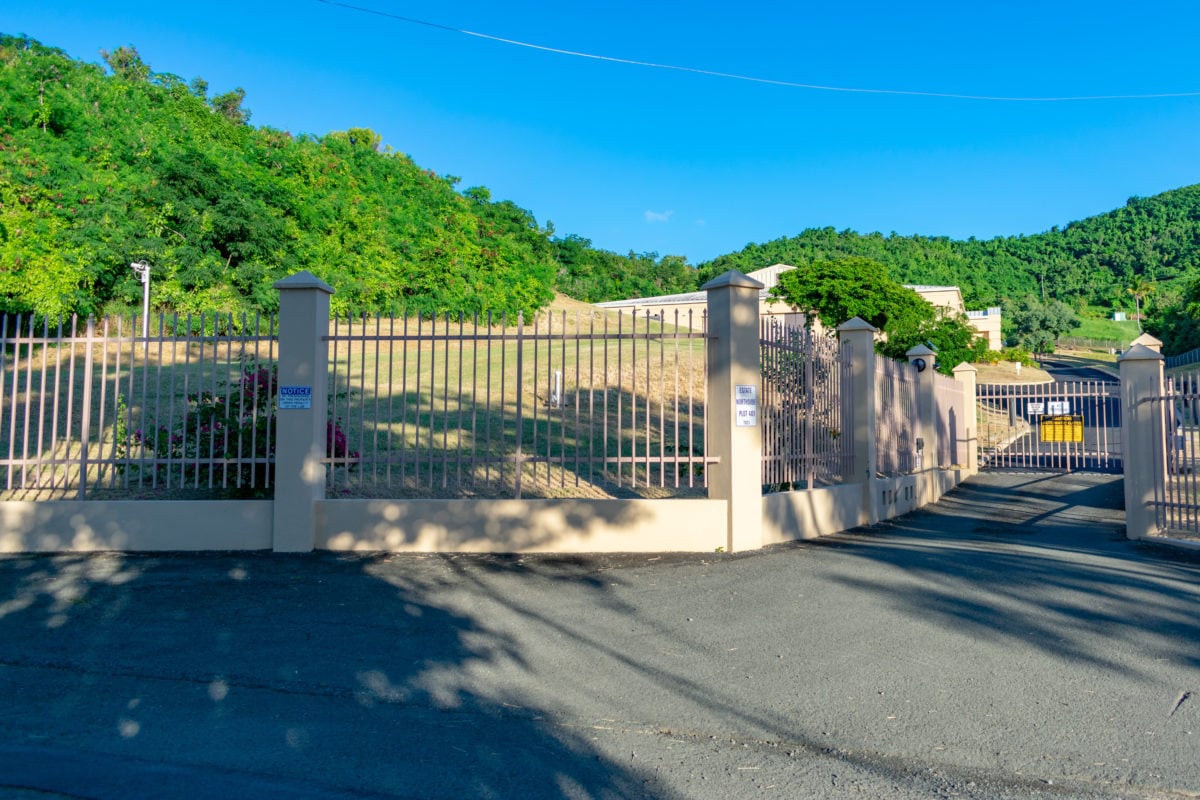 …facing this steep wooded decline to a rocky shoreline below.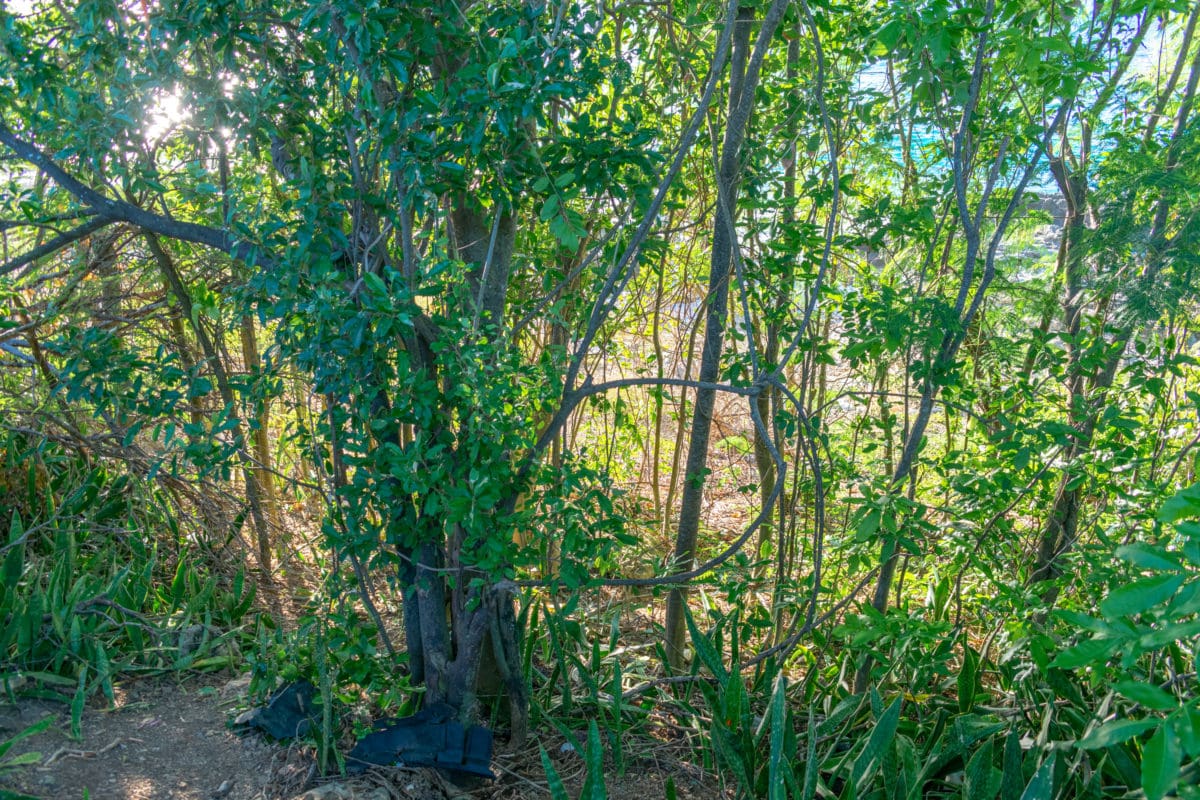 After carefully staggering my decent through the roots and trees, I emerged here.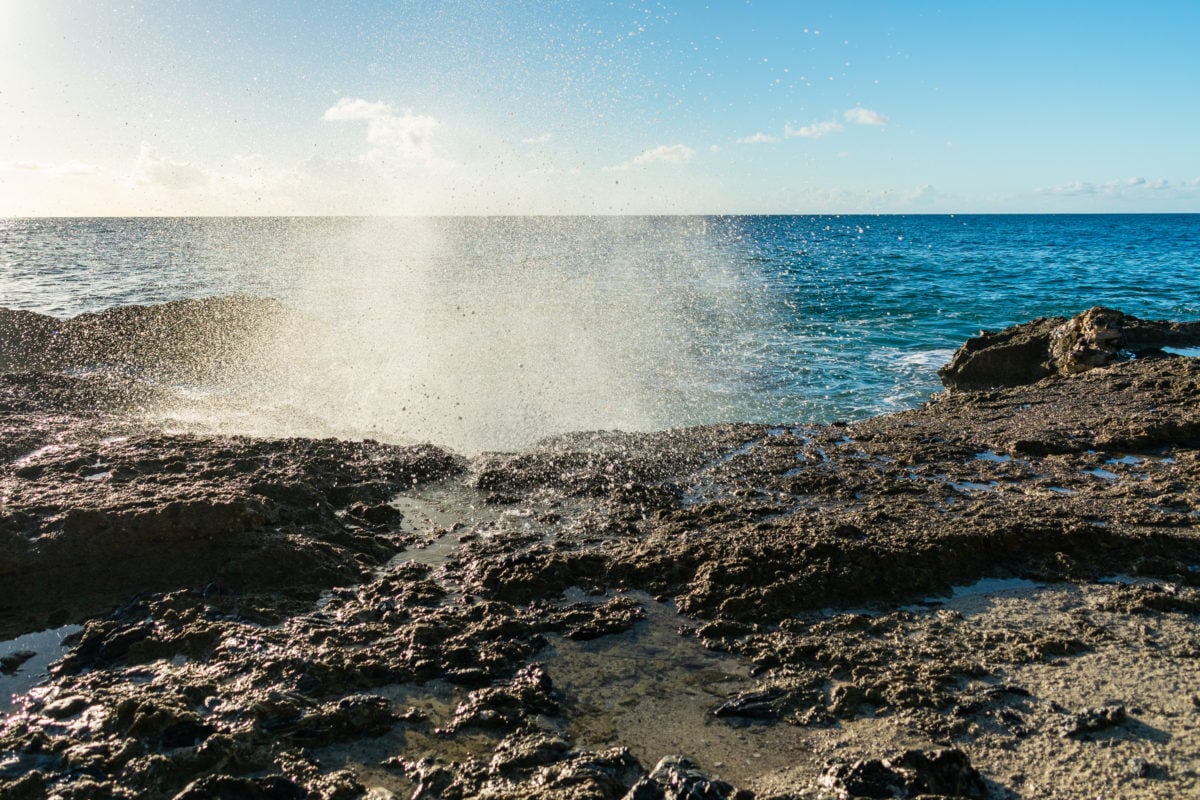 Powerful waves crashed along the rocks hurling salt spray through blow holes and onto my face as I made my way north toward these ruins.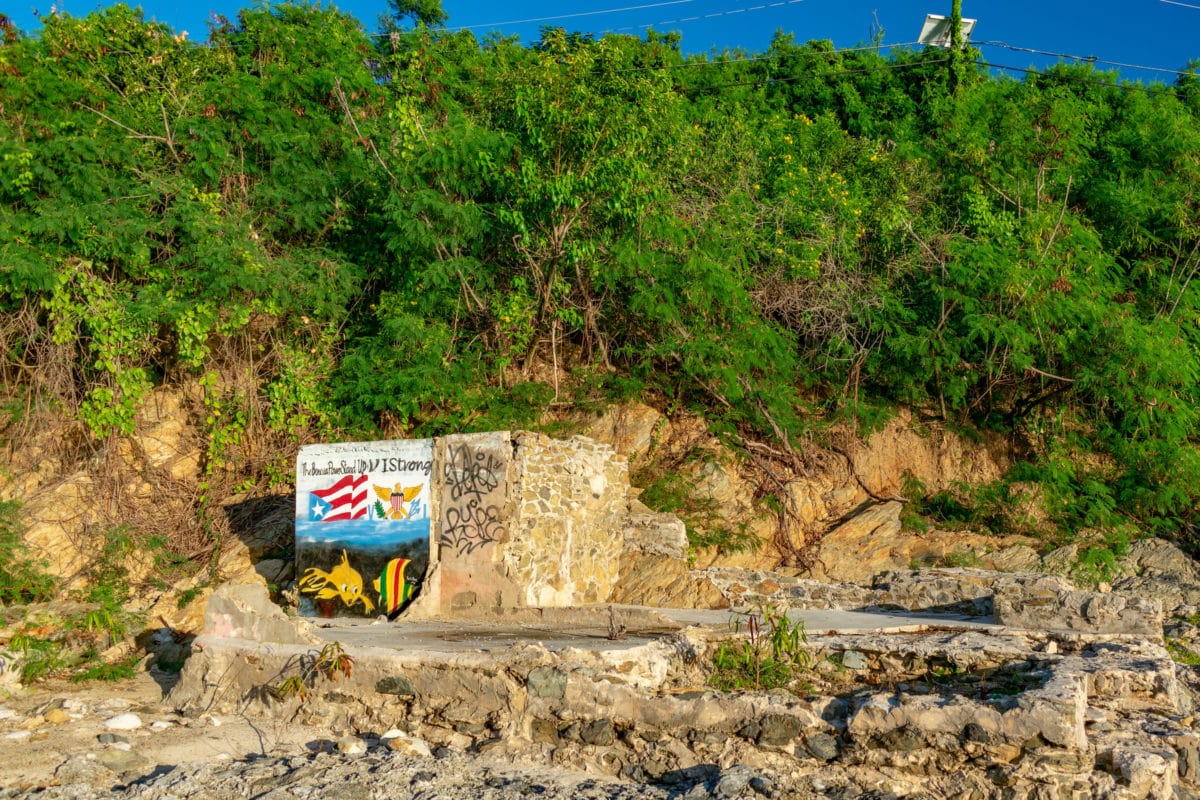 Before I could get to them, though, I found myself at my intended destination.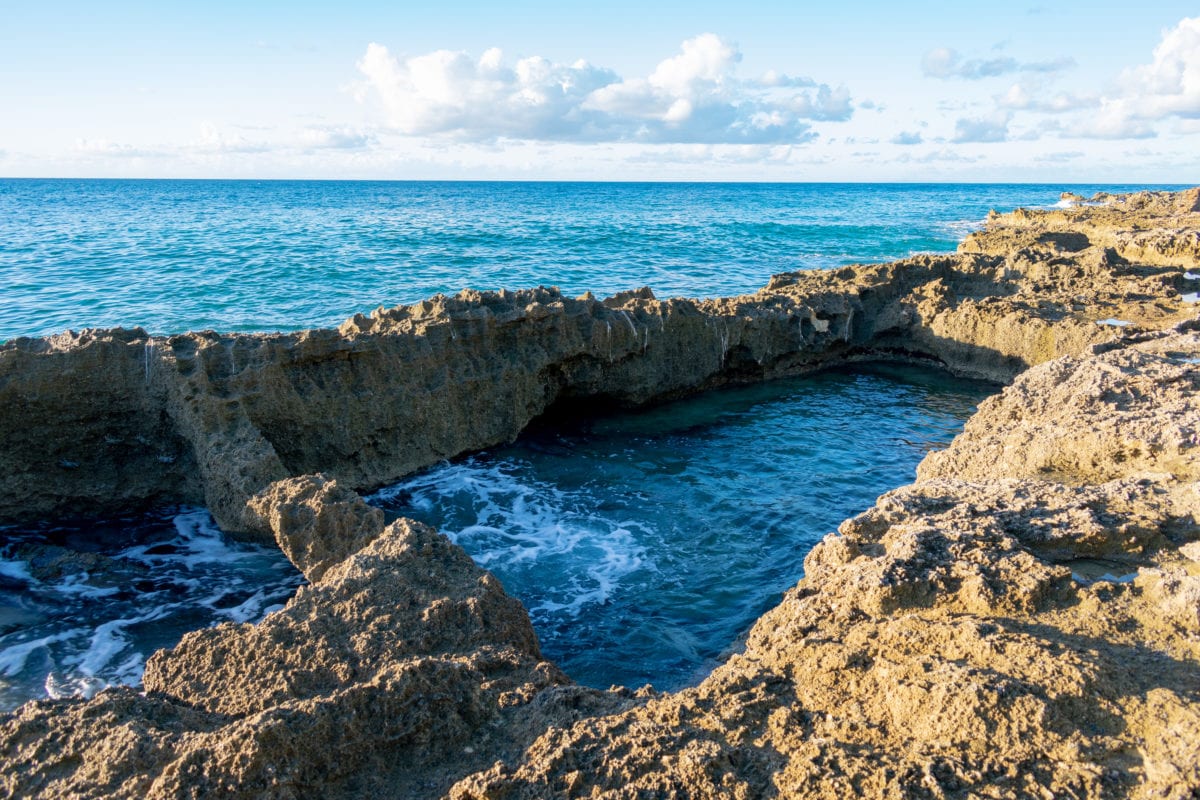 Monks Bath, St. Croix is actually right next to the road and really easy to access, assuming you know exactly where it is.
Tips: Steps are carved into the sidewall (apparently added during the 1930s) making it easier to climb out. Definitely try to time your visit to coincide with high-tide to ensure there's plenty of water in the pool. (A hole at the southern end ensures that the water is constantly refreshed.) Also, watch for waves crashing over the ocean side if you're planning on walking across the far wall, and definitely wear sneakers or water shoes as the rocks are very sharp.
Related Posts