Saint Croix Puppy Love – My Caribbean Pet Adoption Story
We met at a bar. A beach bar no less, because, you know, of course I'd meet the love of my life at a beach bar. Said beach bar is located in Frederiksted on my home island of Saint Croix. This, of course, only makes everything about our love story even sweeter. That my love is a puppy, though, almost ensured that we'd never connect. You see, as much as I love dogs, puppies just have never been my thing. So, how did this precious girl end up becoming the center of my world? This is my Caribbean pet adoption story…
Sentimental STX Sojourn
The date was June 5th, 2021. A Saturday. The time: approximately 9:30-something. I had just introduced the wife to the joys of my new conch soup in the sea ritual. We were visiting STX to honor a dear friend's sudden passing and to celebrate the wife's birthday. As you might imagine, emotions were running high. Adopting a dog, much less a puppy, was not at all in the cards.
At the same time, though, we were sorta kinda harboring thoughts of welcoming a new furry friend to our family. Our beloved chocolate lab, Hershey, had passed on just six months prior. We were both beginning to feel like it was time. Maybe.
Lily, though, would remove all doubt from our minds.
Enter The Naughty Bro
Location: The Fred. The wife and I had wandered over from Dorsch Beach in search of a mimosa chaser for our conch. She'd never seen the place. I thought she might like to check out the newest, nicest hotel in the USVI. Sadly, though, the restaurant wasn't open yet. No biggie. We'd hang out and wait. The wife excused herself to the ladies room. I wandered toward the boardwalk above the sand to snap a few pics. That's when it happened.
Stop that dog!
The panicked shrill cut through the seaside calm like a home intruder alarm in the dead of night. Immediately, I shifted my gaze from behind my Z5, looked down at my feet and saw this crazy face.
This is not my true love; not Lily. It's her brother. Her very mischievous brother. He was there at The Fred with Lily under the care of Kristin Dare.
Yoga and Puppies
If you've visited St. Croix recently and love yoga, then you probably know Kristin. She's one of the most popular yoga instructors on the island. In her spare time, she also volunteers with a local non-profit dog rescue organization called Ruff Start STX.
Kristin's two worlds sometimes collide when she hosts Saturday morning yoga sessions on the boardwalk at The Fred. Often, she brings along a Ruff Start pup or two to entice pet adoption.
On the particular Saturday morning that I happened along, Lily and her naughty bro were the lucky pups helping Kristin direct the downward dog portion of the class.
Only at some point, Lily's bro had had enough. He was making a dash for it. I jumped in and stopped him, of course. That's when it really happened.
Whisked Away, Literally and Figuratively
Oh my God, she wants you to walk her!
No sooner had I scooped up and returned the near runaway pup than Kristin handed me the bright red leash affixed to his sister, Lily. No sooner had I taken the leash than the cutie at the other end of it started leading me away.
Any protests that I made over the absconsion fell on deaf ears, both of the human and canine variety. Kristin and Co. ignored me, while Lily just kept dragging me gently away… Around the bar… Astride the pool… Right toward the ladies room… And destiny.
Oh my GOD! Who is THAT?!
The wife's utter shock upon catching me with Lily is something I'll never forget. A wave of unmitigated joy washed over her face as tears welled up in her eyes. For her part, Lily was wagging her tail so forcefully that you might think it'd fall off.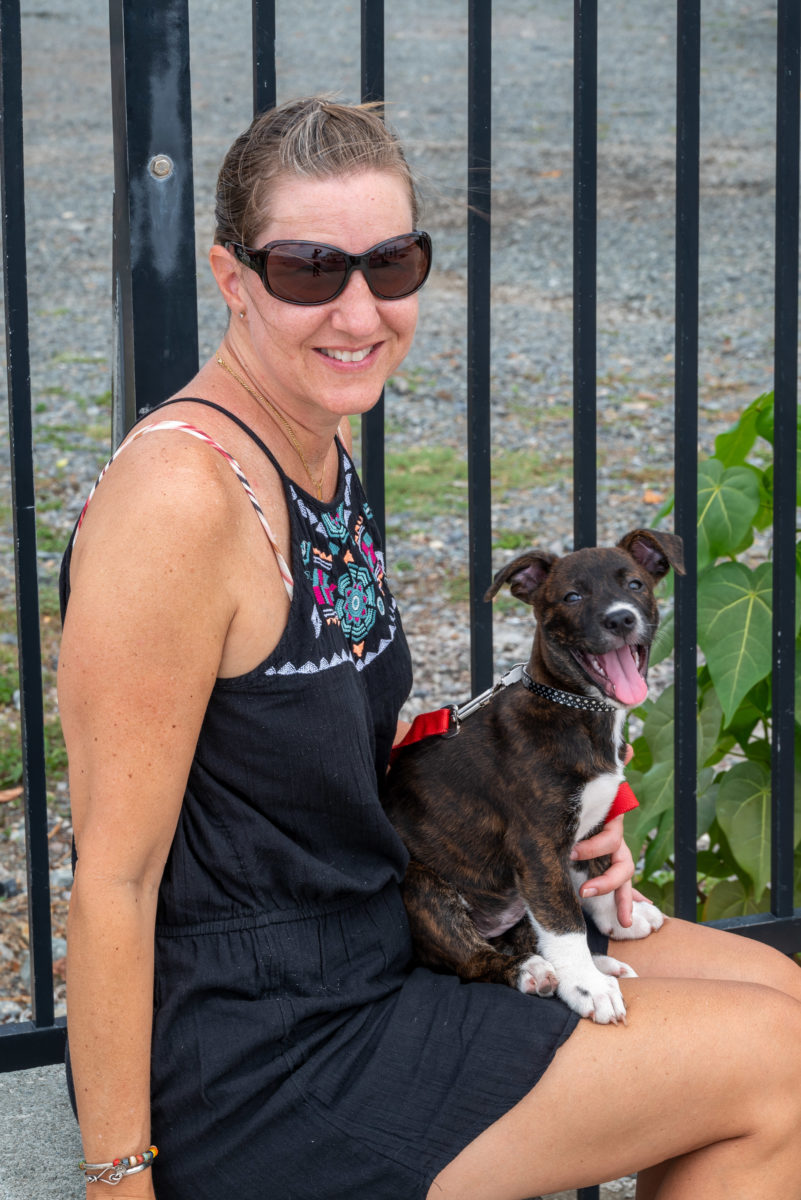 It was love at first sight, pure and true. I knew at an instant that my life would never be the same.
Puppy Bonding by the Sea
Two days of bonding all over St. Croix would follow. Like any puppy, Lily derailed much of our original plans. The romantic hideaway vibe I'd hoped the wife and I could enjoy at The Waves at Cane Bay would have to wait for another time.
Unlike my reaction to any other puppy, though, I didn't mind any of the trials that Lily put us through.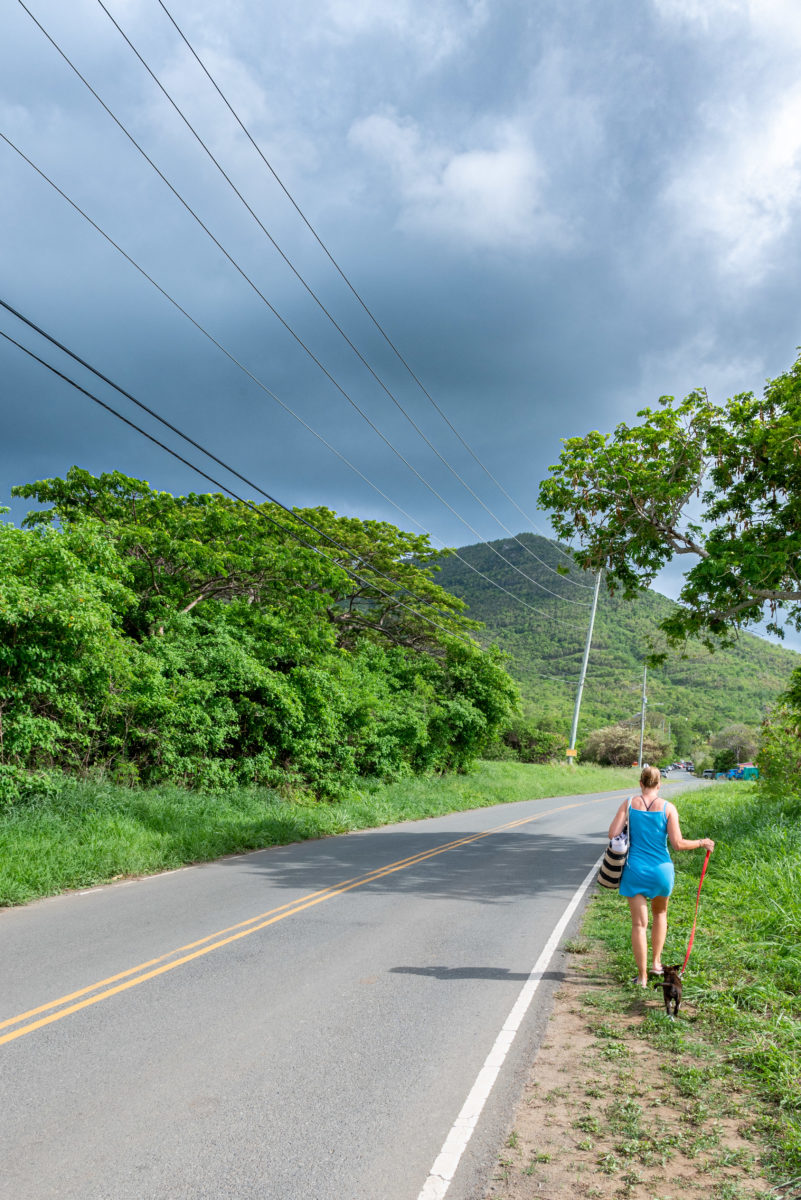 Somehow, some way, Lily and I just clicked right from the start. As Kristin said more than a few times…
She picked you.
To be sure, falling in love with Lily and living a fantasy life in Saint Croix was the easy part. What about getting back to our real lives in Florida? What about getting our puppy to her new home?
St. Croix Pet Adoption Made Easy
On the surface, you might think pet adoption in St. Croix and relocation back to Florida incredibly difficult to pull off. You might even think our situation impossible, as we only had two days to get all our ducks in a row.
Oh, and did I mention that one of those days was a Sunday?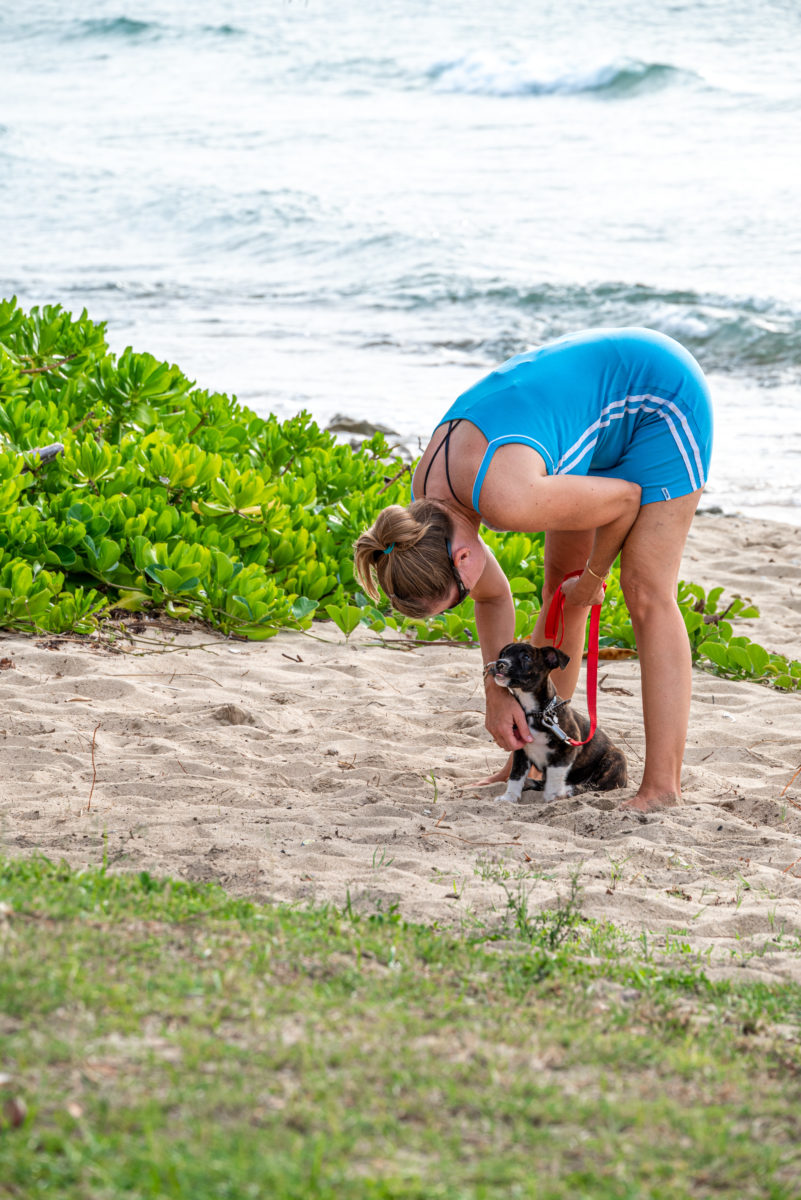 Yeah, our odds of success appeared steep. Having the great folks at Ruff Start STX on our side, though, made the whole process incredibly easy.
From arranging for Lily to get her shots, to supplying us with a pet carrier, and helping us to book her on our return flight, Ruff Start STX expertly guided us through it all.
Honestly, I've had a tougher time getting rum out of some parts of the Caribbean. Ruff Start STX made everything a breeze.
Lily's New Life in Florida
It's been a full year since we first met Lily at The Fred and brought her to our home in Fort Lauderdale. She was only nine weeks old at the time, and I was adamant about never adopting a puppy.
Man-oh-man how things have changed…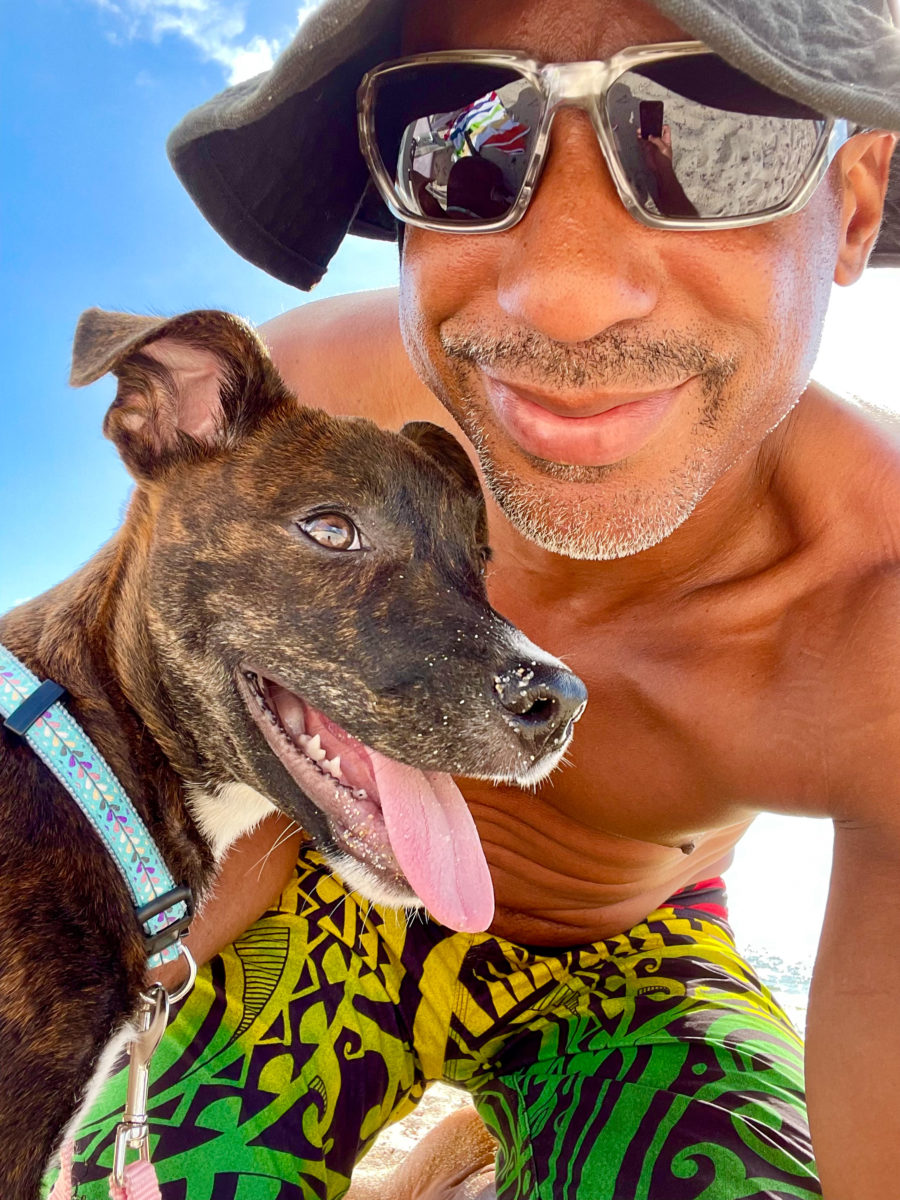 Lily is not just my best friend. She is, in many ways, one of the best things to ever happen to me.
For me, the love we share goes beyond the usual (and also great) bonds I've enjoyed with previous dogs I've owned in the States. After all, Lily, like me, is from St. Croix. We are Crucian family! In this way, she connects me on a uniquely visceral level with St. Croix, every glance we share triggering happy feelings of my erstwhile island home in my mind.
A part of me would like to say that our special bond is a sacred thing that no one else could understand.
That, however, is not true.
How To Adopt a Pet Through Ruff Start STX
If you love Saint Croix and want to enjoy the special type of STX connection that I have through Lily, then I HIGHLY recommend getting in touch with the amazing folks at Ruff Start STX.
The organization operates without the benefit of kennel facilities, full-time staff, or steady funding. Even so, they somehow manage to rescue, rehabilitate, and find homes for the neediest dogs and puppies on St. Croix. As Ruff Start STX founder, Katie Nelson, says:
Healthy, happy strays are not our priority.
Ruff Start STX volunteers like Kristin generally foster between 25 and 30 dogs and puppies in their homes at a time. Pet adoption can be arranged during visits to St. Croix, though you don't actually need to travel to the island to make a puppy love connection.
Fur babies ready for adoption are listed on the Ruff Start STX website. And just as we experienced with Lily, Ruff Start STX volunteers always go the extra mile to help with all logistics, ensuring that your precious Crucian pup gets to you safely no matter where you might live in the USA.
For more information, please visit Ruff Start STX online.
Oh, and if you're not ready to adopt, but still want to help, you can donate to Ruff Start STX here.
Lily and I, and her naughty bro who now lives in Wisconsin, all thank you!
Related Posts