On-Site St. Croix: Checking into The Palms at Pelican Cove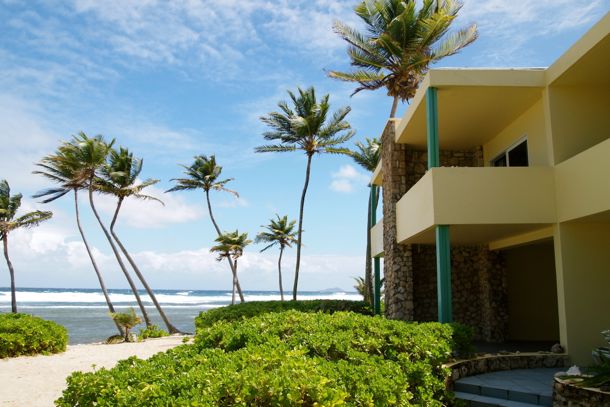 Home may be where the heart is, but when your family doesn't live there anymore, picking a place to stay for a homecoming can lead to heartache. Try as they might, most hotels simply can't replicate the feeling of warmth and welcome you only get at home. Luckily, I can usually overcome this on trips back to my home island of St. Croix by staying with close friends who may as well be family anyway. On my last visit this past March, though, I managed to pull the trick at one very special hotel: The Palms at Pelican Cove.
Now, in the interest of full disclosure, my close high school friend Jill Dedinsky was the Assistant GM at The Palms during the time I was there. This definitely added to the homey feel for me as we got a chance to catch up over breakfast and she was kind enough to outfit my room with several of my choice favorite treats, like plantain chips and a nice bottle of a certain local rum…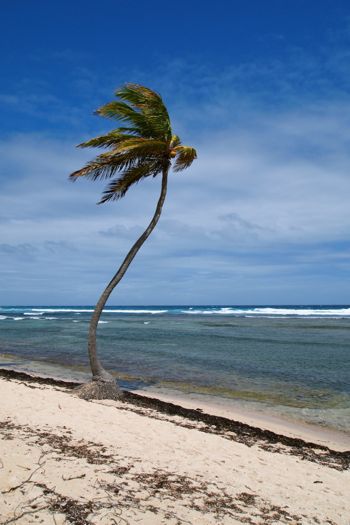 Still, I get the feeling I would've felt just about as welcome and right at home if Jill hadn't been there at all (especially since I later learned that all guests receive that same nice bottle of Cruzan Rum I got). No matter how you look at it, The Palms is just that nice.
Part of that niceness is definitely owing to the beauty of the place. There are probably more palm trees of more varied sizes and shapes per square-footage of beachfront property here than anywhere else on St. Croix. And thanks to the relentless offshore breezes, they're constantly swaying; a taxing yet mirthful dance along the sea that demands dramatic shapes of the trees.
It's an utterly mesmerizing show.
The beach itself, as noted previously, is certified among the cleanest in the Caribbean, and there's a nice little reef just offshore offering some nice snorkeling.
So, you get idea, it's beautiful here. Right. Nice. Still, it's the people that make you feel the warmth of home.
The Palms at Pelican Cove is a family-owned property led by Joyce and Chuck Fischer. Not only does this couple own and run the hotel, they also live on-property! So yeah, there's a Mom and Dad at this hotel home away from home.
These aren't the type of hotel owners that disassociate themselves from the guests either. If you decide to take the snorkeling tour to that reef just offshore the property, for instance, don't be surprised if Chuck is the one leading the way.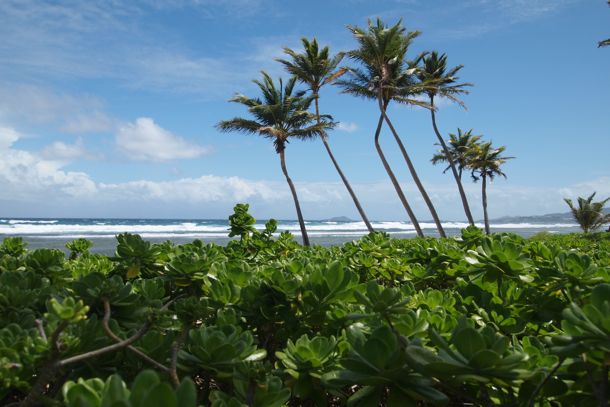 The honest family vibe extends throughout the staff, many of whom have been at the property for 10+ years. For a good laugh and great advice for things to see and do around St. Croix, check in with The Palms' General Manager, Julie Printy, who's been a St. Croix resident for 20 years, 10 of which she's spent at The Palms.
There's also Pat, the diminutive dynamo you'll likely encounter at the front desk. She's been there more than 15 years taking a nurturing, almost motherly approach to her job. At least that's how she was to me, giving me that gentle and caring sort of nagging I recall from my Mom when I checked out well past my appointed time.
Indeed, there's no place like home, but when you're looking for a hotel that feels like home in St. Croix, The Palms at Pelican Cove comes pretty darn close.
For more on The Palms, visit them online.
Related Posts