On-Site St. Croix: Filling Up on Fun at Ziggy's Island Market
Gas station hangouts were always a favorite party spot for me while growing up in St. Croix, as you may recall from this earlier post citing the good old days at the Sunny Isles Texaco station.
These days, the $1 Heinekens that made that Texaco stop a must most every weekend are long gone, but the concept of the "Good-Time Gas Station" in St. Croix has never been stronger, thanks to our great friends at Ziggy's Island Market.
Conspicuously located right along East End Road in the Estate Solitude area, Ziggy's is a place you will invariably have to stop in and check out if your visit to St. Croix takes you to the island's far East End. That's because there aren't too many other options for cheap eats or drinks out this way, and there are ZERO other options for gas.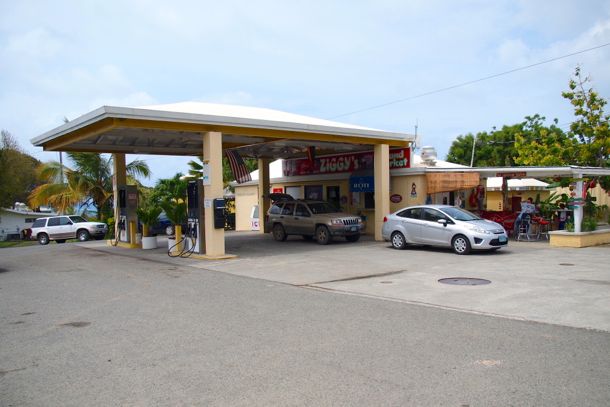 If your tank, or that of your rental car, is running low and you're out East, Ziggy's is the only place to go.
Then again, if you just want to party and hang out with some really cool people, Ziggy's is as good a choice as any on St. Croix as well.
In true Good-Time Gas Station fashion, the main draw at Ziggy's is cheap beer. Though unlike the old days at Texaco, where such Crucian staples as Heineken, Old Milwaukee, Corona, and Coors Light were about the only options, Ziggy's stocks about 30 different types of beer (even this one!), 40 or so wines, and a full liquor section.
Also unlike the old Texaco, you don't have to sit in your car at Ziggy's to enjoy your brew. Check out the bar area, dubbed "The Libation Station"…
Further back, there's even more seating on a new wooden deck, with pool tables, a dart board and other fun bar-type diversions also on the premises.
Hungry? Ziggy's has you covered there as well, and not just in the usual day-old hot dog and stale munchies kind of way you might expect at your typical neighborhood gas station.
The menu here consists of a wide array of sandwiches, snacks, salads, sides, and some great local favorites, including Johnny Cakes, pates, macaroni pie, and the best (only?) roti you'll find east of Christiansted.
The fun here starts early – both the kitchen and gas pumps open at 6am on weekdays – and goes til late… unofficially. On weekdays, the food ends at 7pm; 5pm on Saturdays, and 1pm on Sundays. The gas station stays open til 8pm Monday-Saturday; 2:30pm on Sunday. Libation Station hours are 3pm-9pm on weekdays; noon to 8pm on Saturdays.
From personal experience, though, I'd say those closing times are approximate, especially if there's a good crowd limin' about (a lot of the time), or you happen by on one of Ziggy's special party nights.
Oxtail Cook Offs, Johnny Cake Eating Contests, Sunday Pig Roasts, Dance Competitions (more on UC's attempt at winning this one another day), and St. Croix's first (only?) Cornhole Championship Tournament all draw crowds of locals and visitors alike who party til the wee hours amid unsuspecting motorists pulling in for fuel.
The vibe here is always very friendly and welcoming, and you won't want for laughs and smiles from regulars and staff alike, led by the man behind the name/place, Mike Ziegler.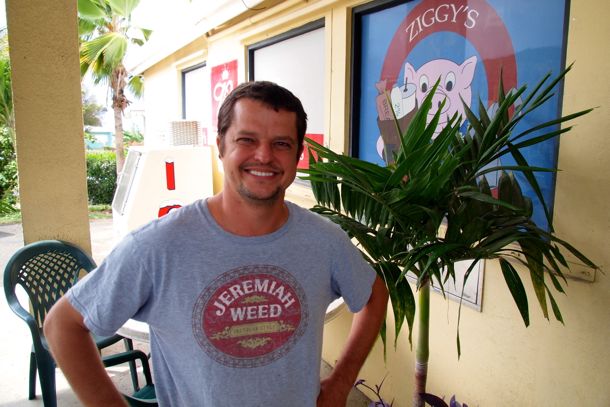 A transplant from Chicago, Ziggy (the man) fell in love with St. Croix during a visit a few years back and decided to stay. Ziggy's (the place) has been going strong for about four years now, benefiting the St. Croix community just as it feeds its appetite for cold beer and good times.
Proceeds from many of the special events benefit needy local charities, like the Queen Louise Home for Children. Ziggy also successfully rallied his fans to raise funds for the relief effort following the 2010 earthquake in Haiti.
In other words, he's a great guy, and so is his place. Definitely make a point of stopping in at Ziggy's any time you're in St. Croix. Whether you need gas or not, you're sure to get your fill of fun.
Related Posts