On-Site St. Croix: Horseback Riding in West with Paul & Jill's Equestrian Stables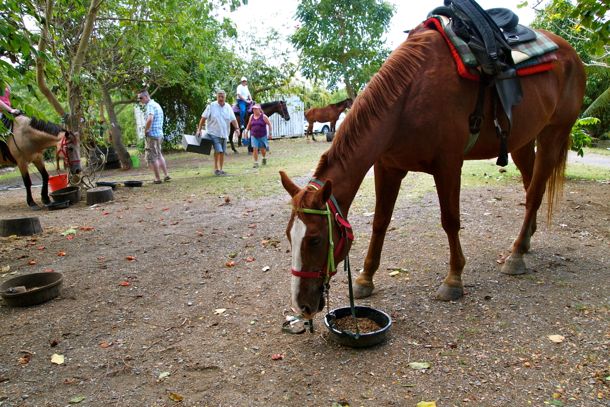 You'll want to be careful with Mr. Fritz.
It wasn't until we were a good quarter of the way through my recent horseback riding excursion through the rainforest on the west coast of St. Croix that our guide, Jill, offered this helpful advice.
He gets impatient and likes to bite the butt of the horse in front of him.
Considering this was my first time ever riding a horse, it was probably best to hear these tips when and where I did…maneuvering, as we were, through some fairly dense underbrush with no way to turn back.
Well, I shouldn't say no way to turn back, as I'm sure that any experienced horseman would've been able to take control and get Mr. Fritz moving wherever he or she wanted. I, on the other hand, am no such horseman, which is kind of surprising considering where I'm from. Show jumping, horse racing and other equestrian pursuits have long been a staple part of St. Croix's cultural heritage, with many of my childhood friends gaining a sincere appreciation for horses from their earliest days.
Me?, not so much.
Even for those of us Crucians not immersed in the island's horse culture, there was always Paul & Jill's Equestrian Stables. Located in the historic Spratt Hall area of Frederiksted on St. Croix's west coast, Paul & Jill have been offering lessons and tours for locals and visitors alike for more than 30 years. Riding with them had been a dream of mine for a long time, one of many great things to do on St. Croix that I had somehow missed while growing up there. This excursion was to be the highlight of my last visit home this past March.
But, would Mr. Fritz cooperate..?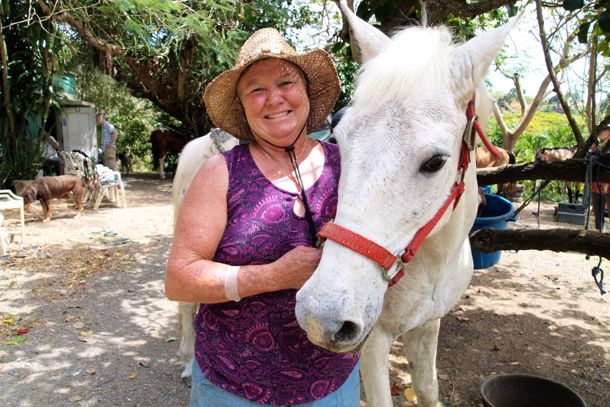 The answer, thankfully, was a big yes! Then again, none of the horses in Paul & Jill's stables are likely to ever disappoint. They're so well-trained, and have done the route through the rainforest, onto the beach and back again so many times, that riding them can essentially be an auto-pilot experience.
Oh, there are plenty of times when your equestrian skills, be they limited or expert, will come into play. Like when the tour happens along a cluster of sweet grass. Allow your horse to get too close to it, and you'll be sitting there a long time trying to get him moving again while the rest of the group carries on.
Still, I got the sense that the horses mainly allow inexperienced riders like me a little room to be in control for their amusement. For the most part, they just plodded along in a nice, orderly single-file line with Jill in the lead sharing bits and pieces about St. Croix's fauna and history along the way. We were a group of six (seven counting Jill's dog), so it was easy to hear Jill's tales about the colorful name origins of such rainforest denizens as Tarzan Vines, Monkey-No-Climb Trees and Mother's-in-Law Tongue Plants.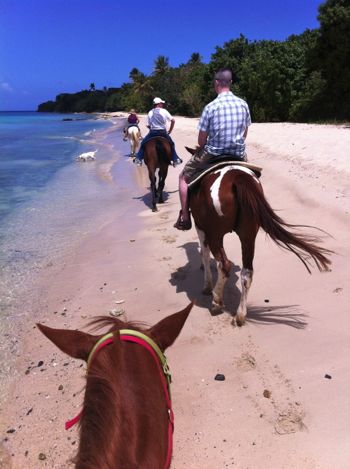 That initial part of the journey through the rainforest was very relaxing, the shade of Giant Rain Trees keeping things cool, while Mr. Fritz generally kept his teeth to himself. Then, after a short jaunt across the road, we emerged onto Spratt Hall Beach for the highlight of the trip.
This is one of those scenes we all dream about, riding atop a gentle steed through the surf and soft sand on a bright and shiny day… Fantastic!
We basically took our horses up the beach to the small outcropping of rocks in the upper left of the photo, then turned around and went back the way we came. My only problem was keeping Mr. Fritz out of the water, as it seemed like he would've preferred going for a swim on that warm, spring day than dragging me through the hot sand.
After a brief seaside photo-op, we were back on the bush trail. Mr. Fritz decided at that point that he was tired of being fourth in line, so he nipped his way ahead to the point that we were right behind Jill. This worked out fine, though, as the other horses didn't seem to care and there were a couple uphill gallops ahead where old Fritzy's lack of patience would've surely led to some complications.
Back at Paul & Jill's, I had to wait for Paul to bring me a stool so that I could dismount safely. I sat there atop Mr. Fritz for a few minutes as he silently went to work on a new bowl of feed, his reward for another job well done on the trail. I patted him gently on his mane, not wanting the moment to end.
I still wasn't an experienced horseman, but this horse had given me an experience I'd never forget.
Paul & Jill generally host excursions twice-a-day, depending on demand and season. The trip takes about 90 minutes and costs $90. You don't need to have any experience riding horses, as I think I proved quite nicely, though if you do, they make every effort to pair you with other folks who know what they're doing to give you a more robust ride.
Visit Paul & Jill's online for more info and to make reservations, or call 'em at Tel: 340-772-2880.
Related Posts