On-Site St. Croix: Rain Can't Stop the Party at Rainbow Beach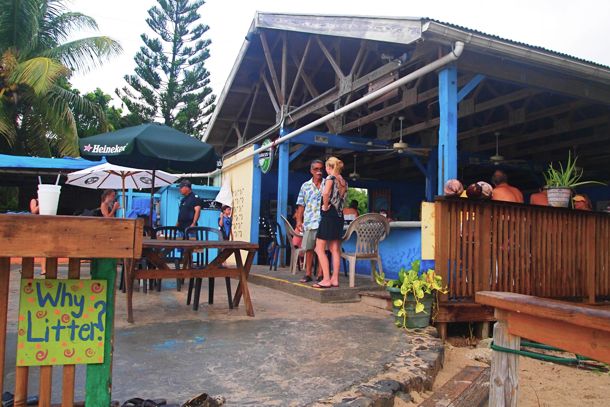 Few places I've encountered on my many journeys throughout the Caribbean are as aptly named as Rainbow Beach on my home island of St. Croix. The reason has nothing to do with some sort of cheesy "This place is a treasure; like a pot of gold at the end of a rainbow!" sentiment either.
No, the thing about Rainbow Beach that makes its name fit so well is the fact that it rains there… a lot. It's not the kind of overwhelming rain that can kill an entire day of outdoor fun, but rather a nice, brief and refreshing spritz that adds a welcome bit of cool to your beach day. Generally, the rain here passes quickly, leaving behind some pretty incredible rainbows, ergo: Rainbow Beach.
The Sunday jam here at Rhythms at Rainbow Beach has long been one of the best weekly parties on the island, so of course, I had to take my family there on our last visit to St. Croix this past August. On-cue as we arrived, the skies opened up.
We hurried in and settled down at the bar for lunch and drinks. Our bartender, Sarah, who I was surprised to learn is a frequent reader of Uncommon Caribbean (hi, Sarah!) mixed up a couple of her legendary Lime in de Coconut cocktails (see video recipe here) for the wife and I, while the kids chowed down on typical bar treats – burgers, fries, etc.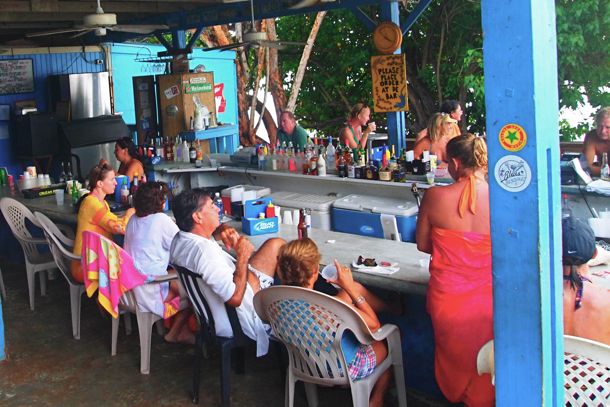 Local band R&B Connection played their usual eclectic mix of classic rock and R&B favorites by the likes of Kool and the Gang, Barry White, Chic and others. Old friends who we weren't expecting like Glen Watkins, Angie Morales and Julio Torres, Sr. also happened by, adding to the festivities. Everything was going great… except for one thing…
Rain, rain, rain and more rain.
The typically brief rain shower at Rainbow Beach was, instead, a downright deluge on that particular summer Sunday with no end in sight.
Nasty weather might crimp the party style at other watering holes, but not so Rhythms at Rainbow Beach. Following a brief intermission to better protect their equipment from the elements, R&B Connection played on. Patrons that had scurried for shelter beneath the roof covering the bar, were soon back on the dance floor. The more it rained, the louder the band seemed to play, and the more people started dancing.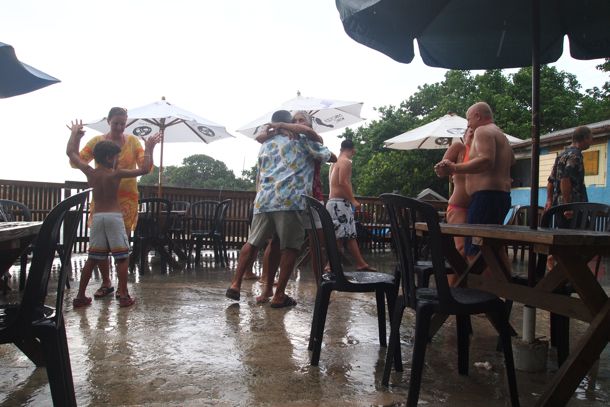 It was a scene emblematic of the good times vibe that has always prevailed here. Always friendly, always welcoming, always fun; nothing stops the party at Rhythms at Rainbow Beach!
For more on Rhythms at Rainbow Beach, click here to check them out on Facebook.
Related Posts