On-Site St. Croix: The Certifiably Clean Beach at The Palms at Pelican Cove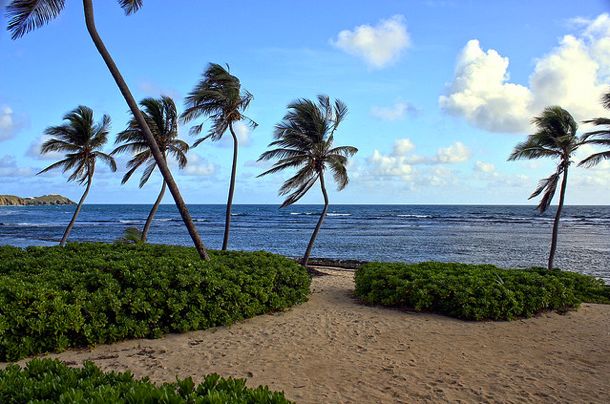 The absolutely pristine cleanliness of the marvelous beaches that line our Caribbean shores is easily taken for granted. I mean, when you happen upon a scene like this, filth and pollution are sure to be the furthest things from your mind. Unfortunately, though, they're not always the furthest things from our beaches.
So, how can you be 100% sure to enjoy an ultra-clean beach experience on your next Caribbean adventure? Well, if your destination is St. Croix, then you can't do much better than the beach at The Palms at Pelican Cove. This little flag is proof.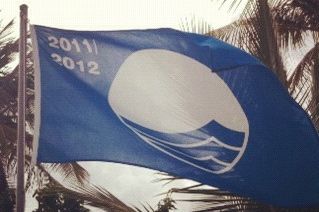 Awarded by the Foundation for Environmental Education (FEE), these Blue Flags are as recognized and respected a symbol of clean beaches as exist in the world today. The one pictured here flies proudly at The Palms at Pelican Cove, where I stayed on my last visit to St. Croix just a few weeks ago.
But, who is FEE and why should you care about their pretty flags?
Basically, the group was founded in 1981 to promote environmental education for sustainable development around the world. Membership is comprised of 60 countries, so it's as comprehensive as these types of organizations get. FEE's Blue Flag program started in 1987, with new beaches added each year. How are beaches selected? From BlueFlagUSVI.org:
International Blue Flag juries assess all Blue Flag candidates to ensure they meet all of the criteria for beaches and marinas at the national and international level. Those that do are then forwarded to the International Jury, who focuses on set criteria that varies from year to year, before giving a final verdict.
Sounds a bit convoluted, I know, but the bottom line is they're not giving these flags to just anyone. You've got to earn 'em. Not only that, but you also have to maintain a high standard based on criteria that's constantly changing! Clearly this is no easy task, a truth underscored by the fact that the very first beaches to achieve Blue Flag status, among all the pristine sandy shores in the U.S. Virgin Islands, only did so this past September! Even so, only four V.I. beaches made the grade!
All of this (and all this) makes the beach at The Palms at Pelican Cove pretty appealing, but let's say you're heading elsewhere on your next trip. Where else in the Caribbean might you see these flags?
BlueFlag.org has the answer, though there are lots of other reasons why you should check in at The Palms at Pelican Cove. I'll share a few more next week…
Related Posts