Explore St. Croix's Diversity, Nature, and History on Horseback with Cowboy Steve
There are three things that really set St. Croix apart from other places: its diversity, natural splendor, and rich cultural heritage or history. You can find these unique aspects of our home on almost any of its 84 square miles, but there's something extraordinary about experiencing them all on horseback with an easy-going Irishman like Cowboy Steve.
Diversity
African, South American, European, Middle Eastern, Asian, North American, Puerto Rican, Dominican, Down-Island; St. Croix has it all. The best experiences on-island usually draw from the influences of that diverse pool of immigrants, while staying true to the native Crucian culture.
And so it was with my ride.
From the moment I joined Cowboy Steve just off North Shore road for a ride, his lilting Irish accent blended with those of his team – the unmistakeable bahn here Crucian of Genoa Jackson, the Crucian-turned-Southern (thanks to extended time away) of Natalie, and the American of Kathryn.
Just getting to know everyone and chatting about their histories and paths to St. Croix got things off on the right foot.
Natural Splendor
We're biased, being born-and-raised Crucians, but St. Croix is one of the most beautiful islands in the Caribbean. A lot of that beauty rests along it's green, hilly, and sometimes rugged North Shore.
Large, unbroken tracts of land, where Cowboy Steve's horses frequently roam free, are divided by rolling hills – what passes for mountains on St. Croix – as emerald backdrops to the south. And, of course, to the north is nothing but clear blue waters and azure skies.
It's gorgeous up there.
History
Cowboy Steve may be from Ireland, but after 25 years on St. Croix, he's immersed himself in the island's story and is almost giddy to share it with his guests.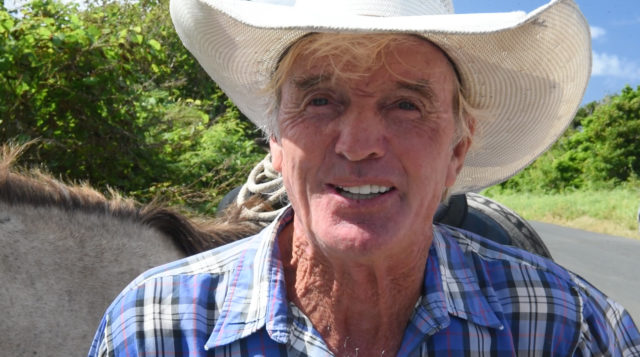 Every hill has a story. Every ruin, a reason. He'll point out who lived where and regale you with tales of familial infighting, intrigue, love, and loss — all with a twinkle in his eye.
He takes his time sharing about the Amerindians and how they used certain plants. He educates the uninitiated on the powers that have fought over and controlled St. Croix through the ages. He genuinely wants his guests to take away the power of riding through land that was used to upend slavery across the region. He talks about his longtime friends, now long past.
And most of all, he makes it all fun with his effervescent style.
St. Croix by horseback
While you're getting this entertaining trip through time and the island's beautiful environment, you're doing it all on horseback and he makes that so chill, it all seems perfectly natural.
Why shouldn't you be galloping through greenery around an old windmill to start the day? Isn't that how you always do it?
I don't ride horses often and didn't grow up riding them (something Genoa didn't miss chiding me about), but I never felt anxious or uncomfortable. And neither did the kids that came along for the ride.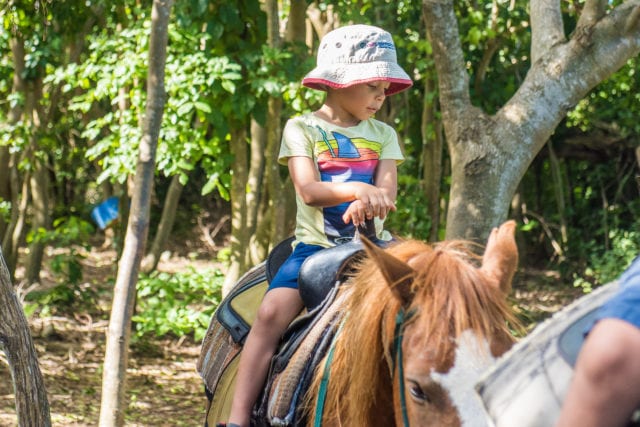 The horses themselves were as easy going as Cowboy Steve on land and in the waves for his signature saddle stand and dive.
And speaking of Steves, my brother, Steve, has meant to ride with Cowboy Steve since he snapped a gorgeous sunset photo of the Irish Cowboy and his horses in the surf off Cane Bay nearly five years ago!
So, this is one of the few instances where I can say you shouldn't be like my brother, Steve. Don't put it off! Book a ride with Cowboy Steve today for a chill ride through so much of what makes St. Croix special.
Give him and Kathryn a call here (702) 553-9877 or visit them online.
Related Posts