St. Croix Plantation Watch Houses: Uncommon Attraction
Throughout my home island of St. Croix, as in other islands across the Caribbean, evidence of the region's colonial past and plantation-based society can be found in the ruins of ancient structures strewn all over the place. They're so common, in fact, that as a kid growing up around historic relics like the one pictured here, I largely took them for granted. I'd seen a few small hovels like this during my younger days, but never stopped to see what they were about til my last visit home a few weeks ago.
They're called Watch Houses, and unlike the iconic Sugar Mills found anywhere and everywhere in the Caribbean that cane was cultivated between the 16th and 19th centuries, these little guys are pretty rare.
Strictly St. Croix Structures
St. Croix Landmark's Society research shows Watch Houses to be a uniquely Danish structure. Surprisingly, though, you won't find any in the other islands that comprised the Danish West Indies. (I.e.: St. Thomas and St. John). Watch Houses are a strictly Crucian thing. Even so, fewer than 10 can be found in St. Croix!
So, what was the purpose of the St. Croix Plantation Watch Houses?
Possible Watch-House Purposes
Well, part of the answer certainly lies in the "Watch House" name. Colonial-era maps show that St. Croix Watch Houses were located at strategic points where the fields of several different plantations met. From this shelter, a guard could sound an early warning if there was a crop fire, keep an eye out for thieves, or prevent runaways from getting too far.
It's also reputed that Watch Houses were used as makeshift daycare centers, where infant slaves could be cared for within close proximity of their mothers working in the fields.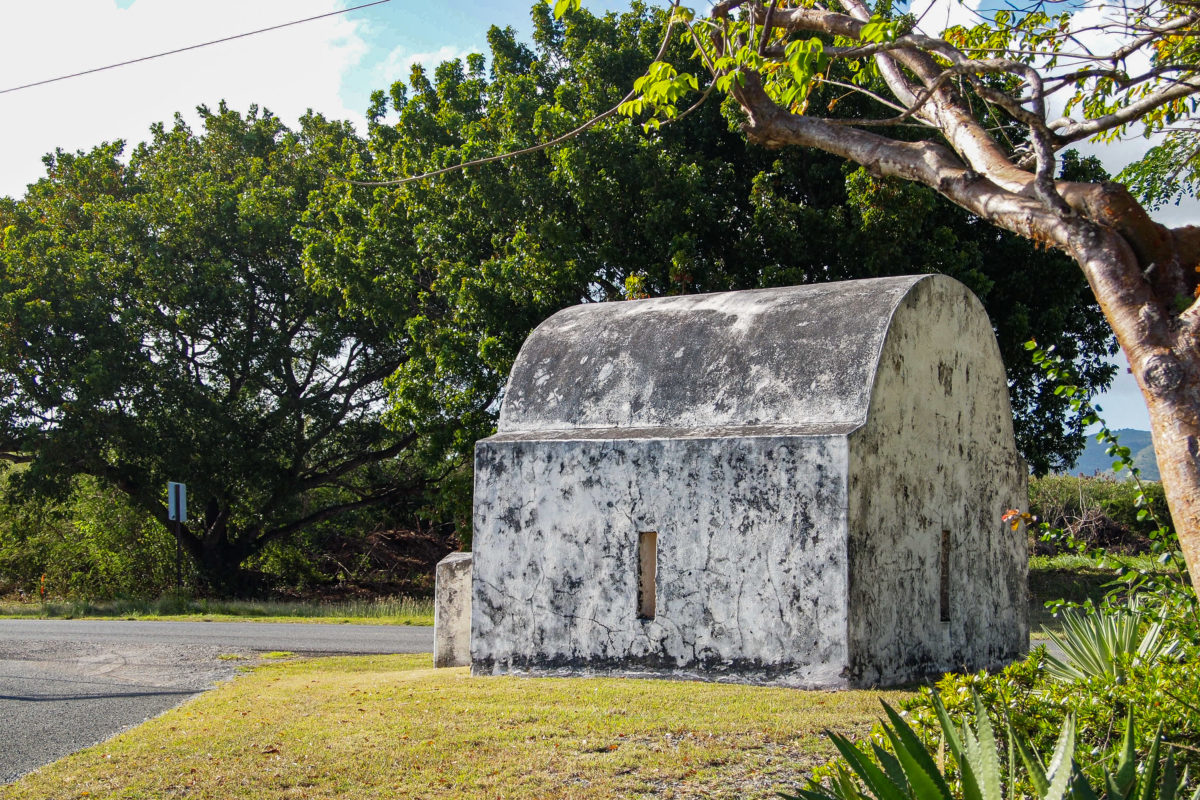 All these uses seem to make sense, though some have argued that there must be more to these structures. St. Croix Plantation Watch Houses are just too majestic in their form for such simple functions.
No one really knows all the ways that these buildings were used over the years, or why they're only found in St. Croix, but it's just that type of mystery that makes visiting the Watch Houses more interesting. Step inside, peer through the three narrow window openings, run your hands along the thick stone walls and let your imagination wander…
How To Visit St. Croix Plantation Watch Houses
The Watch House featured in this post was restored by Texaco and the St. Croix Landmark's Society in 1989. It's located just west of the Henry E. Rohlsen International Airport. Take a right upon exiting the terminal and in about two minutes you'll see it on your left, an unmistakable 8×10 landmark astride the main road.
This particular Watch House was once part of the Betty's Hope Plantation Estate, which I've recently learned lies in ruins nearby. The estate's old Sugar Mill, Great House, and other structures are all still there. The ruins are accessible via a short hike from the dirt road that leads due south from the Watch House… and I never knew it!
Something else I once took for granted, but will certainly make sure to discover on my next trip back home.
Related Posts