Sunrise from Room 301 at The King Christian Hotel, St. Croix
What's old is new! If there's an underlying theme to recent hotel development in St. Croix, this is it. Whereas completely new and ever more sprawling resorts continue to spring up elsewhere across the Caribbean, developers in the largest of the U.S. Virgin Islands have focused instead on breathing new life into older, historic properties. The latest to receive such sweet resuscitation, The King Christian Hotel.
A bedrock of the famed Christiansted waterfront for 200+ years, the King Christian is currently in the throes of a major renovation. Only 21 of its 48 total rooms were available when I checked in for a quick three-night stay last week.
There's charm and history baked into every room at The King Christian, of course. My room (#301), though, is a little extra special.
King Christian Stylish Potential
It hadn't been totally upgraded yet. The cramped shower, dated fixtures, and drapes smacked of the 1960s chic common among many mature USVI hotels.
The room's generous size (600 square feet) and excellent natural light, though, hinted strongly at the hotel's tremendous potential. It's easy to imagine a swanky boutique hotel growing from The King Christian's strong bones, especially if you head down to the stylishly revamped pool area.
So yeah, the good size and tremendous natural light of room 301 are nice.
The balcony and its attendant views, though, take this room over the top.
Best Balcony Views in Christiansted
Room 301 rests at the most northwesterly corner of The King Christian. It's the hotel's highest corner room above the water in Christiansted Harbor. The perch affords the best, most expansive views of the sea from The King Christian.
Balcony views extend beyond Gallows Bay, all the way to The Buccaneer to the east. Look west and you can see past St. C Condos and Judith's Fancy to the historic Cabo de Las Fletchas.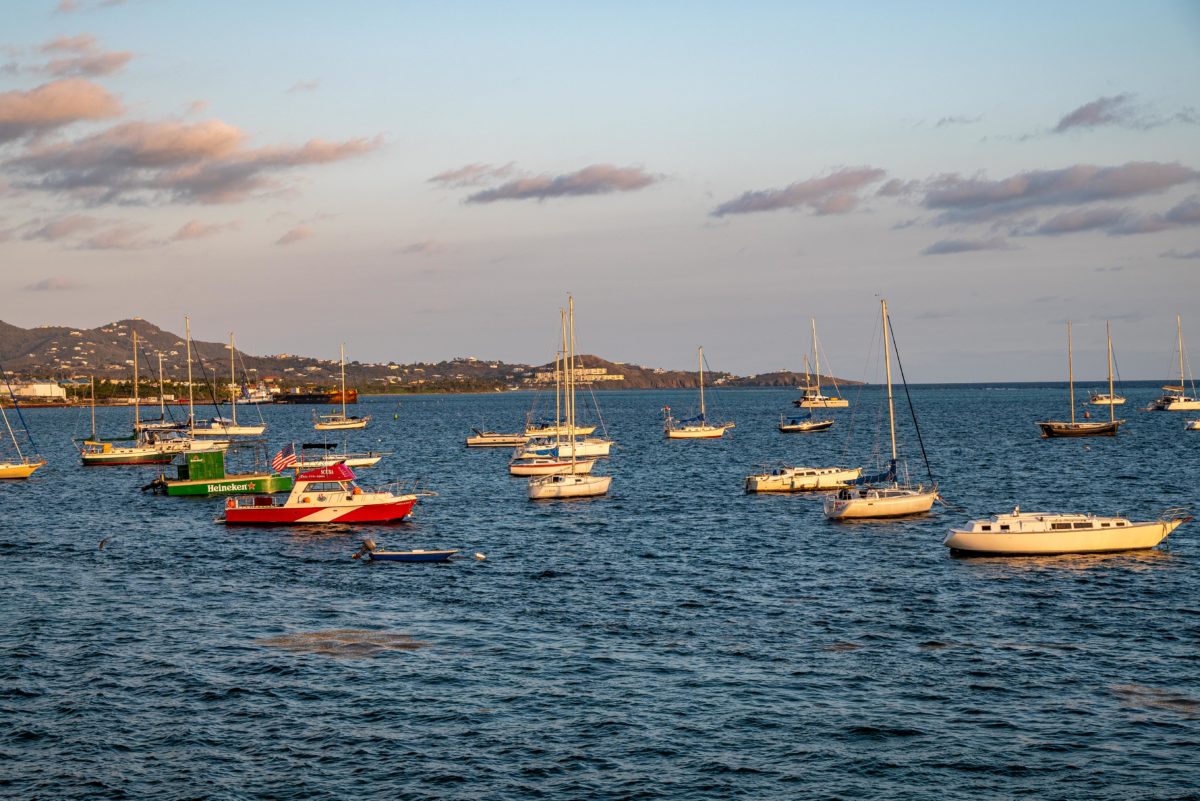 Sunrise presents the best time to take in all of this Crucian beauty. The sight of the sun cresting above St. Croix's East End and progressively lighting up the Christiansted waterfront is breathtaking. The view westward is equally amazing, as the sun literally lights up the boats bobbing in the harbor.
As longtime UC readers well know, I'm definitely not one to rise overly early for anything.
Sunrise from room 301 at The King Christian, though, is not-to-be-missed, and a top reason why I can't wait to check back in here again soon.
Related Posts