A Fruity Twist on Tostones: Taste of the Caribbean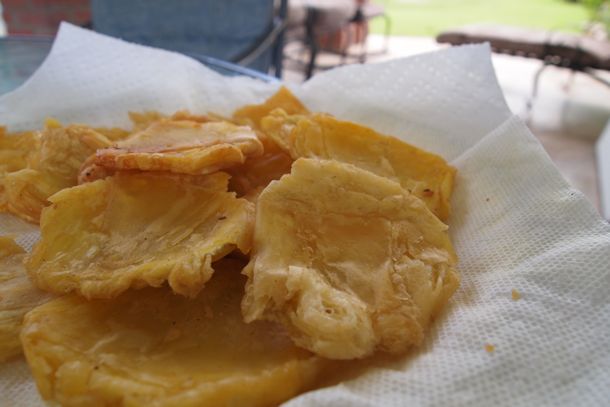 On my last trip back home to St. Croix a few weeks ago, I enjoyed the pleasure of getting a taste of something new – tostones!
Wait, didn't I write about tostones a few months ago? Didn't I say that tostones are my favorite things to eat made from plantains?
The answers, as you can plainly see here, are yes and yes. So, what gives?
The tostones in question (and pictured above) are actually made with breadfruit. This isn't really uncommon in the Caribbean, but it was wonderfully new to me. Not really sure how I managed to avoid these treats in all my travels, but I'm sure glad that I did… especially since I love history.
You see, like our friend the nutmeg, which we discussed a bit last week, the breadfruit is another South Pacific native that has an interesting backstory here in the Caribbean. Breadfruit was initially brought to the region by Europeans in the late-18th century. Whereas the nutmeg's success in bolstering the economy in Grenada occurred almost by accident, the proliferation of breadfruit throughout the Caribbean was conducted quite purposely by the British who thought the hearty fruit would make an ideal (read: cheap) food source for their slaves.
They were wrong (the slaves wouldn't eat it), but breadfruit flourished all over the region, eventually becoming a staple of many West Indian diets.
You make breadfruit tostones the same way you make regular tostones (here's the recipe). All you need to do is substitute the plantains for the breadfruit. It's a bit more involved than working with plantains, though, as you have to peel your breadfruit and remove the core and seeds prior to cutting the fruit into small pieces, but the health benefits of making the switch are worth the trouble.
Breadfruits are an excellent source of nutrition high in Vitamin C, healthy Omega fats, Potassium and B-Complex Vitamins. They're also low in saturated fat, cholesterol and sodium. Basically, this superfruit is all useful calories, vitamins, protein and water, making it an optimal choice for your overall health.
For me, the taste is definitely worth the extra effort as well.
Breadfruit gets its name from the flavor of the fruit when cooked, which is like a nice, warm, just-baked loaf of bread. Twice-fried in tostones, the breadfruit flavor comes across a bit sweeter than regular plantain tostones; more like potato wedges, only better.
The ones pictured above were so utterly addictive, I almost didn't have a chance to photograph them. Try and make 'em for yourself and see if you can get a better shot. If you make 'em right, I bet you can't…
¡Buen provecho!
Related Posts