Crucian Contessa's Pumpkin Rum Flan: Taste of the Caribbean
Editor's note: If you know us, then you know we feel that just about anything can be improved with rum. Is it any wonder, then, that we've got a thing for the Crucian Contessa's Pumpkin Rum Flan?
As a food blogger, there are times where I don't want to write about something I made. I just want to make it and email a slice to every person reading the blog, because talking about it just CAN NOT do it justice! There literally are recipes that defy words, that shrug off adjectives, that laugh at sentences. This is one of those.
Rum, pumpkin, and flan all had a conversation and said, "Hey, you know, we TASTE GOOOOOD together!" Yeah, that's this recipe.
Ingredients:

1 Cup Cooked Pumpkin Puree
1/2 Cup Granulated White Sugar
3/4 Brown Sugar
1/2 Tsp Cinnamon
1/4 Tsp Coarse Sea Salt
1/2 Tsp Fresh Ground Ginger
1/4 Tsp Ground Nutmeg
1/2 Tsp Almond Extract
2 Tsp Vanilla Extract
Tiny Pinch of Allspice
1-1/2 Cups Heavy Cream
3 Tbsp Cruzan Dark Rum
1/2 Cup Milk
6 Egg Yolks
Boiling Water
I used Caribbean Pumpkin, or what is commonly called Seminole Pumpkin, in this recipe. You can just as easily use regular canned pumpkin puree. If you are using canned pumpkin, please do not use "pumpkin pie filling." It's too easy to confuse the two on the shelves.
In this version I used muscovado sugar, which is a very dark variety of brown sugar with a high molasses content. You can simply use a good dark brown sugar.
This recipe is too easy to put together, yet bursting with dark, smoky undertones from the brown sugar and the Cruzan Rum. You can also experiment with different flavors of rum, including one of my favorites, Cruzan 9, a very balanced spiced rum we make on the island that is a staple of my baking arsenal.
Directions:
The night before, I steamed local pumpkin until it was completely tender and cooked through, then pureed it in the food processor, and poured it into a cheesecloth lined sieve. I set the sieve higher than the bottom of the bowl to allow all the liquid to drain from the steamed pumpkin.
I let the puree cool to room temperature, before wrapping up the cheesecloth and allowing it to drain completely in the refrigerator overnight. Now, you can do this, or you can buy a can of pumpkin puree. I personally prefer the from scratch method, but either way could work.
Preheat oven to 350 Degrees.
In a skillet on medium low heat toss in the granulated white sugar.
Gently shake the pan to evenly distribute the sugar.
Let the sugar melt and get a medium dark brown (not black or burnt). It will take about five-eight minutes. It should be a bit lighter than the way I made it here, but I don't mind the flavor that comes from dark foods!
DO NOT stir the sugar or let it come to a boil, as this will cause it to be gritty. Just let time and the warmth from the stove do the work for you until you get a golden brown syrup.
Pour the liquid sugar into a nine-inch pie or cake pan and let it cool and harden.
In a mixing bowl combine  the pumpkin puree, brown sugar, cinnamon, ginger, nutmeg, salt, vanilla and almond extracts, allspice, and dark rum.
Then thoroughly mix in the heavy cream, milk, and egg yolks into the pumpkin puree mixture thereby creating your flan mixture.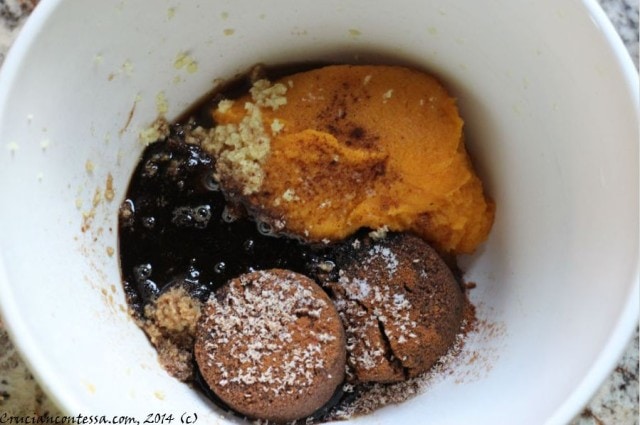 Pour the flan mixture over the hardened sugar in the pie pan.
Place the pie pan in another larger sized casserole dish and place in the oven. Then carefully, without splashing, near the side of the casserole dish, pour in enough boiling water to come about half way up the sides of the pie pan. This water bath will ensure even heating and a final outcome that is creamy and perfectly done!
Bake for about an hour to an hour and 10 minutes, or until the custard is set. I start checking at the hour mark.
Take the dessert from the oven, being very careful with the hot water.
Let the pie cool to room temperature then place in the refrigerator overnight.
Run the edges of a knife carefully around the pie pan, then place a plate over it. Flip the plate. Give it a little bit of time to fall.
Slice, add some cool whipped cream to the side, eat, and thank me later!!
Enjoy!!!
All photos courtesy of the amazing Crucian Contessa. For more of her great recipes, be sure to visit CrucianContessa.com early and often!
Related Posts