Thomas Bakery St Croix: Best Crucian Bush Tea, Buns, and Treats
Caribbean bakeries, as much as any business or institution, form the backbone of our island communities. The best ones provide much more than edible sweets and treats. They're gathering places of communal support, sharing, laughs, and melee. To be sure, the sustenance on offer in these bakeries satisfy both bellies and souls. Thomas Bakery St Croix is a prime example.
Best of the Best Thomas Bakery
For as long as most Crucians can remember, there's been a Thomas Bakery. More recent years, though, have brought expansion. Today, there are three Thomas Bakery locations. One in East (King Street in Christiansted), a second mid-island location (Castle Coakley), and a third down in West (Frederiksted). All of them are great, of course, but as the saying goes in STX…
West is best!!!
Thomas Bakery in Frederiksted is just a little extra special to me. It's more of a feel thing than any tangible advantages that it might have over its sister locations. (Or any other St Croix bakeries, for that matter.)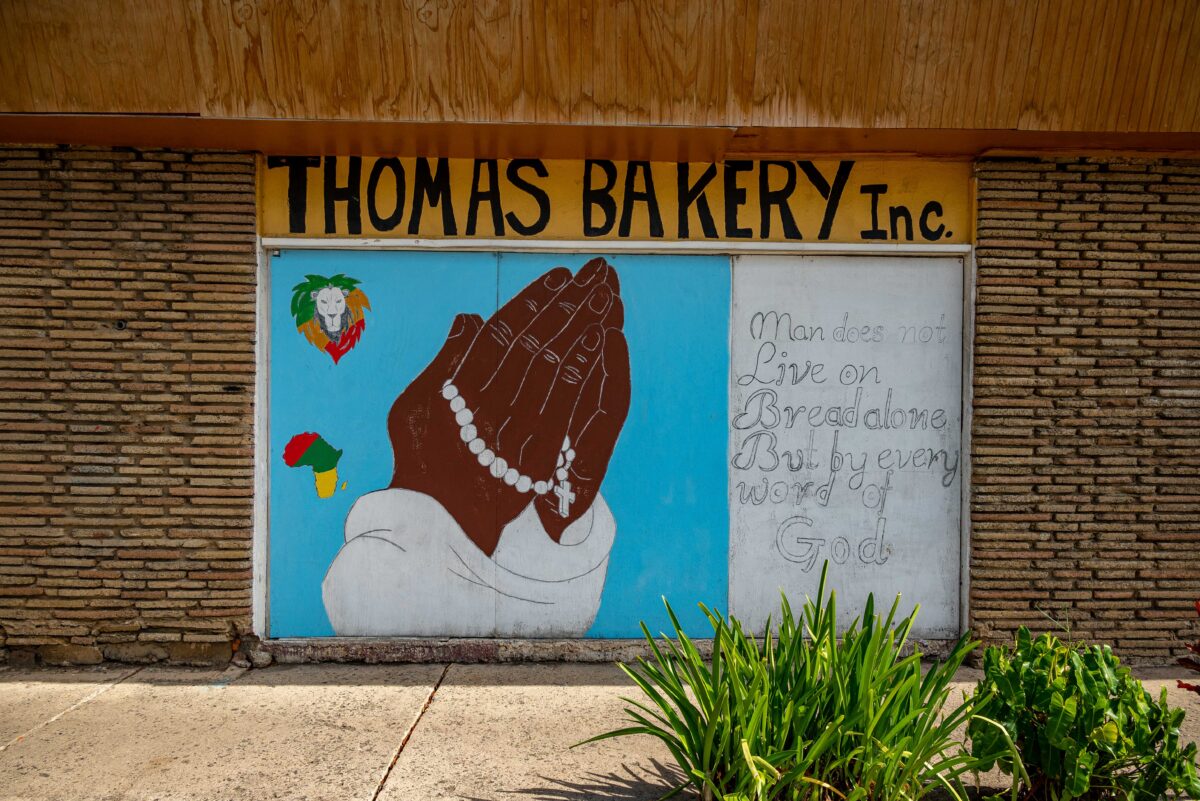 Maybe it's the smiles and big laughs I've enjoyed here in recent years. Maybe it's the warm greetings and the way most everyone says "give thanks" here in place of "thank you." Or maybe it's the bush tea.
Bangin' Bush Tea
I LOVE Thomas Bakery St Croix's bush tea. I've always known it to be impossibly hot and LOADED with herbal goodness. What I never knew until recently, though, is that the bush tea here hardly ever exactly the same from one day to the next.
Naashika, one of the amazing ladies that make visiting Thomas Bakery so fun, recently shared that nugget of news with me. She says that the bush tea baristas here brew each day's wild pekoe from whatever herbs, leaves, and spices they can find.
The bush tea may be a bit different every time, but trust me: it's always good.
Also good here, of course, are the eats. Top-sellers include a host of Crucian staples. Titi bread, butter bread, drops (coconut, raisin, etc.) and buns draw big crowds here each and every morning. Other menu faves include guava tarts, bread pudding, cinnamon rolls
As with any real bakery, quantities are limited. So yeah, you'll want to get to Thomas Bakery St Croix early to ensure that you don't miss out!
Thomas Bakery St Croix Location and Operating Hours
Thomas Bakery opens daily at 6am. Closing time is 3PM Monday–Friday. On weekends, they call it quits at noon.
The Thomas Bakery in Frederiksted is located back of the One Love Service Station on Centerline Road. Make the first left just after the bend where Centerline winds north toward downtown Frederiksted. The praying hands mural will be impossible to miss.
Related Posts