The Longboard St John – Surf Style Eats in the Heart of Cruz Bay
We weren't much up for bar-hopping on our last visit to Cruz Bay. Honestly, we weren't much up for anything. Hurricane Irma's unwelcome visit to Saint John was just eight months in the rearview. Patrick and I had come to see how the recovery was coming along. Our plan: hop over from Saint Thomas, stay for the day, see as much as we could, and return on the last ferry. Only problem was, we missed the last ferry. Hungry and exhausted from our galavanting, we didn't have any bandwidth to be picky or adventurous. We just needed some decent food, and fast. So, randomly stumbled into one of the first places that we saw: The Longboard.
I can't say what attracted us to the place. Maybe it was the welcoming open-air porch design. Or maybe it was the way in which everyone in the place just seemed to be having a good time.
Either way, we took a chance. A chance that yielded a number of nice surprises.
On The Menu at The Longboard
After steadying our wearied frames atop a pair of barstools, we studied the menu. Options were largely what you might expect from a restaurant with a name and outward aesthetic rooted in Southern California-style surf culture. Ceviches, poke bowls, sushi wraps, wings, sliders, quesadillas…
Most appealing to us on this particular occasion, though, were the tacos.
The Longboard offers eight different varieties, including a few vegetarian options for those so inclined. Pulled jerk chicken thigh, braised pork belly, ahi tuna, skirt steak, roasted wild mushroom, curry roasted cauliflower, pescado (catch of the day) – they all sounded delicious!
I opted for the seared shrimp tacos and was definitely not disappointed.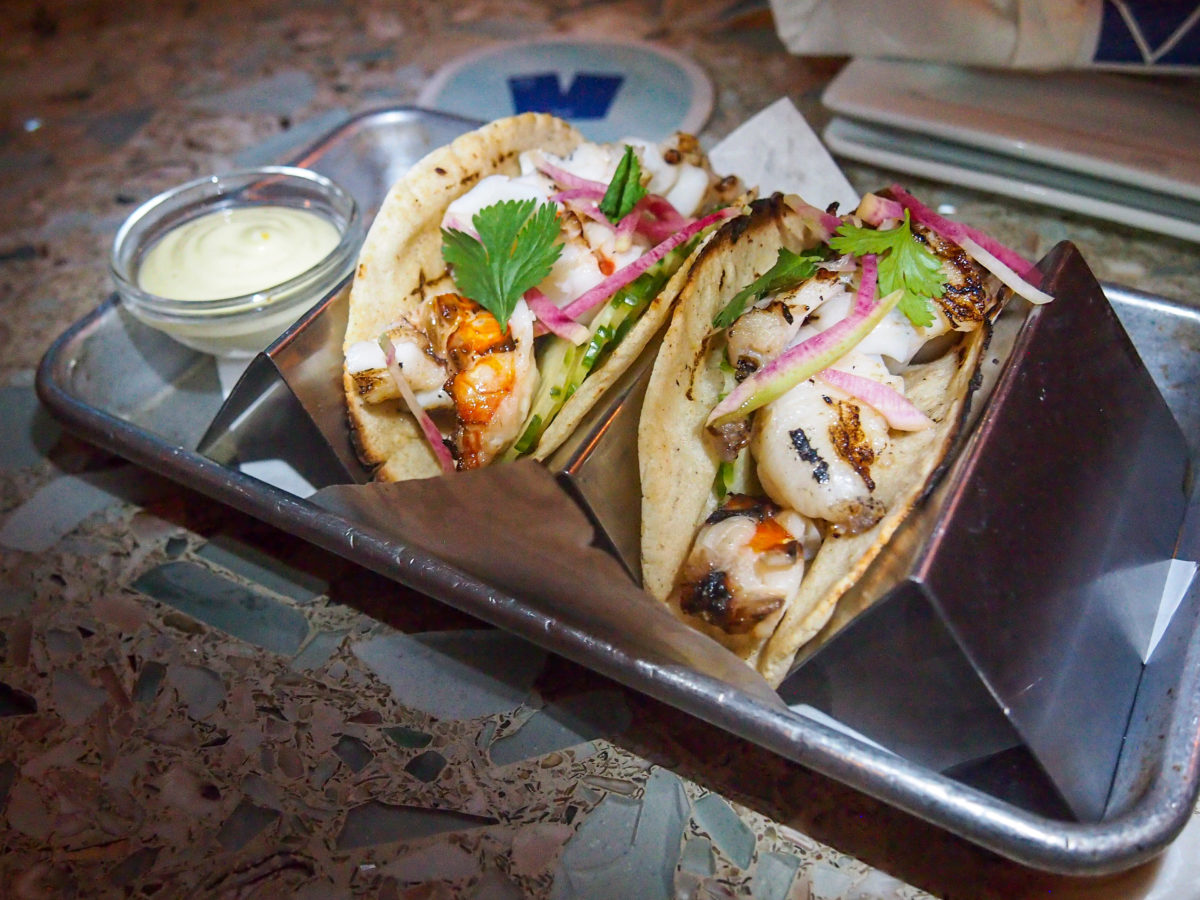 House-made, Locally-grown
Like a lot of everything on The Longboard menu, the tacos are distinguished by fresh, locally-sourced ingredients and house-made expertise. Corn and flour shells are made by hand at the restaurant. Seafood, herbs, spices, fruits, and greens – it's all local at The Longboard.
This commitment to local-source, house-made goodness extends to the bar as well. The restaurant proudly produces its own ginger beer and grapefruit soda, which make for awesome cocktail mixers. Fresh-squeezed local juices, house-made syrups and liqueurs also infuse an authentic taste of the islands in Longboard drinks.
Cruz Bay Center of Surf Culture
The thing I liked most about The Longboard, though, was its decidedly surf-centric vibe. Surf culture is absolutely baked into the DNA of this place.
Surf rock/surf pop music played throughout the night. The Endless Summer kept looping endlessly on the bar's TV screens. Even the wallpaper in the restrooms – a collection of vintage surf magazine spreads from the 1970s – espouse the surfing aesthetic.
So yeah, The Longboard is California surf-style cool. At the same time, though, it's seasoned sweetly with local Caribbean elements that make for an overall delicious night out.
If You Go to The Longboard…
The Longboard is located on King Street in the heart of Cruz Bay. To get there from the people ferry dock, walk straight up Prince Street, make a left onto King Street. You'll find the restaurant will be just a few paces up on your right.
Also, you'll want to note that The Longboard does not take reservations. To avoid crowds and long wait times, you may want to dine a little earlier or later than usual.
The Longboard also does not offer a kids menu, though they are happy to amend regular plates to fit family needs.
Vegan, vegetarian, and gluten-free options are also available, and they're good about accommodating food allergies as well.
The Longboard is open daily from 2pm to 10pm. Kitchen closes at 9pm and happy hour extends from 2pm to 5pm. be sure to follow them on Facebook for menu specials and more information.
Related Posts