Admiral Rodney Rum HMS Royal Oak – My Mixed Emotions
The very pillars of modern Caribbean society are rooted in a brutally repressive colonial ethos. Slavery, genocide, and economic disenfranchisement are its hallmarks. None of this is disputed. None of this is news. All of it is widely and regularly condemned. Even so, the legacy of this ethos lives on. Place names, statues, and even beloved consumer products celebrate some of the worst perpetrators of this darkest chapter in our history. Admiral Rodney Rum from Saint Lucia is one of them.
What's To Like
Let me begin by first stating that I'm a big fan of Admiral Rodney Rum, i.e.: the stuff in their bottles. HMS Royal Oak, in particular, is fantastic.
A blend of rums aged seven–12 years, HMS Royal Oak is produced by our friends at St. Lucia Distillers. The rum is named for one of the legendary ships under Admiral Rodney's command at the famous/infamous Battle of the Saintes. Much like its namesake ship performed in battle, HMS Royal Oak is bold, powerful, and enduring.
Brilliant Sophistication
All of the rums that go into crafting HMS Royal Oak are distilled via Coffey still. For aging, Saint Lucia Distillers employs ex-Bourbon casks exclusively. The combination lends HMS Royal Oak a brilliant sophistication, most notable to me in its complex finish. Warm and long-lasting, the finish leaves you enveloped in a mix of spices and subtle notes of tropical fruits.
The same spices and fruits are evident on the nose and upon initial tasting. Smokey wood, vanilla, and chocolate notes also present themselves. Yeah, this rum bursts with flavor!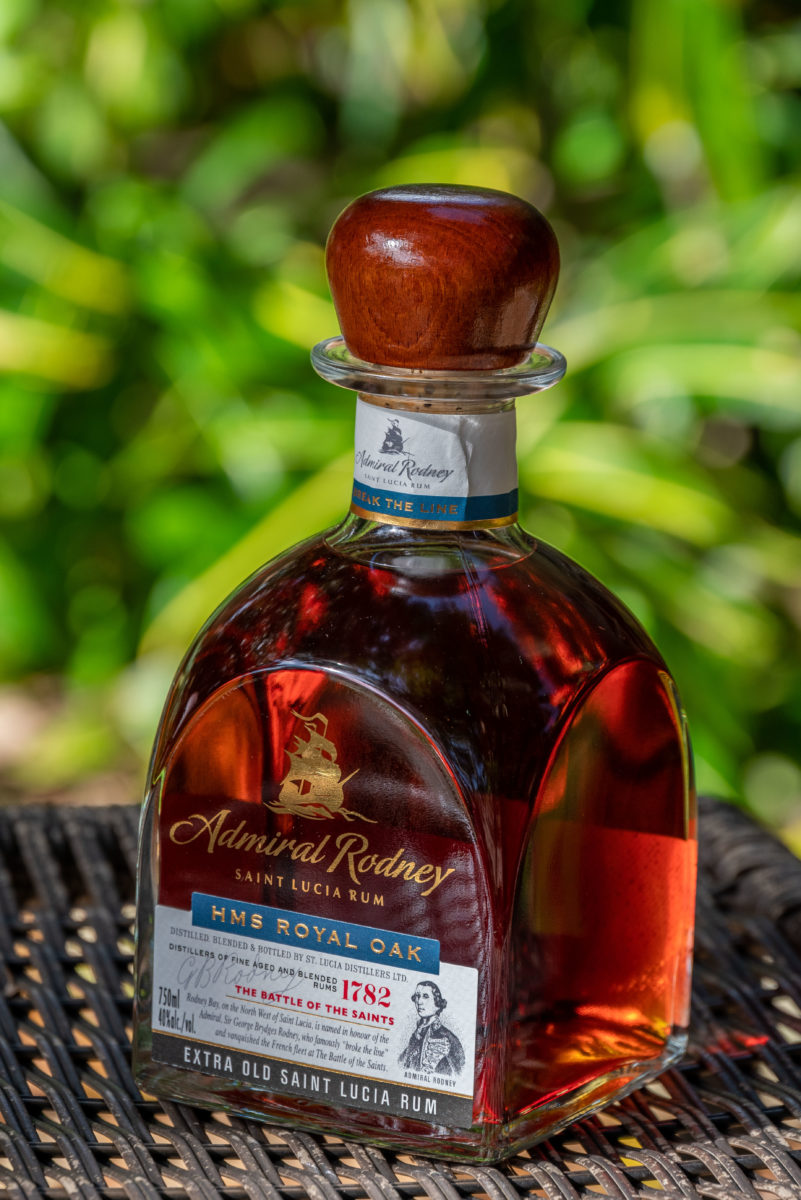 The Admiral Rodney branding, though, makes it difficult to enjoy this rum to the fullest.
Admiral Rodney Rum Reservations
After all, Admiral Rodney was not a good guy. Not to Afro-Caribbean people, anyway. He wasn't a slave trader, but he was staunchly against abolition. In 1788, he protested against an Act to decrease the number of enslaved on slave ships. The Act was intended to add a little humanity to the inhumane journeys. This, however, did not concern Admiral Rodney in the least.
Neither did the basic human rights of the Jewish residents he encountered upon raiding St. Eustatius in 1781. Rodney jailed 101 Jews and forcibly separated 31 Jewish families through deportation. He looted their wealth and property for his own personal gain. He even dug up the Jewish cemetery in search of additional treasure!
Yeah, you can say it was a different time, it was war, and Rodney wasn't all bad.
You'd be right, to a degree, of course. Admiral Rodney did promote John Perkins, the Royal Navy's first black commanding officer. So, there's that…
I guess you can say that complexity lies at the heart of both the man and the HMS Royal Oak edition of his namesake rum.
At least with the rum, though, that complexity is actually worth celebrating.
Related Posts