Undoubtedly The Very Best Rum Punch in Saint Lucia
Sampling rum punch varieties is always a big part of our Caribbean travels. On the surface this may sound like a lot of fun. More often than not, though, we find the task more arduous than it needs to be. No, this isn't some lame lament over too many nights drinking one too many. It's more a condemnation of the majority of rum punches we come across; what the rum punch has become. You see, as with the case of the classic daiquiri, evolution has not been kind to the rum punch.
Too fruity. Too sweet. Watered down. Weak. I find myself muttering these sad descriptors too often along my rum punch sampling adventures.
To be sure, though, we have found some real winners over the years. The El Dorado 15 Rum Punch at OJ's Beach Bar and Restaurant in Antigua stands out in this regard. So do the sublime Sugar Reef Rum Punch in Bequia and the sinfully sour Happy Juice Rum Punch at Champagne Reef in Dominica.
On my last visit to Saint Lucia this past December, the hands-down best rum punch I tried was the beauty pictured above.
TNF Rum Punch
It's called the TNF Rum Punch, the TNF short for "The Naked Fisherman." The reference, though, isn't X-rated. It's the name of the beach bar where you can find the punch.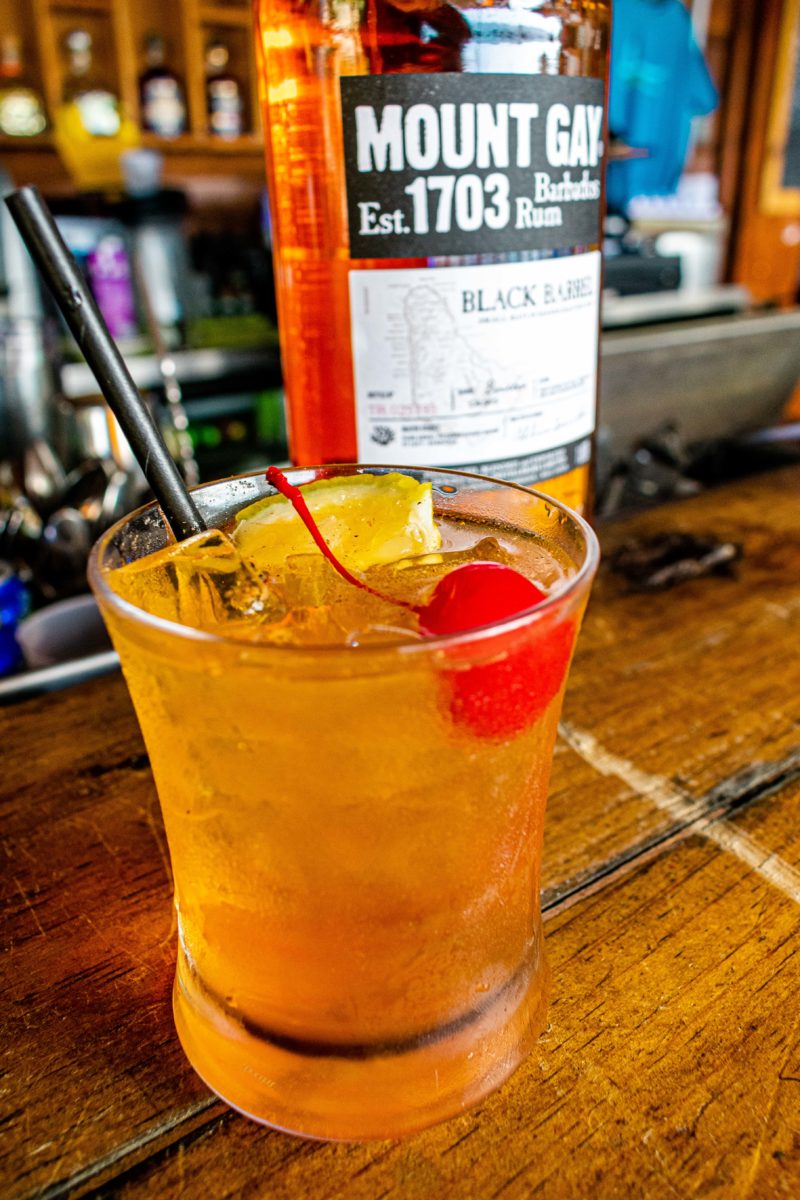 Easily my favorite beach bar in Saint Lucia, The Naked Fisherman is all kinds of sexy and secluded. The bar/restaurant is tucked neatly along Smuggler's Cove in the northwest corner of the island. The exclusive Cap Maison Luxury Resort and Spa crowns the windswept promontory above. These 91 stairs take you down to the sea, the bar, the sexy, and the TNF Rum Punch.
Bajan Roots
Like all of the best rum punches I know, the roots of this tipple run straight to Barbados. The recipe is based on the tried and true one of sour, two of sweet, three of strong, four of weak that forms the basis of every good rum punch. There's a twist in the TNF Rum Punch, though, that makes it especially well-suited to my tastes.
Ingredients:
One of Sweet – 1oz Cane Juice
Two of Sour – 2oz Fresh Lime Juice
Three of Strong – 3oz Mount Gay Black Barrel Rum
Four of Weak – Ice
Angostura Bitters
Fresh Grated Nutmeg
Instead of one of sour, two of sweet; the TNF Rum Punch calls for one of sweet, two of sour. The subtle switch cuts down on the sweetness, which works perfectly for those like me who hate overly-sweet drinks.
Another fabulous feature of the TNF: Mount Gay Black Barrel! One of my all-time favorite rums, Black Barrel brings bold rum flavor with just a faint hint of Bourbon to this simple, yet very special rum punch.
Here's how you can make one of your own…
Method
Grab your shaker and pour in your cane juice (or simple syrup), lime juice, rum, and ice. Shake away and pour over ice. Top with a couple dashes of Angostura Bitters and some fresh grated nutmeg. That's it!
Making a TNF Rum Punch at home may not compare to enjoying one at The Naked Fisherman. A few sips, though, will surely put you at ease…
Cheers!
Related Posts