Anse La Raye Bay, St. Lucia: Caribbean Wallpaper Wednesday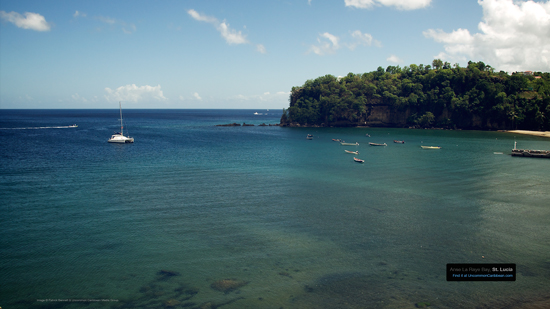 When we were last in St. Lucia, specifically to see Steel Pulse play the 19th Annual St. Lucia Jazz Festival, one of our favorite destinations on the island was Anse La Raye. This picturesque little fishing village on the west coast is all you could want in an authentically West Indian experience. There are the tiny, brightly colored fishing boats bobbing about in the bay, excellent fry fish and bake to be had, and the people are more than happy to welcome you to join them in watching a little cricket match on the sidewalk. Beyond all that, it also boasts one of the best weekly parties on-island with their fish fry every Friday night.
Heading to St. Lucia to marvel at (or even climb) the pitons, or perhaps to brave the boiling hot mud baths at the Soufrierre volcano, or maybe to catch this year's St. Lucia Jazz Festival, or to escape to your forest hideaway at Stonefield Estates, or maybe just to sample the local favorite cocoa tea—it doesn't matter your main reason for going, you definitely need to swing by Anse La Raye to sip some Chairman's Rum in this idyllic West Indian fishing village.
Until then, let this desktop wallpaper remind you of where you could be right now.
Related Posts