Caribbean Wallpaper Wednesday: Marigot Bay, St. Lucia and the Gift of Travel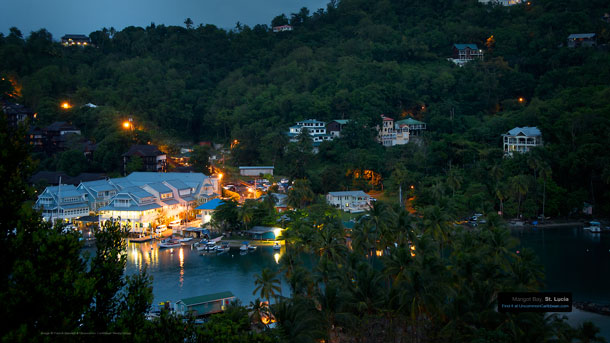 Gifts. Gifts! Gifts! My inbox is overflowing with emails sporting subject lines like "Last-minute shoppers: hurry for holiday shipping!"  Everywhere I look, I'm being bombarded with promises of the "Perfect Holiday Gift!"
Am I the only one suffering flashbacks to the outlandish coverage of Black Friday mayhem from less than a month ago? (And really every year before that?) Remember the woman pepper-spraying her fellow deal fanatics just to secure herself a 3D HDTV, or iPad 2 or $1.99 dish towels or whatever it was?
But ask yourself this: when was the last time you received a gift, bought from a store and all wrapped up with a bow, that you'd cherish for a lifetime? One that wouldn't be obsolete in a year or two? One that would make you a better, smarter person?
As for me, there's only one gift that both appreciates in value on a day to day basis and promises to enrich my life 'til the day I die: travel.
In fact, for a number of years, the wife and I haven't exchanged any gifts on our anniversaries and a number of Christmases, choosing to spend that money on extra-special travel experiences instead. Tobago, Tulum, St. Martin/St. Maarten, St. John, Grenada, The Grenadines – those moments will be with us forever. They shape our very perception of the world and manage to pack more joy into their fleeting moments than can ever be squeezed from every iProduct in any of Apple's minimalist gift paradises.
Our most recent gift giving experience led to our sailing adventure earlier this year that kicked off in the lush, green hills pictured in this week's Caribbean wallpaper. What you're seeing is actually the view from the balcony of our room at Oasis Marigot, nestled in Marigot Bay on the west coast of St. Lucia.
From this vantage point, you can make out the dark roofs of the Discovery Hotel on the left. We had an excellent poolside lunch there at their Hurricane Hole Bar. The large, blue roofed buildings are where we stocked up on bottles of Chairman's Reserve from a pleasant French shopkeeper. Just to the right, you can see some people sitting in front of a small yellow structure with a corrugated aluminum roof. We had their delicious saltfish and smoked herring bakes for breakfast. Hidden behind the palm trees is a little restaurant we spent a morning at playing with the owners' young son. At the base of the palm trees, there's a small beach perfect for relaxing while watching boats skim back and forth.
All small memories that warm my soul during the cold northern months.
All small memories that could never be bought at the local Best Buy.
I love the gift of travel. And I love the Caribbean. And since you're reading this, you probably do too. So, from us at Uncommon Caribbean to you, here's a little photographic gift of what the holidays could be like with less focus on material goods and more on all the experiences, great or small, that await when we put down our 3D glasses and step outside. Download it now and start planning for next year!
(Of course, if you must purchase something, you could do much worse than giving a loved one the most essential cookbook in the Caribbean! Or this excellent, star-studded one from our home island of St. Croix!)
Related Posts