Chairman's Reserve Legacy – Fine Rum Made Better By Rhum
If you're new to these parts, then you might be confused. Aren't rum and rhum the same thing? The answer, of course, is no. As we've noted before, both spirits originate from sugarcane. It's the different paths they take from cane field to cup, though, that separate them. Rum and rhum are so distinctive, in fact, that I generally prefer not to sample across styles. If I'm sipping rum on a given occasion, I tend to stick with it. Same for rhum. Chairman's Reserve Legacy, though, has me rethinking my rum/rhum rules.
Rum Homage
New to the U.S. market as of October 2020, Chairman's Reserve Legacy was crafted in honor of Laurie Barnard, creator of Chairman's Reserve Rum. It was Laurie's grandfather, Denis, who originally founded the Barnard family distillery in Dennery, St. Lucia in 1931.
Building upon a foundation of such popular faves as Bounty and Denros Strong Rum, Laurie set out to expand and diversify Saint Lucia's rum product in the mid-1990s. This he achieved with Chairman's Reserve Rum, an exceptional combination of pot and column still rums blended to smoky perfection.
Diversity is the Key
It was Laurie who broadened the distilling horizons at Saint Lucia Distillers (SLD). He commissioned the distillery's first pot still and invested in the development of new proprietary yeast strains. He also adopted varying styles of casks to add subtle nuances to the aging process. Most notably (at least to me), he even replanted sugarcane.
The old sugarcane fields that once surrounded Saint Lucia Distillers had laid dormant for nearly 40 years. (The molasses used to make SLD rums is imported from Guyana.) Laurie restored a small portion of cane crop, giving his master blenders as dynamic an array of distilling and aging tools as exist on any estate. As noted on the SLD website…
He (Laurie) believed that the best rum was not achieved from one barrel, but by blending different components together of different ages, finishes, styles, and base materials.
No SLD rum honors and exemplifies Laurie's ambition better than Chairman's Reserve Legacy.
The Sum of Varied Great Parts
A blend of rums aged between five and eight years, Chairman's Reserve Legacy incorporates both pot and column stills in its production. Actually, two different pot stills are employed, one of them twice!
Molasses-based rums are distilled across all three stills. In a twist, though, one of the pot stills is also used to distill sugarcane juice along rhum agricole lines. This is a direct nod to Chairman Laurie. Again, according to Saint Lucia Distillers…
…"Legacy" features the addition of sugarcane juice distillate, a trademark of Laurie since the day he grew sugarcane around the distillery to isolate the signature proprietary yeast Chairman's Reserve is so famous for.
Aging takes place in ex-Bourbon casks with batches separated by still-type.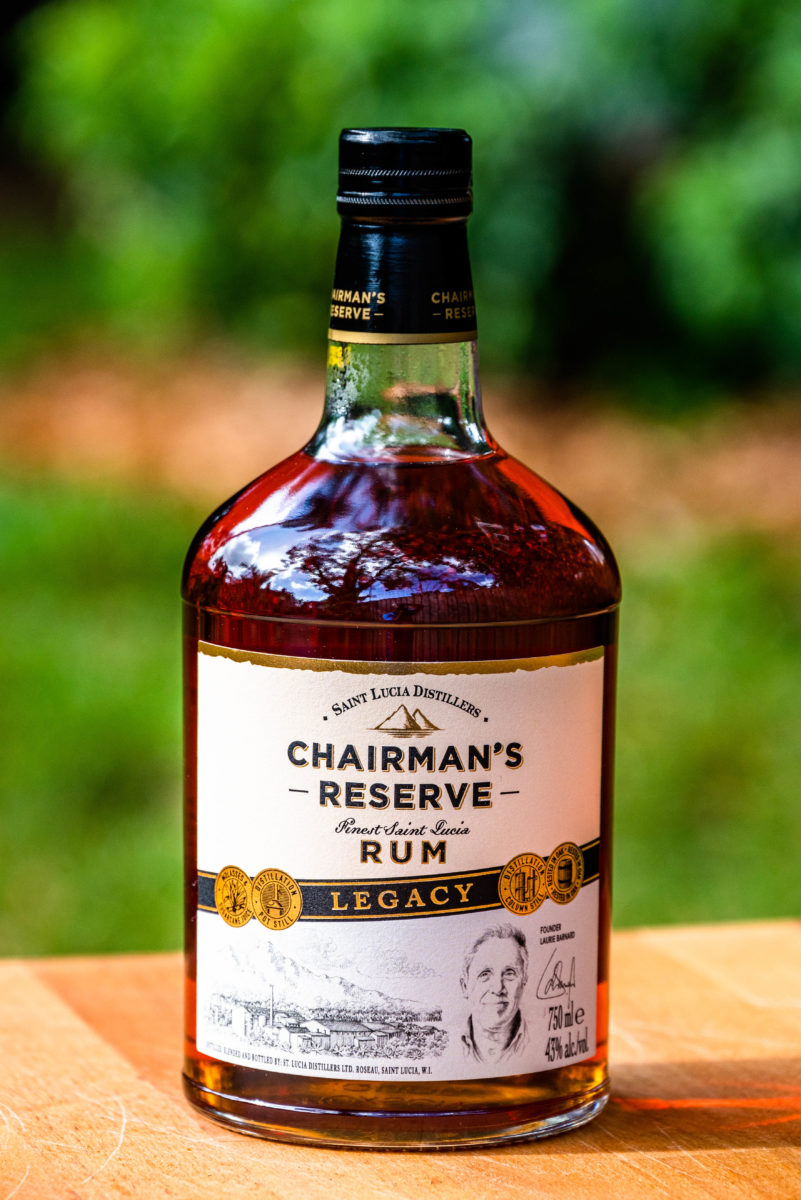 More than 70% of Chairman's Reserve Legacy is derived from column still distillation. This means that you won't find quite the funk and high esters characteristic of traditional heavy pot still rums. (Like those produced by Hampden Estate, for instance.)
This isn't necessarily a bad thing, though. To me, the fresh-pressed sugarcane rhum makes a nice difference on its own.
A Taste of Chairman's Reserve Legacy
Sugarcane distillate makes up a scant 8% of Chairman's Reserve Legacy. Its inclusion, though, is unmistakable if you, like me, love rhum agricole. There's a grassy herbal quality to Legacy not typically found in traditional molasses-based rums. It's faint, but it's there underpinning this truly unique sipping experience all the way through to a warm and lasting finish.
Also present and more readily discernible, a bounty of tropical fruits and spices. On the nose, look for vanilla, banana, and pineapple. On the tongue, subtle hints of oak peek through. Expect a tad bit of heat to linger on your lips as the finish warms the back of your throat.
The combined effect solicits wonder, encouraging further exploration much as Chairman Laurie would've wanted, no doubt.
Where To Buy Chairman's Reserve Legacy
Our friends at SPIRIBAM are the exclusive importers of Saint Lucia Distillers rums in the United States. For the very best deals on Chairman's Reserve Legacy, visit SPIRIBAM online and be sure to enter promo code "UCRHUM" at checkout to save 10% off your order.
Cheers and À votre santé!
Related Posts