Fond Doux Cottages Preserve St. Lucia History, Environment in Style
The slash and burn clearing of natural landscapes throughout the Caribbean is one of the prime lasting negative consequences of the proliferation of large-scale resorts in our region. Equally distressing is the demolition of historic structures, also in the name of tourism development. The alternative, resorts and hotels carefully planned and constructed to coexist and thrive in concert with the Caribbean's natural treasures, are much more to our liking. The fabulous Fond Doux Cottages in St. Lucia are a prime example.
Holistic Preservation in Saint Lucia
Nestled within the lush UNESCO World Heritage Site of Soufriere Hills Saint Lucia, Fond Doux Resort & Plantation is a model of sustainable tourism, both in terms of the island's environment and heritage. The property stretches across 135 verdant acres of a working cocoa estate.
The plantation dates back to the 19th century. The history of its cottages, though, extends well beyond the Fond Doux cocoa fields.
A total of 16 Fond Doux Cottages lay sprinkled about the old estate, no two exactly alike. None are actually original to the estate. At the same time, though, none of them are new-builds either.
So, what are these cottages? Where did they come from?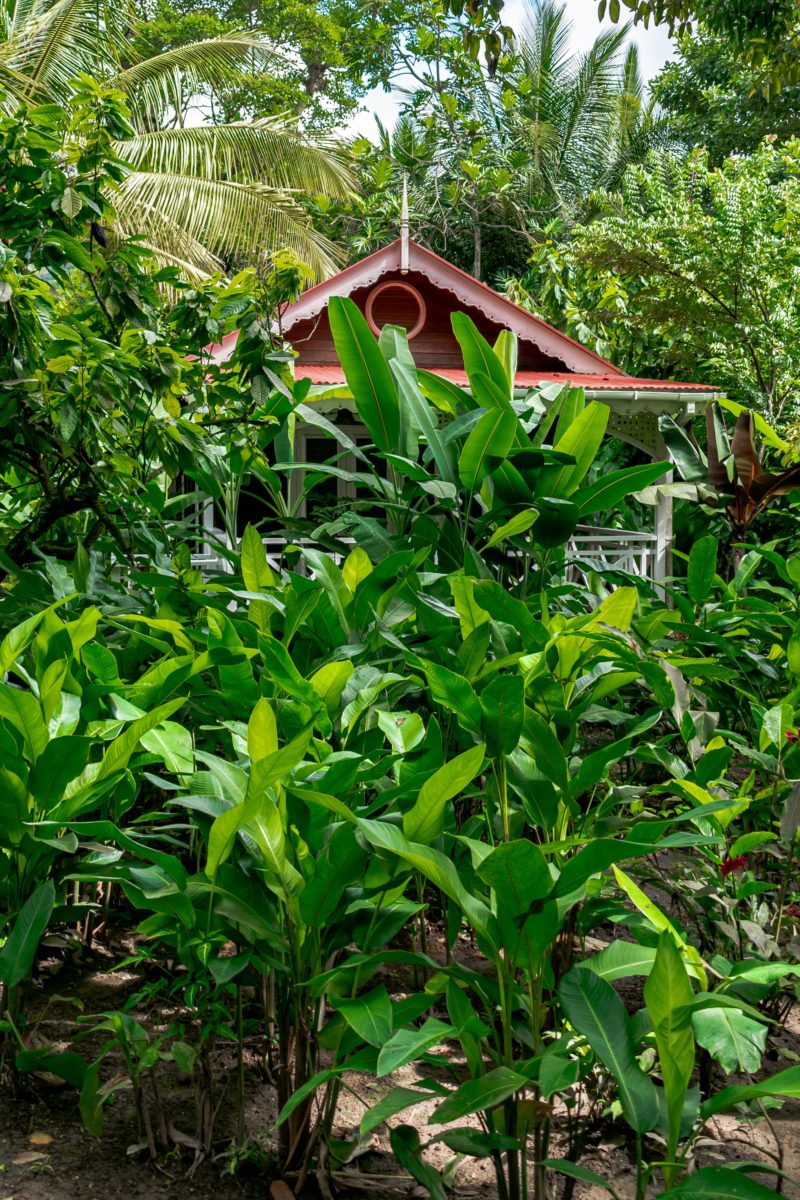 Cross Section of Saint Lucia
Turns out that each of the cottages was formerly abandoned and left to rot in various enclaves all over Saint Lucia. In developing their unique resort concept, the folks at Fond Doux rescued these relics from the past. Cottages were relocated to the property's jungle surrounds, restored and fully modernized for today's discerning travelers.
So, how did the cottages get to Fond Doux?
No doubt it would've been easier to bring in heavy machinery to make the relocations easier. The damage such an effort would effect on the estate's natural environment, though, wasn't going to fly.
Instead, resort developers opted for shovels and old fashioned manpower. Cottage sites were carefully cleared, ensuring minimal impact to the surrounding flora.
The trees around the Fond Doux Cottages are not ornamental. Everything here existed long before the cottages arrived. It's all natural, wild, perfect.
Also of note, all of the furniture in each of the Fond Doux Cottages was produced by local craftsmen. Indeed, full sustainability and the authentic essence of Saint Lucia are woven into every aspect of the hotel.
Fond Doux Cottages Facts + First Impressions
Fond Doux Resort & Plantation markets their cottages as eco-luxurious, romantic, intimate, and private. I visited the property and toured several cottages in December 2019 and I can verify that all of these adjectives apply. I might also add intoxicating, alluring, and sexy, though.
Accommodations are available in one- and two-bedroom configurations. Some have private pools, others have air-conditioning and multiple floors.
The decor is distinctive within each cottage, though the overall style is best described as rustic elegance. Think sisal rugs on wood floors and madras prints adorning the walls. Plantation-style ceiling fans hang from exposed wood beam ceilings. Mahogany and rattan furniture, textiles and pillows a mix of earth tones and bright, tropical colors.
Yeah, Fond Doux Cottages appeal to me in every way.
For more information on these very special accommodations, be sure to visit Fond Doux Resort & Plantation online.
Related Posts