Ladera Resort Steal – Earn 3, 4, or 5 Free Nights in Saint Lucia
Hotel promotions offering "free nights" offers are as common to Caribbean travel marketing as blue hues are to our tropical seas. They are everywhere! Generally, though, you get one "bonus" night when you book a minimum stay of a certain length. The most copied of these deals – book three nights, get the fourth night free – is ubiquitous to the point of being practically standard at some resorts and hotels.
The latest "free nights" offer from our friends at Ladera Resort in Saint Lucia, though, is different… VERY different!
A Bit About Ladera…
A secluded escape nestled along a volcanic ridge 1,000 feet above sea level, Ladera takes your breath away in every way. The property consists of 37 intimate suites. Each has its own plunge pool. Each is also missing one wall.
This "Open Wall" design affords sweeping views of jaw-dropping natural surrounds. Among them: Saint Lucia's majestic Pitons rising at the edge of the sea below.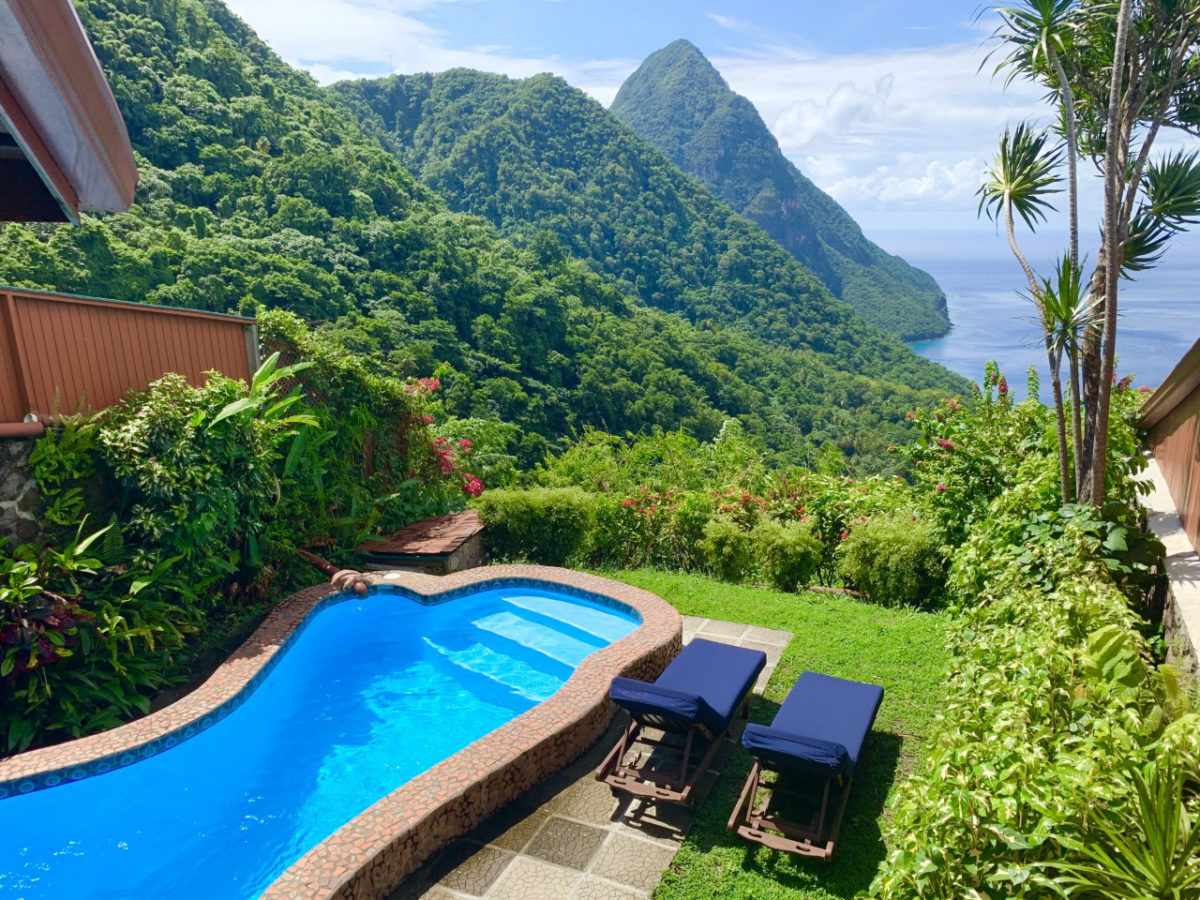 Indeed, there's a lot to love about Ladera. So much so that you'll want to spend as many days as possible here. The property's new Reserve Three Nights, Receive Three Nights promo makes it easy and affordable to do just that.
The Deal on The Ladera Resort Steal…
In line with the promo name (mostly), Ladera is rewarding guests with three complimentary nights when they book a six-night stay. To sweeten the deal, the property is also throwing in daily breakfast for two and round-trip private-car airport transfers in Saint Lucia.
Sounds great, right?
Wait, though…it gets better!
Ladera's latest "free nights" deal is actually scalable. To wit: you can earn four free nights when you book eight. Book 10 nights and – you guessed it – five nights are FREE!
Even better: you have practically TWO YEARS to cash-in this amazing deal! That's right, the promotional travel window extends from April 1, 2022 all the way until December 15, 2023!
With 21 months to play with, why not take advantage of these incredible savings more than once, right?!!
Now, I'm guessing that some among you may be looking for a catch. I mean, if it sounds too good to be true then it must be, right? Well…
VERY Limited Time Offer
The only drawback that I can see to this travel deal is that you have precious little time to take advantage of it. Eligible bookings must be made by March 7, 2022.
Also, as with all travel deals, some blackout dates and additional restrictions may apply.
So yeah, you'll want to jump on this deal, like, RIGHT NOW!
For reservations and more information, visit the Ladera Resort website today.
Related Posts