On-Site St. Lucia: Start the Day Right in Anse La Raye
From the Anse La Raye site:
The real St Lucia is never too hard to find, especially for those willing to venture into the island's smaller coastal fishing villages. Festooned with charming wooden houses, and with colourful fishing boats moored at the waterfront Anse la Raye on St Lucia's scenic west coast is one such village.
I couldn't agree more. This is a charming time capsule of a village worth spending some time in. Perhaps the best time to visit is on Friday night as each week the waterfront comes alive with the Anse La Raye Fish Friday (get it?). Yeah, a Friday night of fresh, fried fish and grilled Caribbean lobster (my favorite!!!) under the stars with the locals of Anse Le Raye sounds fantastic, doesn't it?
Unfortunately, on our last visit we were too lazy to drag ourselves away from our villa in the rainforest to attend. I know, terrible… However, we somewhat made up for it with a visit the next morning. Sure, the tables, chairs and stands of food were packed away, but that didn't stop us from finding some of the best food of our whole weekend!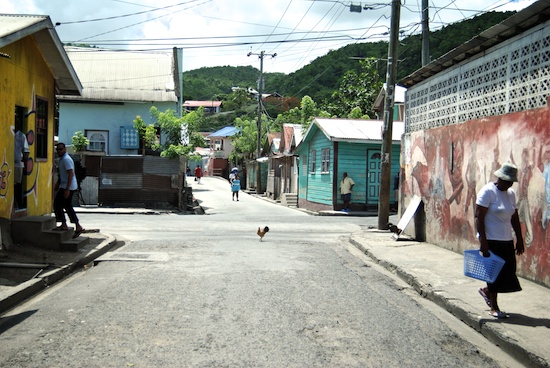 Want to give it a try? Head into Anse La Raye early and swing by Miss Lucy's. You can't miss this little gem due to it being on the main road through town and, oh being painted bright yellow with the words "Lucky 3" on the side. Once inside (don't forget your West Indian "good morning" greeting), just ask for some fried fish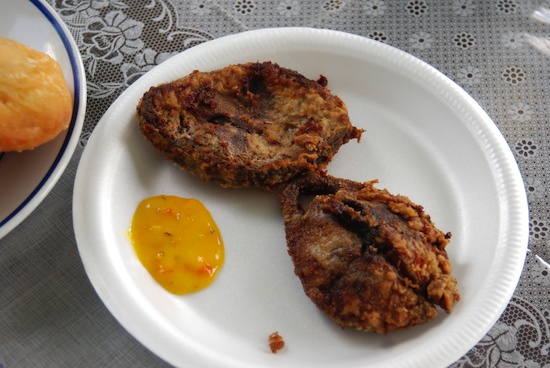 and a couple bake.
For the complete experience, you'll also need a little pepper sauce, so don't forget to be liberal with the Barons (on the side).
And that's it. Seriously, these were some of the freshest, most delicious bake I've had in a loooong time. The fried fish was great too and, of course, you can't beat limin' in a little fishing village as a great way to start the day… slowly.
Related Posts