On-Site St. Lucia: Stonefield Estate Villa Resort
Last weekend while in St. Lucia, I had the pleasure of spending a few nights at Stonefield Estate Villa Resort. Let me start by saying that I thoroughly enjoyed my stay here. It was exactly what I was looking for… That said, if you go there hoping for the immaculate property depicted on their website, you may be a bit disappointed.
What was I looking for? Well, my desire was to thoroughly relax in lush seclusion, and that's exactly what I got at Stonefield.
My villa, named Hibiscus – 1 of only 17 villas on the property – seemed to offer the most secluded accommodations. It's located at the end of a walkway and faces out over the forest, which slopes down, green and vibrant, into the Caribbean sea. To the left, a towering piton. To the right, plantain trees. Floating in the large, stone-lined private pool, no one could see me (or as pictured below, my wife)… and I could see nothing but rainforest, the sea, and the clear Caribbean sky. The only sounds reaching my ears were the many songs of birds, the rustle of leaves, and the occasional unleashed mango dashing through the leaves on the way down the slope. Definitely my idea of paradise.
What could top lounging in a private pool deep in the rainforest? How about luxurious bathing in an outdoor shower with plantain leaves leaning over the top to add a modicum of privacy? Are you starting to get the idea? It's enough to turn a person into a pile of epically contented and relaxed mush. Leaving our villa to discover the rest of St. Lucia was a daily challenge.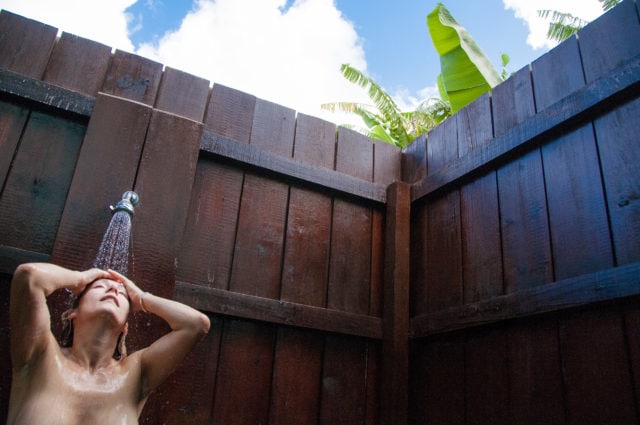 OK, but what's this about someone being disappointed if they expect what's on the website? Well, maintaining a property in the Caribbean is hard, constant work. The heat, sea air, humidity and more all conspire to age our man-made structures faster than you can imagine. Metal toilet paper holders rust, paint peels, wood bleaches, etc.
When in Barbados, I ran into the property painter at The House. I asked him how often he paints the immaculately white property. His answer: "Everyday. I paint every day."
Stonefield's battle with the intense Caribbean climate has transformed the property from the picture-perfect collection of paradisiacal structures depicted on its site into a more rustic, "real" island property. Again, this was right up my alley as it felt very lived in… Almost like it was my own little island home.
Related Posts