Sailing the Grenadines Part 1: Three Simple Questions Make Travel Amazing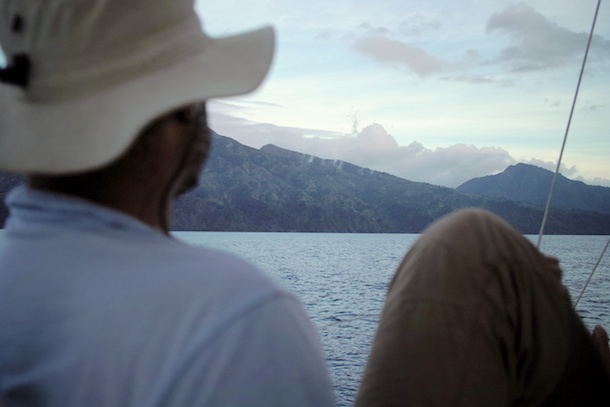 Before you read a word of this post, stop and visualize your dream vacation.
I'll wait…
Got it?
Ok, now crumple up that image and throw it in the trash.
We're Uncommon Caribbean and our focus isn't "vacations"— it's experiential travel. You work hard for your money, right? So why waste it on a vanilla experience at a McAll-Inclusive when you could be spending that hard-earned cash on a one-of-a-kind travel adventure you (and all your jealous friends) will be talking about for years?
That's certainly the thinking behind a lot of what we do here at UC. Just look at Dave's trip to the decidedly off-the-beaten-path island of Montserrat. When he wasn't participating in a grueling half-marathon on an active volcano, he was taking considerable risk in exploring the off-limits ruins of the legendary Air Studios. Sure, there was also time spent "doing nothing on the beach," but there was A LOT more to this trip than that. And that "more" became memories he'll cherish for a long time.
Dave's adventures in Montserrat notwithstanding, our uncommon style of experiential travel doesn't always require physical exertions beyond your abilities, or taking untoward risks. In fact, you can make similarly unique travel memories by exerting little more effort than it takes to enjoy a day at the beach. Here are three simple questions to ask yourself when trying to develop your own experiential travel adventure:
Will you have opportunities to try something you've never done before? This could be anything from eating a new food to trying a new activity like surfing (or kite boarding).
Will you have opportunities to connect with local culture? There's no point in flying beyond Florida if your only desire is to drink Buds on the beach while eating hamburgers. Just chatting with some locals over a couple of locally brewed beers in a beachside bar serving local fare can go a long way to defining a travel experience.
Will you have opportunities to experience uncertainty? This is a pretty nebulous one, but the point is that for a trip to create stories worth telling, sometimes you need to find yourself in situations you hadn't foreseen. I'm not saying be reckless—just keep yourself open to situations that take you outside of your comfort zone.
If you answer "yes" to these three questions when planning your next trip, you're almost guaranteed to feel like your travel budget was well spent when you return.
It was these three simple questions that led me to my recent sailing adventure.
What I haven't mentioned before is that for this trip I needed something really special. You see, the whole impetus behind this latest escape was to celebrate my 10-year wedding anniversary! Ten Years! (How did that happen?)
So, yeah, I needed something really good. The only prerequisite of the trip was that I wanted it to be around 10 days. That length felt like it would put it beyond a "long weekend" and into extra-special territory.
I started doing a little research and soon found Sail Oasis by Oasis Marigot out of St. Lucia. They had plenty of interesting itineraries, but the one that immediately jumped out at me was the "One-Way Grenada"  – 8 Days/7 Nights Grenadines Charter. (Perhaps it was the "one-way" part?)
Yes, it was very expensive, but my thinking was that I only planned on doing a 10-year anniversary once, so I better make it special. Really special!
Around this time, I went through my checklist.
Opportunities to try something new? Well, I've never been sailing for longer than an hour at a time, usually to Buck Island near our home island of St. Croix. So, the idea of a 6-8 hour crossing from St. Lucia to St. Vincent on the very first day through some fairly open seas would certainly be new. Then there was actually sleeping on a boat. What would that be like? I had no idea.
Opportunities to connect with local culture? In talking with the good folks at Sail Oasis, I found out that our crew (a captain and first mate) would be made up of native Lucians. Talk about connecting with local culture. I'd be spending eight days in tight quarters with a couple locals—alternating between sailin' and limin' on a daily basis.
Opportunity to experience uncertainty? To be honest, I was really scared of sleeping on the boat. Additionally, I was worried about the long sailing days through open waters. Would I get seasick? Would I be spending my hard-earned cash on hours of discomfort and puking? What would we find on these islands peppered throughout the turquoise waters of the Grenadines?
Then there was the trip's real x-factor: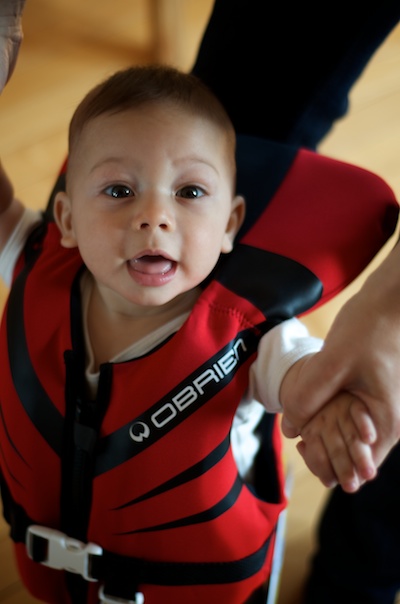 I'd be carrying a six-month-old infant with me! How would he deal with all this? I had no idea what I was getting myself into… So, my level of uncertainty was high… Perhaps a bit too high for my wife, but luckily she likes a good adventure too, so she was in.
Very quickly, it became clear that this would be a truly special trip.
I spent a couple weeks trading emails and phone calls with the folks at Sail Oasis. There were assurances that they'd accommodate itinerary changes if something came up… Like me (or a family member) being a terrible sailor and needing to cut the trip short.
There was deciding what type of boat to sail. I decided on a catamaran due to its extra stability being better suited to our status as unabashed landlubbers.
There were emails planning for provisioning the boat. Piton beers? Check! Chairman's rum? Check! Oh yeah, and some food? Check!
There were phone calls triple-checking with Sail Oasis on whether they really thought it would be a good idea to bring a six-month-old along. They did. They did.
Nothing else stood in our way.
There were simply no more reasons why we shouldn't do this trip and simply too many reasons why we should. I mean, have you been following our friends Alex & Taru, the sexy sailors?! Sailing is a gorgeous way to travel, occasionally glamorous, and, more often than not, romantic.
I couldn't have been more excited to uncover the uncommon along the route from St. Lucia to Grenada while simultaneously having the time of my life basking in the sun over uncharted waters… Uncharted for me, at least.
And that was without even knowing that I'd be visiting vistas like this along the way:
Related Posts