Serenity at Coconut Bay: Lux And Lush Seclusion on St. Lucia
Recently, I had the pleasure of visiting Serenity at Coconut Bay, where I got the impression that they set out to answer one question and answer it thoroughly.
That all-important question I think they're after is simple: What do couples desire in a romantic Caribbean getaway?
Simple, sure. But the answer has eluded many well-meaning establishments before. So, how'd Serenity do? Read on!
Getting to Serenity at Coconut Bay
One thing most people don't want in a romantic getaway is to spend hours on planes, wait hours in airports for layovers, or drive more hours to your final destination. You won't experience any of those romance-killers on your way to Serenity St. Lucia.
First of all, there are quick flights from many U.S. cities to St. Lucia's Hewanorra International Airport (UVF). Even better: once on the ground, you can expect a complimentary airport transfer to whisk you away to Serenity. Just don't get too comfortable on the ride. Serenity is only a breezy couple minutes from Hewanorra International.
Descending deeper into luxury
Tucked within the sprawling 85-acre estate that makes up the Coconut Bay Resort & Spa, Serenity at Coconut Bay opened its doors in the Summer of 2017 as one of Saint Lucia's newest adults-only all-inclusive stays, and easily one of its best.
Serenity has 36 suites total, and each one is unique. However, they do have something in common: a sublime mix of blissfully air-conditioned indoor space and immaculately designed outdoor environs. Combined, the indoor and outdoor areas measure between 1,250 and 1,900 square feet, depending on the suite.
It was right about the time my butler had left (more on that in a moment), and I'd changed out of my travel clothes, and walked out onto my private deck, and looked around that it struck me: they got it right.
Make time to make out
Serenity at Coconut Bay excels at artfully crafting a lux experience that completely envelops you and your partner. You never have to worry about annoyances from the outside intruding upon your lush seclusion within the high tropical plant-covered walls surrounding your personal paradise.
And it's everything flowing from that singular focus that makes Serenity so sublime.
Outside your suite, there's a whole world of news headlines, work stresses, and who-knows-what.
Inside your suite, there's a king-size mahogany four-poster bed. There's a walk-in rain shower that easily accommodates two, an oversized soaking tub, and a revitalizing private plunge pool. Plus, a serene hammock for two, comfy lounge chairs, outdoor shower, and your own personal wet bar customized with your favorite spirits.
Outside your suite, the world has rules.
Inside your suite, you're the benevolent rulers of your domain. So should you not want to wear a stitch of clothing for your entire stay, then you needn't bother.
Even if you want to partake in the 24-hour room service, you still don't need to breach the barrier of your love bubble. This thanks to an ingenious room service mailbox.
Delectable delights go in from the outside, and you have discreet access from the inside. No interruptions. No intrusions.
Outside your suite, there are all these people you have to deal with, whether you like it or not.
Inside your suite, there's only you and your partner blissfully rediscovering every inch of each other.
From seclusion to beachside seclusion
Of course, there is one thing missing that may tempt you away from the mahogany king beds and romantic embrace of your suite: the beach. Luckily, though, you don't have to completely shed your seductive sense of seclusion to enjoy it.
As stated in the name, Serenity calls Coconut Bay and its brilliant mile-long white sand beach home. But that doesn't mean you have to enjoy the beach like everyone else.
With one call to your butler, you can reserve your own private oceanfront beach cabana. They're charmingly rustic with only three walls to better let the natural beauty flow in. Plus, they come equipped with lounge chairs, an impossibly comfy suspended day bed drifting on the trade winds, freshwater showers, and a cooler. The last of this list is generously stocked with your choice of spirits, a picnic lunch, and snacks.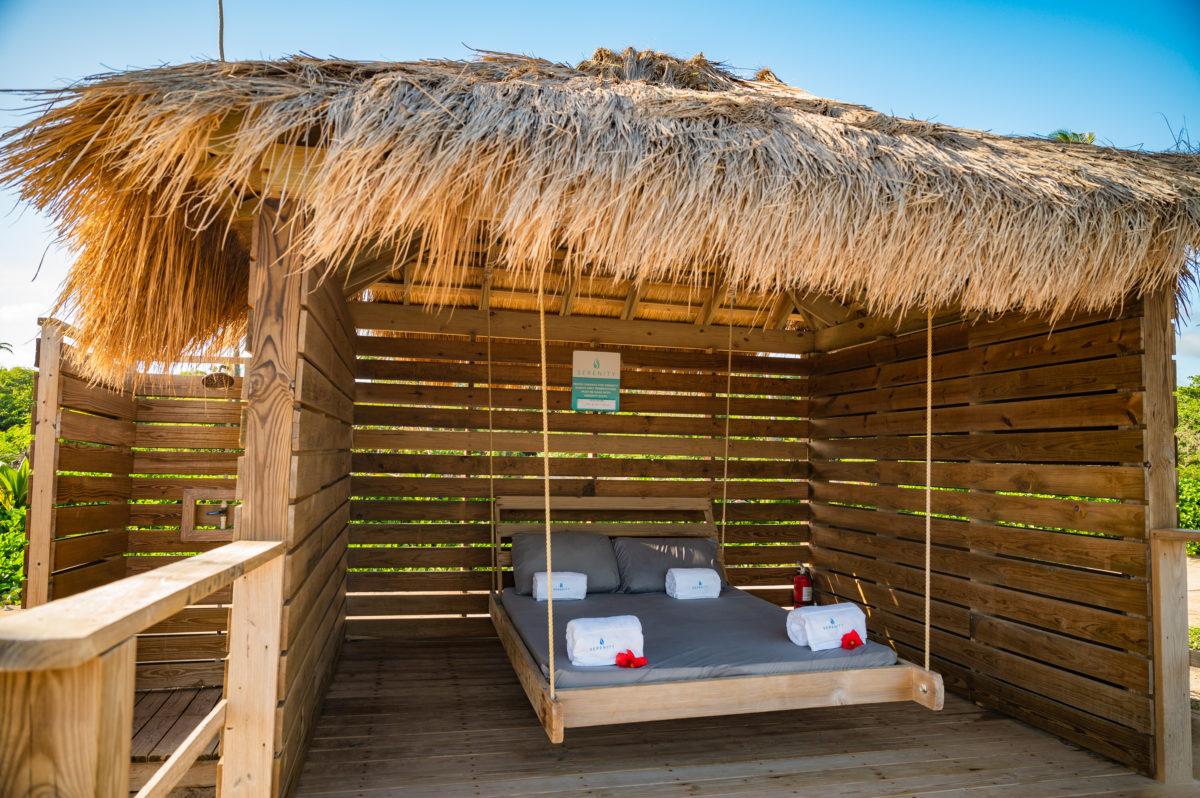 Once reserved, your butler will gladly collect you with a golf cart and ferry you from one slice of seclusion to the next.
Unfortunately, I didn't have quite as much time to lounge here as I would have liked. I can easily imagine myself spending an entire day here. Alternating between swimming, soaking in the sun, and sampling whatever thoughtful morsels provided by my butler would have been magic.
Serenity at Coconut Bay Roleplay
Beyond installing you as kings and queens of your own little castle on Coconut Bay, your butler can help you be pretty much anything you want.
Care to be sailors for the day? They can arrange a day sail aboard well-appointed catamarans out of nearby Laborie.
Explorers? Your butler can book a land tour to the Pitons (a UNESCO World Heritage site), the Sulfur Springs Park National Park for a dip in its hot healing waters, the Tet Paul Nature Trail to take in the majesty of St. Lucia, or any of the many accessible adventures nearby.
Or how about piles of mush? Well, your butler has you covered here as well. Almost instantly, he can produce a massage therapist at your front door.
Complete with massage table, your therapist will expertly perform in-suite spa treatments of your choice. And when they're done, they vanish. Leaving you once again in seclusion, but now even more thoroughly satiated.
Public displays of affection
If you can coax yourself free of your private domains, there are more public elements of Serenity at Coconut Bay also worth experiencing.
My first stop was The Greathouse pool. Magnificently designed, it sparkles at the center of the property. Lounging around the 24 ideally spaced in-pool loungers or within the shady depths of the six private poolside cabanas is heavenly.
Oh, did I mention there's a pool bar with craft cocktails? Well, now I did!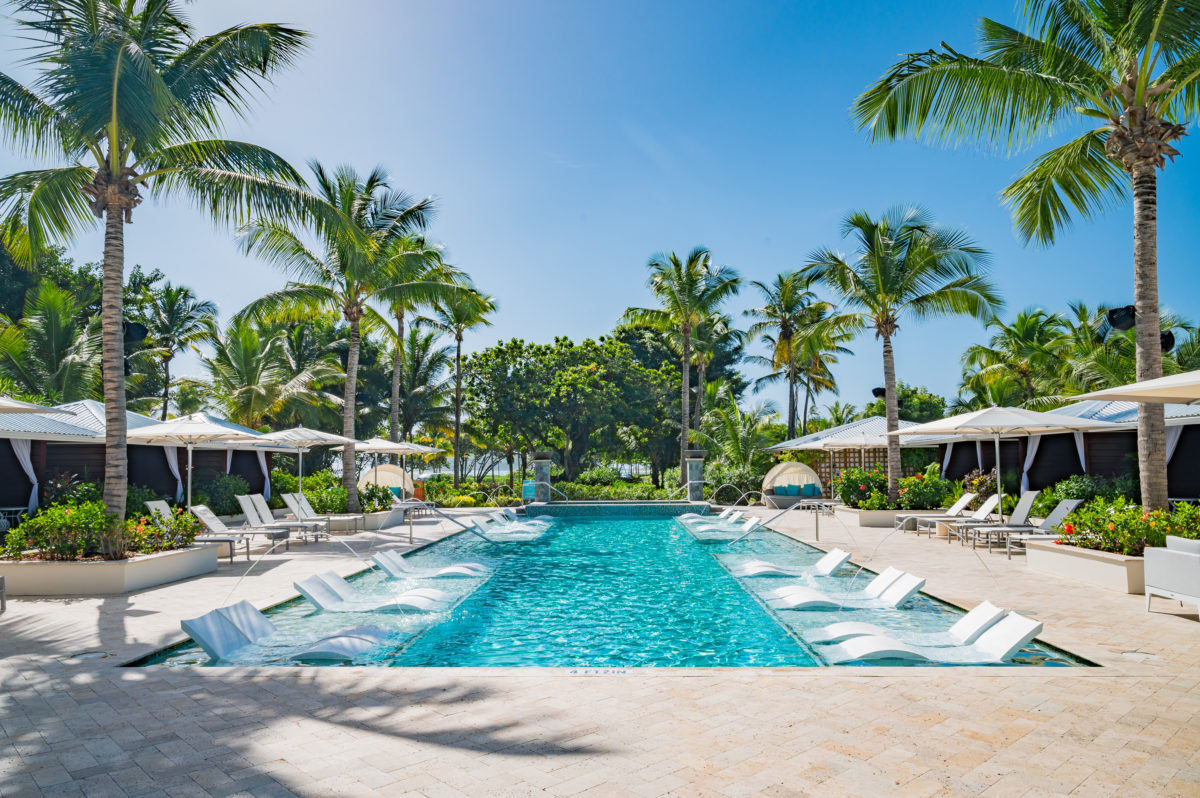 The Greathouse itself, airy beneath a vaulted ceiling, hosts gourmet dining entertainingly crafted within an open kitchen design. Some of the menu items I thoroughly enjoyed include Jerk Spice Mahi Mahi, Merlot Braised Oxtail, Rosemary Garlic Grilled Organic Chicken Breast, Conch Chowder, Char~Grilled Octopus, and the St. Lucian Seafood Tasting.
As a bonus, large portions of the raw ingredients transformed into the Caribbean fusion cuisine on offer are grown right on the property. For a pleasant diversion, I highly recommend a stroll over to the garden, not only to get a glimpse of what may soon be gracing your plate but also to chat with Lesha Gustave. She's the greenhouse manager and an all-around wonderful woman with an emerald green thumb that makes it all happen.
Serenity at Coconut Bay: Lux And Lush Seclusion
Seclusion wrapped in lush green tropical plants and luxury accommodations, Serenity at Coconut Bay is the all-inclusive resort you've been dreaming of. Whether it's for a long romantic weekend with your significant other or an extended honeymoon, this is where you'll find your own flavor of serenity.
Related Posts