Soufrière in the Shadows of The Pitons, St. Lucia
They are as unique and awe-inspiring an attraction as anything else the Caribbean had to offer – the Pitons, twin volcanic spires rising dramatically from the sea straight into the clouds along St. Lucia's lush southwestern coast.
Without question, the Pitons are the main attraction in St. Lucia, though the town that lies in their shadows should not be ignored either.
Colorful, historic, and bursting with authentic West Indian charm, Soufrière compliments her vibrant natural surroundings beautifully, her many-hued buildings extending like a rainbow river to the sea.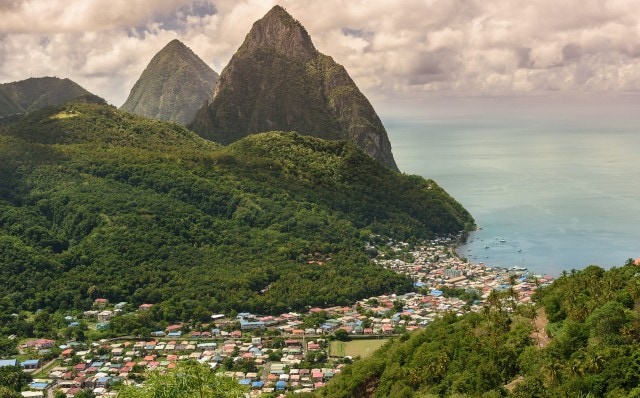 This was St. Lucia's capital during the era of French rule on the island, reminders of which you'll find in area street names, architecture, food, local customs, and even language.
The British may have taken control of St. Lucia some 201 years ago, holding on all the way through to independence in 1979, but the vibe in Soufrière is still decidedly French Caribbean.
I find the everlasting French flavor of Soufrière intoxicating, but it's the even more ancient Amerindian echoes here that truly have me excited about returning some day soon.
The petroglyphs and rock carvings in nearby Jalousie are a given, but I'm more interested in exploring old religious beliefs. Through the Soufrière Foundation, for instance, I've learned that Arawaks once worshiped the Pitons as gods, with Petit Piton representing food and fertility, and Gros Piton representing fire, thunder, and rain.
Kalinago religious beliefs tied to Soufrière's sulphur springs are even more intriguing, with apparent elements of human sacrifice earning the area the Kalinago name Qualibou, which translates to "at the place of death."
So much still to discover in such a magical place…
*Lead photo credit: Flickr user Ron Kroetz.
Related Posts