Exquisite Paradise Ridge Collection Furniture from Ladera: Uncommon Buy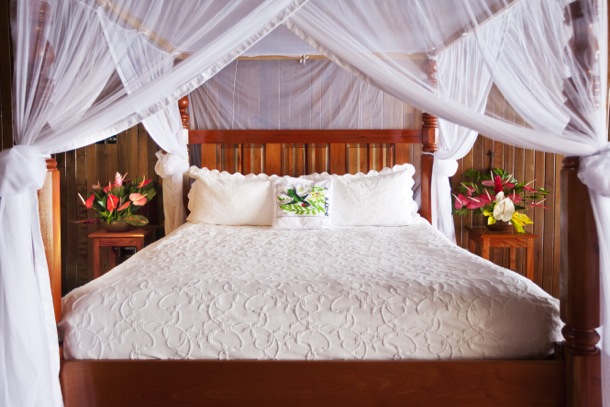 Ever notice how it's generally toughest to extricate yourself from bed on the last morning of your Caribbean adventures? The looming gloom of your regular work life is often the principal cause, though for those lucky enough to stay at the incredible Ladera Resort in St. Lucia, the beds themselves shoulder equal the blame.
So beyond heavenly are the Ladera Wedding Beds, that guests have long pleaded with the property to make them available for purchase.
No wonder.
Ladera employs a fully-staffed wood crafting workshop on-site at the property where these beds, and other exquisite furnishings, have been custom-made exclusively for the resort since it opened more than 20 years ago. All the pieces are made with a variety of carefully harvested local hardwoods, including Blue Mahoe, Mahogany, Red Cedar, Greenheart, Purpleheart, Mabre, White Cedar and Pitch Pine.
Like everything else at Ladera, the furnishings espouse the very finest of authentic St. Lucian craftsmanship, elegance and style.
Now, for the first time, you can add all that authentic St. Lucian awesomeness to your own home through Ladera's new Paradise Ridge Collection!
In addition to the Ladera Wedding Bed (US$5,500) pictured above, you can also choose the Ladera Bedside Table (US$1,200), a 48-inch round Dasheene Wine Room Table (US$3,500) just like the one you'll find in Ladera's new Wine Room, or any other piece of on-property furniture that catches your fancy.
That's right, the master craftsmen at Ladera will custom-build just about any piece of furniture at the resort just for you!
Paradise Ridge Collection orders are available exclusively through Ladera, and shipping costs will vary based on your location, of course.
If you have the means, though, there's hardly a more exquisite or unique reminder of a magical visit to St. Lucia that you can bring to your home.
For orders and more info, call Ladera at Tel: 866-290-0978.
Related Posts